Design events
Design Month Graz 2023 explored the theme REVOLUTION – our highlights
How can design drive and shape revolutionary processes? What contributions do designers make in this regard? Design Month Graz delved into the theme of REVOLUTION this year, exploring its multifaceted implications
Recently, we visited Design Month Graz 2023, an event that DesignWanted has been collaborating with for a long time. The festival, consolidates and channels the vibrant energy of the local creative industries throughout a single month, showcasing them to the global audience and thereby playing a pivotal role in establishing the creative industries firmly in people's consciousness.
How can design impact and shape revolutionary processes? What role do designers play in this? This year, Design Month Graz explored the theme of REVOLUTION.
Examining the activist and political landscape reveals widespread confusion and frustration. The prevailing atmosphere creates fertile ground for disruptive transformations, namely revolutions.
It may be precisely at this moment that radical changes, necessary on various societal and environmental levels, are taking place. Through this thematic focus, Design Month Graz 2023 aimed to contribute to the quest for solutions, recognizing that the time for disruptive upheavals has long been overdue.
Design Month Graz 2023 – Our highlights:
Minuscole Lamp Collection by Guillaume Crédoz (Bits of Atoms)
The Lebanese designer Guillaume Crédoz was one of the participating cases within the Revolution Symposium, where international design experts toke a closer look at the topic of revolution, showcasing an example of how to blend traditional craft techniques with modern technology.
His Minuscule lamp collection is the result of continuous exploration in morphology and chromatics. It consists of a series of lamps that share a common cone-shaped dimension. These lamps are crafted as a single piece from a durable recycled plastic material, ensuring their resilience. To achieve their captivating appearance, the studio applies a unique blend of pigments that lends them a shimmering finish.
[ Read also Our selection of one-of-a-kind projects presented at Design Month Graz 2022 ]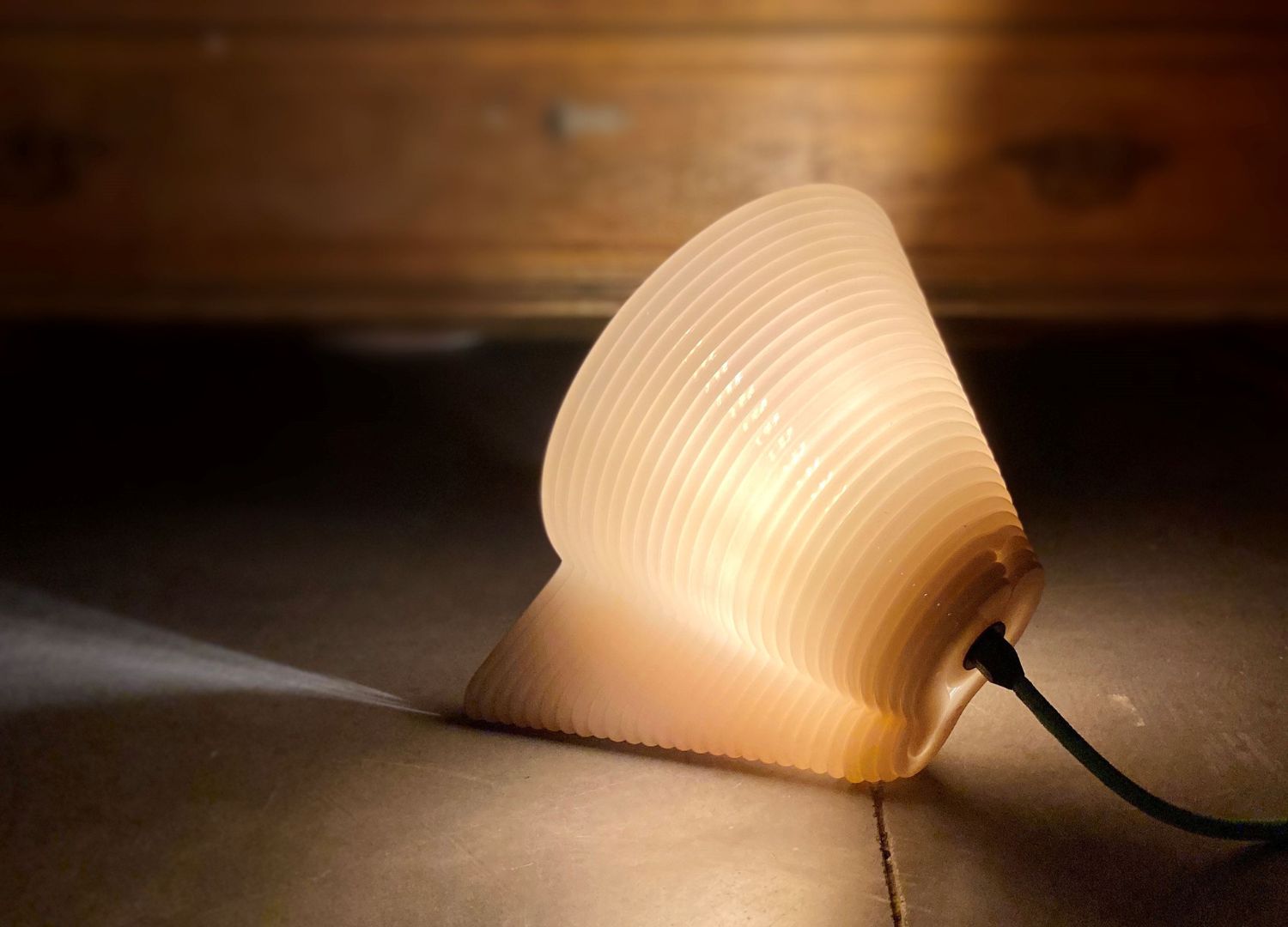 Bench by Florian Kalcher
Designer Florian Kalcher showcased his bench with the motto: Cancel Limits. In doing so, he transcended boundaries and brought together the old and the young, as weathered wood, marked by history and time, meets the flexible and youthful material Corian, a mineral-organic composite that holds a multitude of possibilities within itself.
This unique bench harmoniously blends two elements, recycled wood and fitted material, as it meticulously aligns each line with purposeful cuts that encapsulate the essence of Korean philosophy.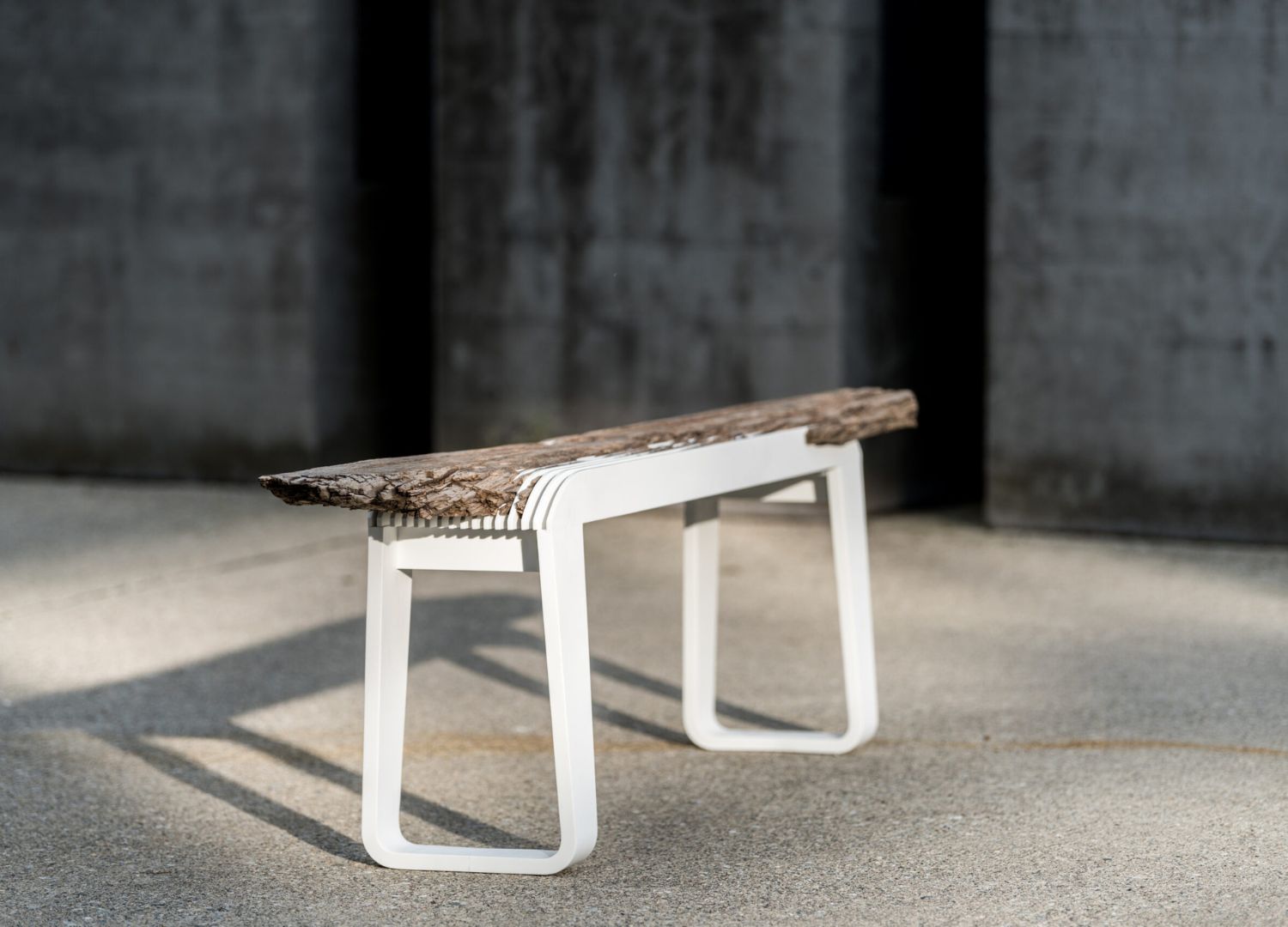 Zaino by Bteubl Clo
This remarkable product is crafted from a special, durable material. Designed to be water-resistant, it is meticulously handmade with a unique opening mechanism that eliminates the need for zippers, ensuring convenience and longevity. Originally developed for building insulation, it exhibits exceptional water-retention properties.
Additionally, this versatile material finds application in the medical field, reflecting its adaptability and suitability for various purposes. Furthermore, it proudly boasts a high recyclability rate, aligning with sustainability goals. Available at an affordable price (96€), it combines functionality, quality, and eco-friendliness in one compelling package.
Ashes & Sand, Schloss Hollenegg
During the Design Month Graz, Schloss Hollenegg opened its doors once again to showcase the annual design exhibition within the castle's historic rooms.
Ashes & Sand's exhibition was dedicated to the medium of glass and showcased a diverse range of techniques and products, reminiscent of those found in a castle, such as windows, tableware, glasses, lighting, mirrors, and decorative objects. A special emphasis was placed on the region's glass production and the interplay between politics, economics, design, and trade in the industry.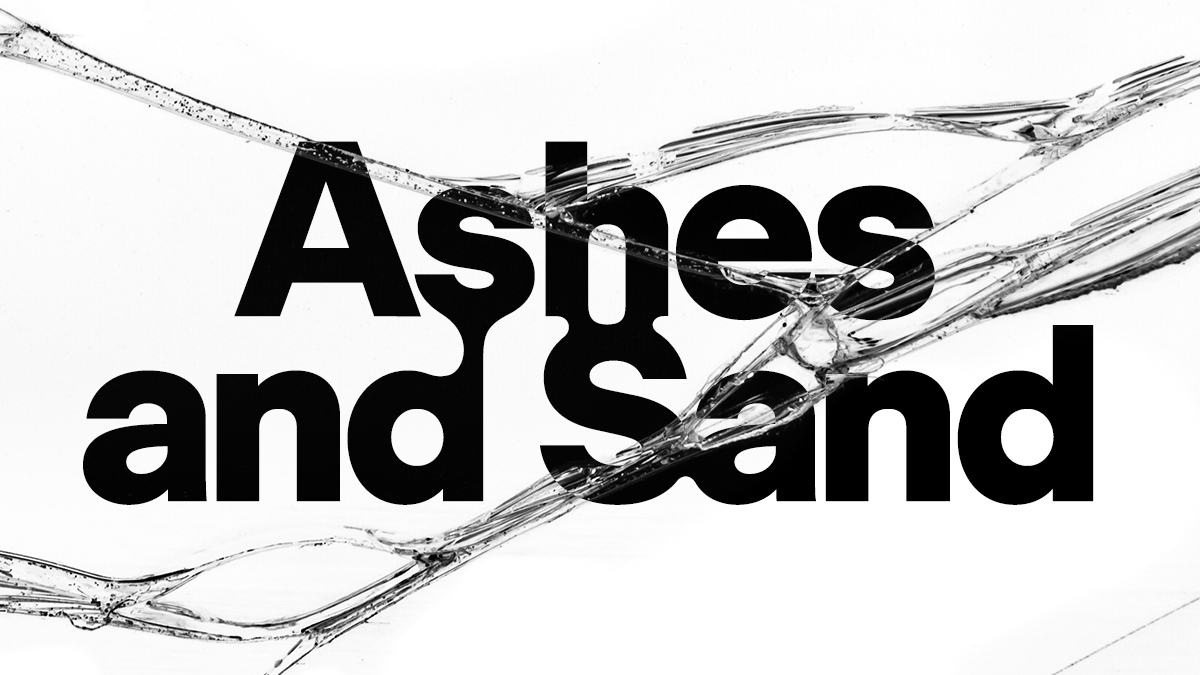 Twenty young design talents participated in the exhibition, presenting their current works or creating pieces specifically for this event. Recognizing the historical significance of glassmaking in relation to its geographic origins, designers from various countries were selected to demonstrate the rich diversity of working methods and forms of artistic expression. Notably, five designers resided at Schloss Hollenegg: Tamara Barrage (supported by House of Today in collaboration with Studio Comploj in Vienna), Antrei Hartikainen (supported by the Finnish Institute in Germany), Christian & Jade (supported by the Danish Art Foundation), Germans Ermics, and Taddeas Podracky.
The exhibition also featured a special contribution from Lobmeyr, commemorating the family-owned company's 200th anniversary. Austrian artist Nives Widauer presented a new project as part of this collaboration. Additionally, Swarovski showcased technologically innovative 3D-printed glass by Julia Körner, highlighting advancements in the field.
Almfrische Hotel by selfsightseeing
Once again this year, the artist duo itshe+io invited the press representatives to a design trip to the Koralm. Art and design exhibitions merge with a spring market, offering a diverse range of arts and crafts, local products, plants, and culinary delights. A unique art and cultural experience in the mountain village of Trahütten.
Three locations showcased a blend of art and design. At the Sagmeister Art Space, Vienna-based artist Kristina Foggensteiner presented her paintings inspired by her travels. The artist duo itshe+io from Trahütten collaborated with Schloss Hollenegg for Design, showcasing their glass creations at the Art Pavilion in the Alban Berg Villa.
Additionally, PABUKU, an artist duo from Stainz, brought their wall art to life in the charming Absteige zur bärtigen Therese building. The exhibitions were complemented by an Alm-Spring Market, featuring regional culinary delights, and a diverse program of concerts, documentary screenings, workshops, and children's activities.