Design
The wonders of Thai design, from traditional ceramics to cutting-edge architecture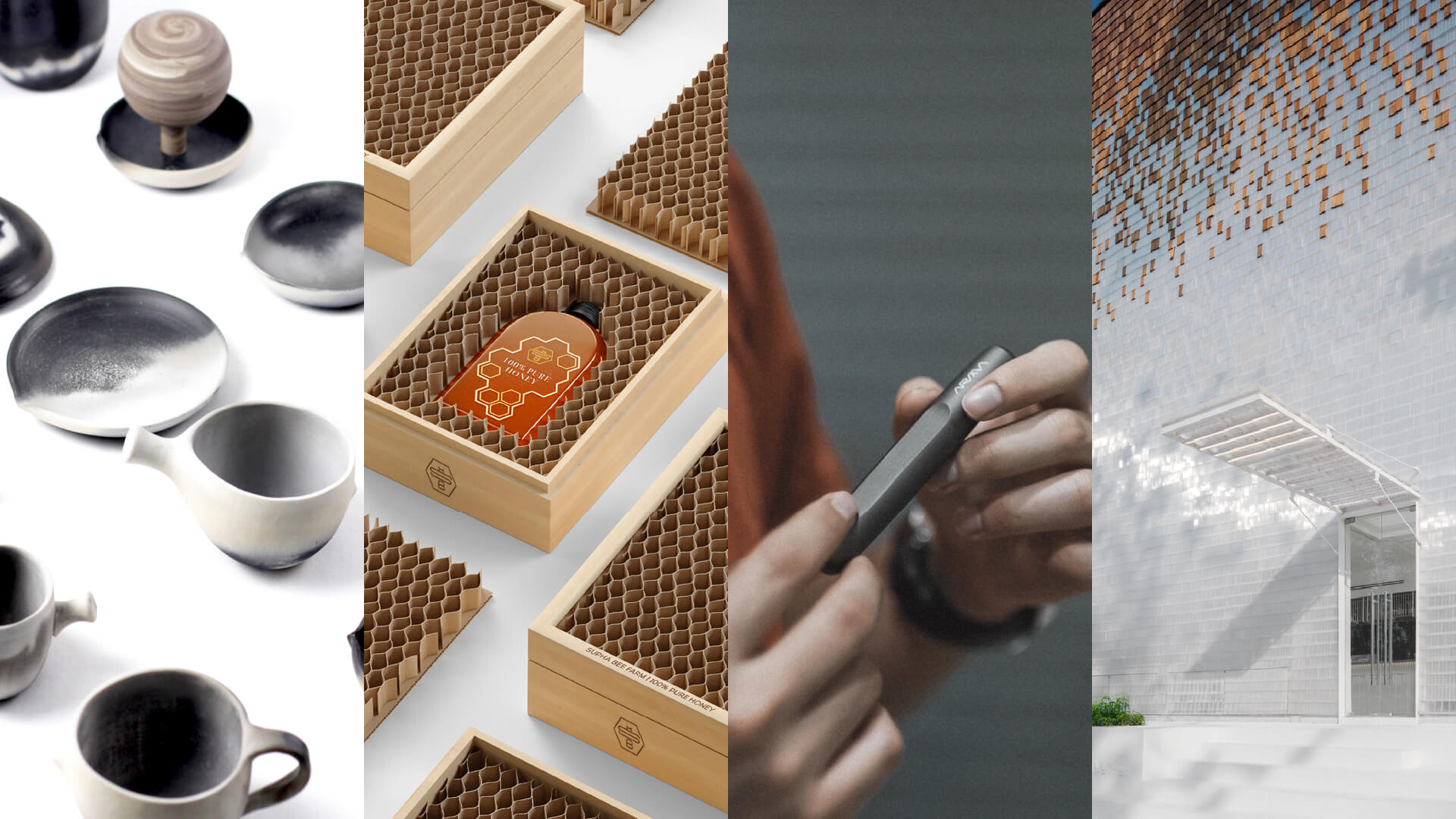 DesignWanted explores the multifaceted expressions of Thai design and architecture through the works of creatives from this tropical country, combining great national pride and bold innovative spirit with traditional materials and modern aesthetics.
Thailand, a beautiful country filled with traditions, full of contrasts, distinguished culture, and distinctive design and architecture. When one thinks of Thailand, the first thing that comes to mind is its exotic natural beauty, its friendly people, great food, tropical location, and unique architecture with elongated glistening gold roofs and elaborate Buddha statues; but Thailand is all of this and so much more. When it comes to design, Thailand has come a long way in the past few decades, this country was among the first to benefit from the production migration of European and US manufacturers looking for affordable and exceptional labor and excelled at creating amazing products, but somehow people seem to still think of Thai design as mostly traditional crafts. What people fail to realize is that Thailand has its own fascinating and burgeoning design scene. In some respects, Thailand is 543 years ahead of us all: while it is 2020 CE for us, it is 2563 BE in Thailand, so technically Thais are already 'in the future' in so many aspects, especially when it comes to the perspective of their national design infrastructure.
Throughout its history, Thai design has been shaped by the influences of the royal court's exquisite craftsmanship and the people's inherent sense of playfulness. The tropical climate of this Southeast Asian country allowed for the abundance of natural resources used in everyday life. Their use of natural materials such as silk, bamboo, cotton, and rattan, their common yet superb crafts such as carving, weaving, and basketry, plus their detail-oriented eye, harmonious colors, as well as their artistic ingenuity intertwined with playfulness, are vital parts of what made Thai design so distinctive.
Today, Thai design and craftsmanship are at a point of dynamic convergence, all over the country, there are creative groups of young, forward-thinking artists and designers teaming up with traditional artisans to create truly amazing products. From furniture to cutting edge eco-designs, each output is inventive, beautiful, and modern but still identifiable as a Thai original. The juxtaposition of traditional crafts with contemporary aesthetics results in a plethora of ingenious innovations: the following products are examples of how the new generation of designers are pushing the limits of their creativity and integrating the cultural and the physical while maintaining a true Thai identity.
ARMA Herbal Inhaler
The ARMA Herbal inhaler gives to a generic device a modern twist. With properties known worldwide but that have been in Thailand for a long time, herbal inhalers have kept the same design for decades: AMRA Herbal Inhaler changes that and gives us a new image of coolness, sleekness, and modernism. With a minimalist and contemporary design, ARMA gives the user a fresh, fragrant, easy to use inhaler to enjoy and carry anywhere.
ZERO Ceramic Drip Coffee set by DOITUNG
Thailand began to explore environmentally conscious and sustainable products long before anyone else and this is shown in the ZERO Ceramic Drip Coffee set by DOITUNG. Based on the zero waste concept, the design of this drip coffee set showcases a unique round shape suited to keep the right temperature of the coffee. Its strong contrasting colors and textures acquired from the ashes of alternative fuels from vetiver grass and macadamia nutshells not only highlight the value for agricultural waste but also prove how Thai 'eco-design' is conceptually streets ahead of the rest of the design world.
Curious to know more about outstanding Thai designs? Don't miss The Design Excellence Award by the Royal Thai Government.
Smart Counter by Civic Media Company
Designed and produced by Civic Media Company, the Smart Counter is an automatic table-top indoor vegetable garden appliance that allows users to select the type and amount of light, the proportion of fertilizer, and even the temperature for any type of plant. Developed with Civic Media Company's sustainable LED innovation, the design of this product is simple, user-friendly, and suitable for any interior environment. The integrated planting management system can be controlled by the Smart Counter mobile app making it easier for users to keep control of their plants anywhere at any time.
Supha Bee Farm Premium Honey by Prompt Design
The Supha Bee Farm Premium Honey is a beautiful example of Thai designer's talent in the packaging design field. As one of the two main honey producers in Thailand with its own bee farms, Supha Bee Farm needed a packaging that highlighted its outstanding product made of 100% real pure honey. Prompt Design managed to achieve just that through a simple and elegant design inspired by the structure of the beehive frame. The use of wood and paper in the design not only creates a visual honeycomb structure but also gives the feeling the Supha Bee Farm's honey bottle is virtually coming from the beehive, hence creating an exceptional packaging.
TK Studio's Logo & Identity by TNOP Design
Designed for TK Studio Landscape Architecture, the logo and brand identity of this practice were created with sustainability as its core concept. TNOP Design not only wanted to spark awareness among future customers but also wanted to showcase the ideology and the simple yet stylish nature of TK Studio. TNOP Design's creation successfully encompasses what TK Studio is about while providing a modern and timeless logo and identity.
Choui Fong Tea Cafe by IDIN Architects
Designed by IDIN Architects, Choui Fong Tea Cafe has become a role model establishment in the Choui Fong Tea plantation, a sought-out destination in the Chiang Rai province of Thailand. As the second of its kind, the design basis of this cafe responded directly to the need to accommodate more guests due to its popularity. With that in mind, IDIN Architects designed an elegant and modern architecture that creates a unique space highlighting the natural surroundings while giving visitors an incredible view of the location.
Little Shelter Hotel by Department of Architecture
Located in a quiet corner of Chiang Mai, the Little Shelter Hotel is a small hotel designed by Department of Architecture. For years this ancient city has been known for its incredible craftsmanship and use of natural materials, which inspired the architects in the design of this project. Department of Architecture created a beautiful building that reflects local culture while giving a contemporary and elegant aesthetic. The use of wood mixed with new materials and traditional techniques used in the construction created a breathtaking and modern structure deeply rooted in tradition. Through Little Shelter, the designers managed to introduce to its visitors the past, the present, and the future of Chiang Mai.
Architecture Library, Chulalongkorn University by Department of Architecture
In a time where knowledge and inspiration are found mostly online, Department of Architecture decided to create an architecture library and bring books back to our lives in a new way. Designed for Chulalongkorn University, this project expanded the meaning of architecture libraries and created more than a place for keeping and reading books. Instead, Department of Architecture changed our perceptions and designed a library that is a creative incubator for architecture students where ideas can be exchanged while and where a wide variety of resources are provided. The open floor plan and modern aesthetic create a blank canvas where students can adapt the space to their liking. Through this design, Department of Architecture managed to change the concept of a traditional library and transformed it into a platform where dialogues and interactions are encouraged.
If you want to know more about designers creating beautiful, thoughtful and environmentally conscious design, don't miss Hyde + Hyde Architects on designing meaningful and award-winning buildings.