Furniture design
Active Office: reimagining the workplace one 'exercise chair' at a time
Surprise! Sitting can be as bad for your health as smoking, which is why these 'dynamic' solutions challenge your posture, making 40 hour weeks behind a desk a little easier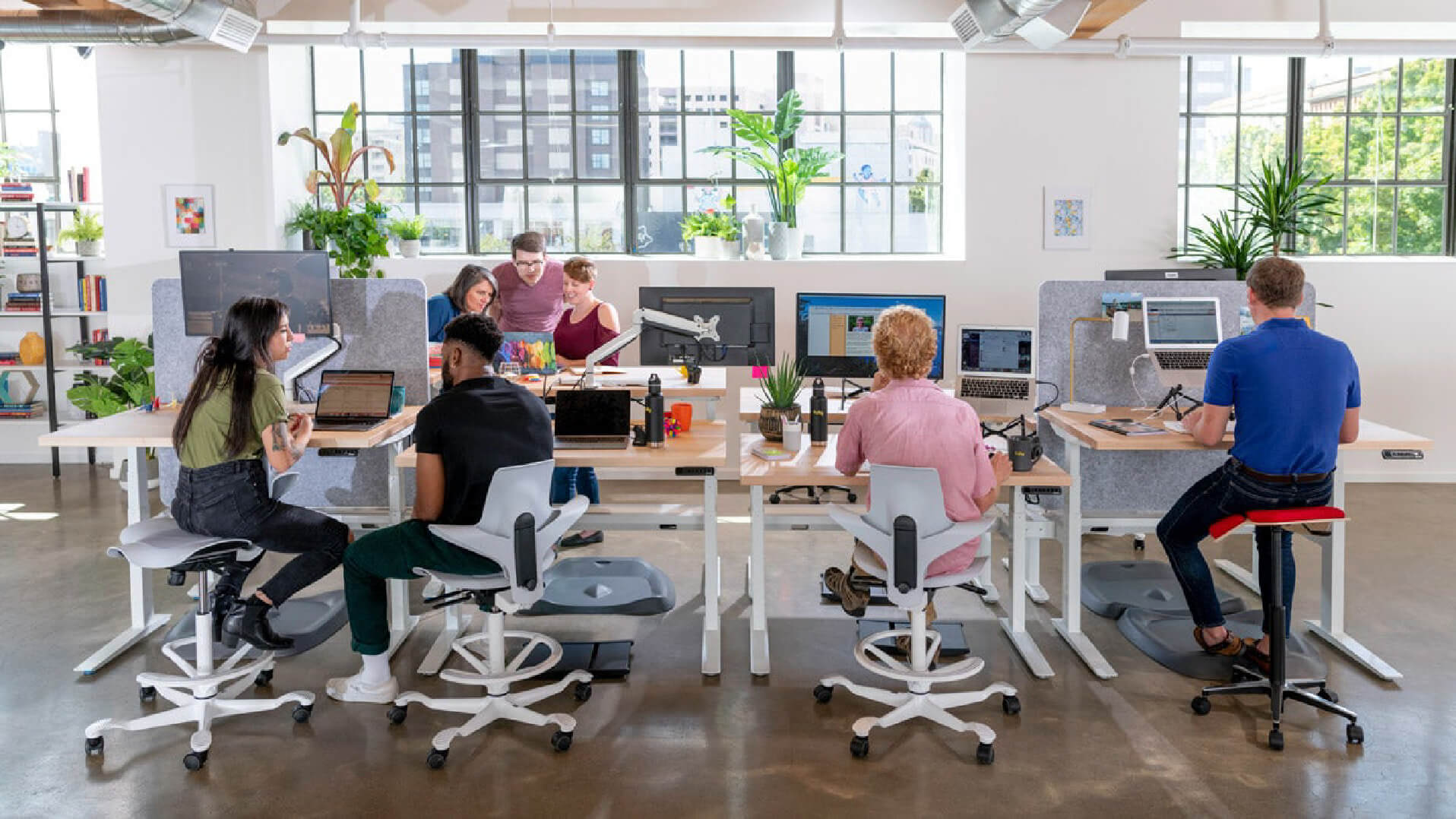 With companies moving to remote working, offices today look vastly different from those we once knew. This is why we felt the need to share with some of the best exercise chair designs.
Commutes are being replaced by morning meetings in bed, uniforms with pyjamas, and for many, the home is operating as a workplace, school and gym all-in-one. 
The COVID-19 pandemic has kept us housebound, sitting down even more than we usually would, plaguing us with bad backs, achy necks and worsening legs.
Luckily, a group of designers have made it their mission to combat this problem by rethinking the traditional office chair and integrating physical activity into our day-to-day lives, so there's no need to compensate for the lack of it outside working hours. 
It's called dynamic sitting – seating that motivates people to be active whilst seated. How? By encouraging the same natural shifts in posture that occur when standing or walking. They fall into three basic types: balls, benches, and stools, and require a more open angle between your legs and torso, which affects the alignment of your spine in relation to your pelvis and prevents you from slouching. 
Active seating is a big change. It's recommended to go slowly, switching out your current chair for an hour or two at a time at first.
Here's a few options to get you started…
1. Tic Toc Chair
The Tic Toc Chair by Fully, a leader in the standing desk market, works to inspire movement by challenging the body's ability to balance.
Otherwise known as a 'wobble chair', this type of dynamic sitting naturally tilts & moves, in this case using a wooden seat and stand, with a black metal telescoping mechanism to keep the back aligned and circulation flowing. Half the size of a typical office chair, and more like a stool, it's compact enough to fit under a desk or in a small office space.
2. ErgoErgo
Based on the principle of an exercise ball, the ErgoErgo stool strengthens the core and back, combining the benefits of active sitting with a joyful contemporary design.
An accordion-like shape rocks gently to build strength and flexibility. The stool is made from a UV-stable technopolymer and can be used indoors and outdoors, it's fully recyclable and available in various colours and sizes.
3. GAIAM
Somewhere between a chair and a balance ball, the Gaiam is a lightweight solution with lockable, easy-glide caster wheels for ease-of-movement.
With the adjustable ease of a regular stool, its most unique feature is the anti-burst, half-dome exercise ball in place of the cushion. This encourages micro-motion from instability that strengthens core, posture and circulation.
4. Active Sit Stand
The secret behind Muvman's Active Sit Stand stool is a perching seat height that creates an easy transition between the two. Whilst sat down, a plush microfiber seat uses friction to hold the sitter in place, with an arched shape that keeps the pelvis upright and supports the natural S-shape curve of the spine.
It also uses a unique anti-pressure-point cushioning that relieves the pressure caused by traditional flat-front seats, which restrict circulation behind the legs.
5. Opus Chair
Inspired by the principles of qigong, an ancient Chinese practice combining mental and physical awareness, the Opus exercise chair forces sitters to actively engage.
It does so using a ball-mounted base and an off-center axis, which places the center mass of the user under the spine, forcing an upright posture. Meanwhile, an ergonomic saddle tilted at 85 degrees with a wavelike form made from lightweight, firm foam, offers a challenging level of comfort.
6. Bamp
Bamp is another spring-like stool, created by polish furniture designer Kamila Wolska, which has been patented and tested for physiotherapeutic effects. Made from wood to create a flexible, tiered structure, the seat forces an upright position whilst balancing.
It offers a greater range of motion whilst sitting than any other type of seat, using a rounded base that allows the stool to follow your movements so you can rock in any direction.
7. QOR360
Designed by a trauma surgeon called Dr. Olser, the QOR360 active chair looks more like a traditional stool but is designed to keep the sitter's knees below their hips.
This sets both joints at an obtuse angle, helping to increase circulation in the legs and decrease muscle tightness. Combined with no arm or back support, this encourages users to find balance and stabilise their core.
8. Locus
A perfect accompaniment to a stand-up desk, the Locus exercise chair is unlike other leaning seats in that it features a base that gives the body something to lean against without flexing the feet. Instead of sitting on the seat, you lean into it and move with it, promoting a relaxed spine and engaged muscles.
A pivoting seat leg encourages dynamic movement whilst a non-slip, contoured seat cushion helps to reduce pressure points. Easy to assemble, the only downside is the size. Whilst it folds in half for storage, once opened out the Locus takes up a fair bit of space.
[ Read also Between hammocks and basketball courts in Jägermeister's new headquarters ]