Design
How Fologram sees the world and then builds it
In an era where digital tools seamlessly integrate with the physical world, the boundary between fiction and reality gets thinner and blurrier each day that passes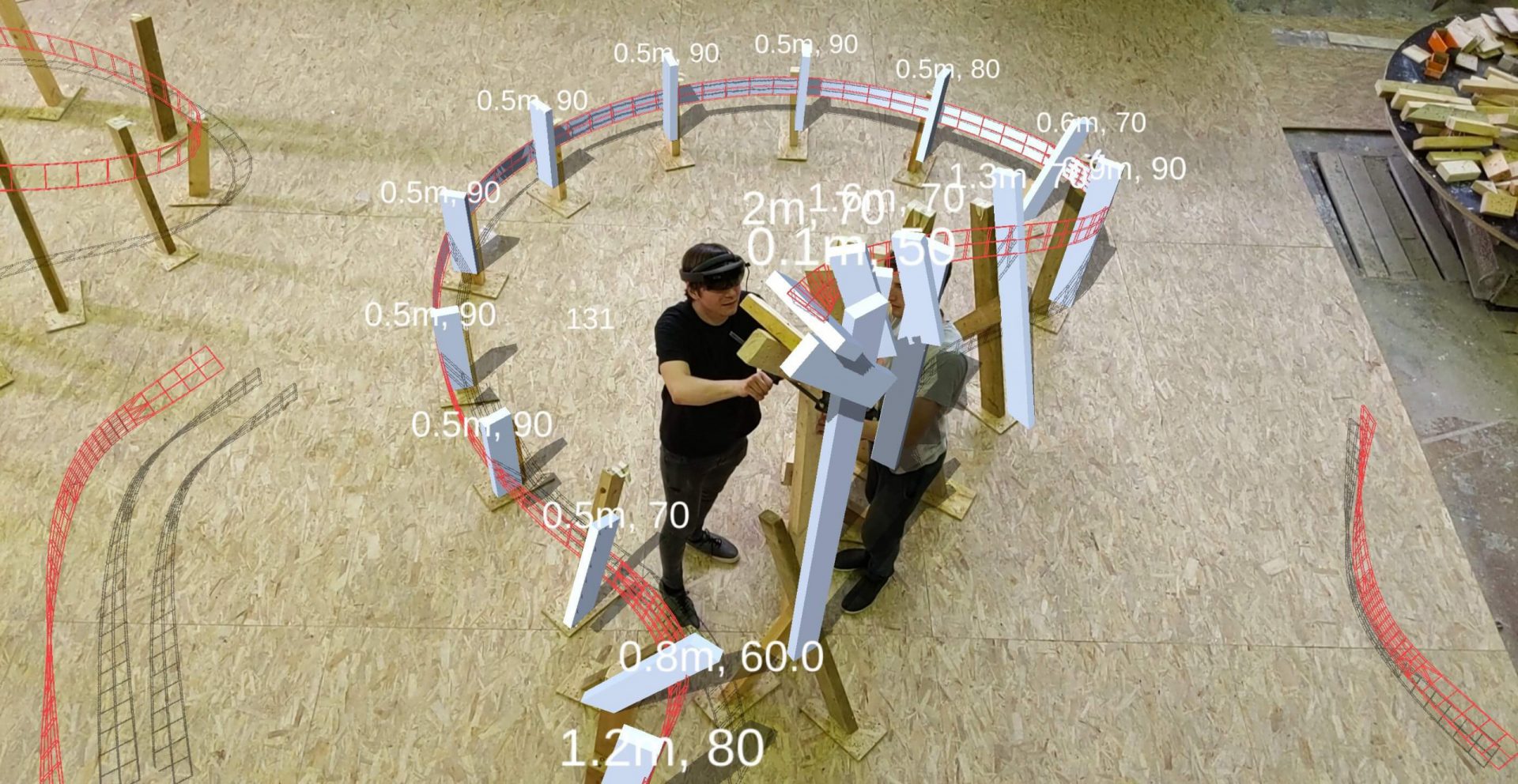 Her is how Fologram is turning the building sector in a sci-fi experience to facilitate the construction phase of complex architectural projects. Fologram is a research platform providing a mixed-based reality software for an efficient, faster and advanced construction process for architecture and design installations.
Fologram was founded by Cameron Newnham, Nick van den Berg, and Gwyllim Jahn who did not belong to the design field yet their practice brought them closer to the sector.
In this interview, the founders of Fologram describe their role in the design world and their journey in creating a progressive helping-hand for the future of construction and installation techniques.
Who are Cameron Newnham, Nick van den Berg, and Gwyllim Jahn?
Gwyllim Jahn:
"Cam and I studied Architecture at RMIT in Melbourne where learning to code was a prerequisite to meaningful engagement with the school's robotic fabrication lab. After graduating we joined the faculty and began developing software platforms to help students engage with advanced computational design and digital fabrication agendas. 
Nick comes from a business development and finance background, and it was fortuitous timing that he was stepping back from a previous successful startup he co-founded, Simply Wall St, when we decided to start Fologram. We've done so many short design-build workshops since that Nick might as well be part of the design team."
Why Fologram, why a mixed-reality based platform?
Gwyllim Jahn:
"As designers, we were always looking for ways to push up against what our industry considered unbuildable, mostly because the things we were designing were so flagrantly just that. Like enormous pieces of sculpture, possible at small scale but inconceivable as buildings. We spent a lot of time developing software to automate the fabrication of sculptural form by teaching robots to see and learn to react to material in the same way a skilled mason or carpenter would. 
When we first tried the HoloLens in 2016 we knew intuitively that we were approaching this problem of large scale, bespoke fabrication from the wrong angle. Rather than programming machines to be more like craftspeople, we could enable craftspeople to work with the precision of digital models and machines in mixed reality. 
As we developed Fologram, we realized that this approach to making isn't limited to just sculptural form – there are opportunities to improve skills and capabilities while reducing the time, cost and risk of so many aspects of the construction industry. Our goal is to bring the skill, delight, sensitivity, personality, materiality, know-how and nuance of craft to construction." 
Fologram's technology was used to build Tallinn Biennale 2019 winning proposal "Steampunk". Check out more about the Steampunk pavilion and Fologram's application.
In your opinion, what are the main trends & future directions within design and architecture in relation to VR technologies?
Gwyllim Jahn:
"We are already seeing a trend to 'collaborative by default' design software. As mixed reality technology becomes more immersive, comfortable and intuitive to use, what we understand now as 'CAD modeling' will leave the screen and take place in shared, distributed and virtual 3D environments. 
We are also seeing a trend away from drawn documentation packages towards BIM models, and persistent representations of as-built conditions (through drone scanning and other technologies) for QA/QC and future development. Our clients are already using mixed reality instead of drawings on construction sites."
We will see this digital-physical convergence continue with the improvement of single-camera SLAM capabilities of mobile phones and precise depth capture from head-mounted devices to the point where digital twins can be created automatically on the fly, and precise, real-time construction information can both be generated from and inform design models.
Mixed reality environments will become so intuitive that boundaries between 'analogue' and 'digital' approaches to making will disappear. The traditional craft will be resurrected and the time, cost and risk of non-standard, one-off architectural proposals will be reduced.
We are already seeing this with our clients in the Art Fabrication space (UAP, Art-Engineering, Artillion Studio, and others). As result architects and designers may think differently about the materials they specify, the forms they work with, the tolerances they expect, and the need for standardization."
How does Fologram support the design & architecture sector as a research platform?
Gwyllim Jahn:
"Fologram provides an out-of-the-box software solution for architects, designers, researchers and fabricators to work with mixed reality using Rhino and Grasshopper. We chose to support Rhino and Grasshopper first rather than another CAD package because the community of users are willing to take risks, experiment and shape the way we create the built environment. 
We partner with universities and large design practices to run short workshops exploring use cases of Fologram and mixed reality, and increasingly are supporting clients in rolling out Fologram for live construction projects and larger scale builds."
What are the most difficult and most exciting parts of your practice?
Gwyllim Jahn:
"While we have eaten our own dog food and designed several projects intended to serve as demonstrators of what is possible to build in mixed reality (such as the pavilion in Tallinn with Soomeen Hahm and Igor Pantic), we aren't a design practice.
Although it is difficult bringing about fundamental change within the AEC industry (that is notoriously inefficient and resistant to disruptive change), developing new ways of building using mixed reality environments and seeing these have an immediate impact on the industry (as in the case of All Brick) is immensely rewarding."
What would be the desired collaboration for Fologram in the design world? 
Gwyllim Jahn:
"We know that Fologram is well-positioned to improve efficiencies, reduce construction risk, and lower the cost of bespoke fabrication projects, and we are always looking for clients with ambitious design projects that could be made feasible in mixed reality.
We are also excited by opportunities to work closely with industry, especially partners developing innovative approaches to prefabricated construction that lend themselves to immediate opportunities for increased efficiencies in mixed reality."