Visual design
The Food Crayon is an edible pencil for "sharpening flavour" onto meals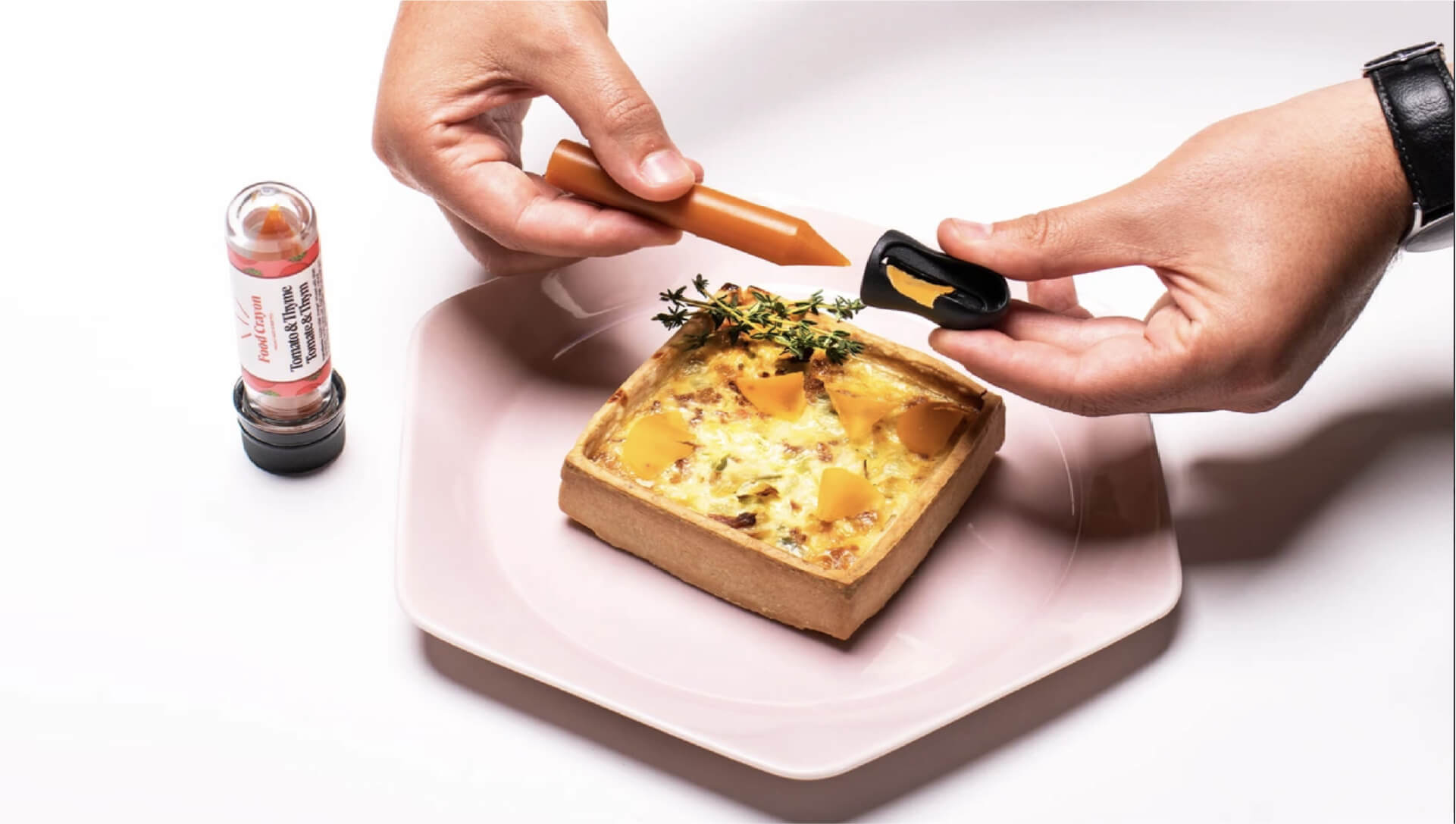 Forget salt and pepper: this futuristic condiment features crayon-based flavouring for a taste explosion in every bite.
For the majority of us, gastronomic perfection is impossible to achieve. If it's not the combination of flavours, the kitchen skills needed to achieve Michelin star presentation are almost impossible to master. That's why Food Crayon was invented, edible 'spice pencils' designed to shave onto your dinner.
As you can imagine, they are as odd as they sound. Invented by a company called The Foodie Family in Quebec, Canada, which was founded by Nadia Lahrichi and her daughter Veronique, these crayon-shaped edible sticks are like solid condiments, brightly colored and packed with flavor.
Each one is made with all-natural ingredients, including agar (a vegan sub for gelatin), which is used as a gelling agent to help bind the ingredients into the crayon shape. It also gives the crayons a satisfyingly soft texture, whilst apple cider vinegar adds a slightly acidic bite.
The gastronomic crayon comes in a variety of flavors including both sweet and savory combinations. The flavors include classics like basil, lemon, ginger, and shallot, as well as posher ingredients perfect for a more sophisticated palette like porcini mushrooms and black garlic.
Curious to know more about food design? Don't miss Carnerie: A countertop appliance for growing your own meat.
Combining their backgrounds in cooking, biochemistry, and marketing, The Foodie Family has also created more interesting combos like chilli and garlic, balsamic and figs, curry and turmeric, and honey and mustard.
Using a special sharpener, which is integrated into the design of each vial encasing the crayon, these flavour-packed art tools are easily shaved into dishes. They can be used to add a touch of brightness without needing to grate and grind, or even prepare sauces, compotes, and vinaigrettes.
"Just twist each crayon in the included sharpener," a description of the product reads. "…and drop 5 to 10 shavings onto a plate of your famous pesto pasta or one to two in your fresh margarita."
Food Crayon arrives in a chemistry lab-like glass tube, which can be stored for up to nine months in the fridge. All the flavors are plant-based, gluten-free, and vegan except for the honey mustard.
It feels very futuristic but that's exactly why we can imagine it catching on. Everyone loves a gimmick, especially at a dinner party, and this one is so reminiscent of those childhood years spent using Crayola crayons… it has Instagram written all over it and we're not mad at it. 
Find out more about how designers are envisioning the future of food, don't miss Edible insects are the future according to BeoBia.