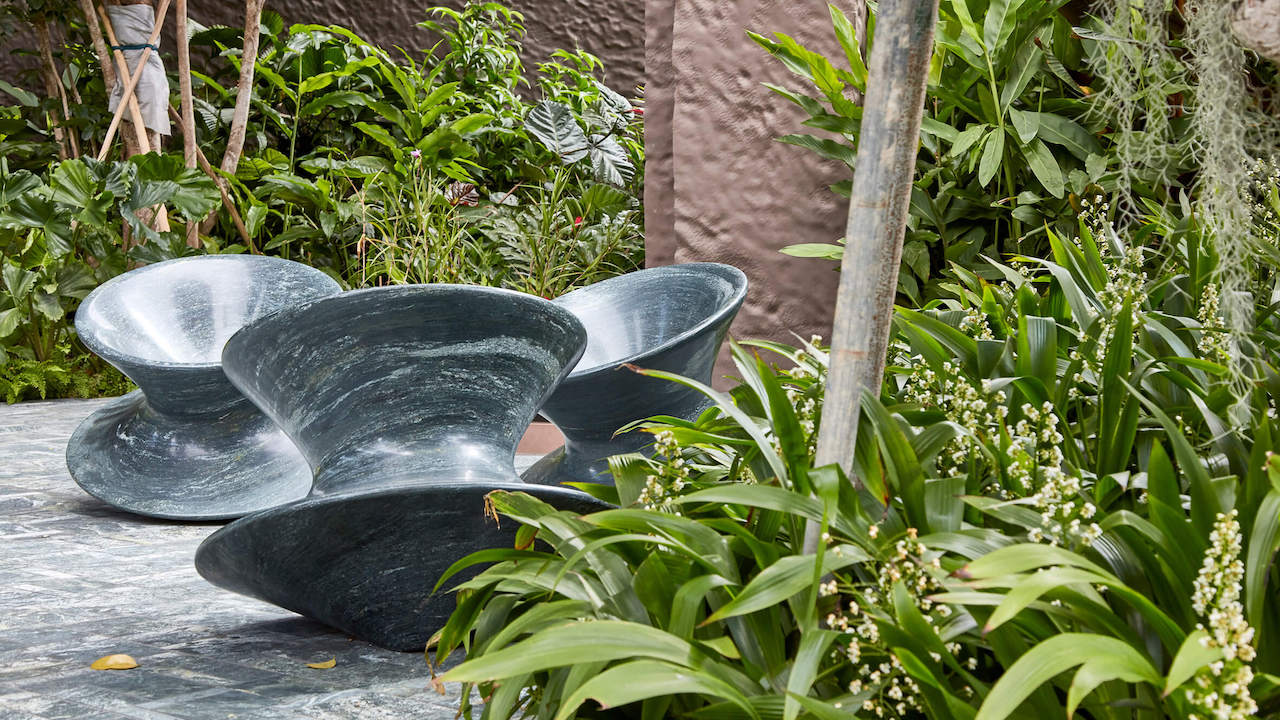 Heatherwick Studio's spinning top style Spun chair is now installed as sculptural garden seating at the base of the new EDEN skyscraper in Singapore.
The form of Spun, which was originally created in 2007, breaks completely with the traditional seat, back and legs that we recognise as a chair. Its unique form allows the occupant to spin the chair around a central base point. In the process, the sitter moves from upright to laying down and back up again.
Why Spun? To explore the possibility of designing a seat using a rotationally symmetrical form
In 2014, Spun was awarded a prestigious Compasso d'Oro for its innovative recreation of an everyday object.
The minds behind Spun – Heatherwick Studio
Heatherwick Studio is a multi-disciplinary London based studio. Founder, Thomas Heatherwick established the studio in 1994 to bring together architecture, urban planning and design. Since then he has become a prominent figure in British design. In 2004, he was appointed Royal Designer for Industry, and became a Commander of the Order of the British Empire (OBE) in 2013.
The studio works on projects from masterplans to architecture, transport and furniture. A workshop is at the heart of the studio, with materials exploration and design problem solving central to its approach. There is an incredible breadth of skills within the 200-person strong studio, and designers from all disciplines are encouraged to contribute ideas.
Heatherwick Studio is best known for the impressive 'seed cathedral' which formed the UK Pavilion at the Shanghai World Expo 2010. In the UK, they also completed restoration of 23 buildings and the flowing ribbed glasshouses of the Bombay Sapphire Distillery, in Hampshire.
Materials and techniques – Can metal be spun into a chair?
Spun originated from asking whether the process of metal spinning could be used to create a comfortable form to sit on. Metal spinning is often employed to produce the bells of brass instruments and results in a rotationally symmetrical form. Spun now exists in multiple material variations.
At the base of EDEN tower in Singapore, three Spun chairs have been placed. This latest iteration is formed from green Pannonia Verdi granite, sourced from Austria. Granite was chosen as an ideal material to last for many years outdoors in the tropical conditions of Singapore.
The granite pieces were sculpted on a CNC lathe, with a six-axis cutting tool. To achieve a glossy finish each one was polished by hand.
Curious to know more about iconic design piece, read the story of Italian design brand Kartell.
Other versions include a molded polyethylene version of the chair that was developed for mass production by the Italian furniture maker Magis. It is hollow and comes in five colors including a dark purple, white and grey.
The diameter of the Magis seat is 91cm, and height when upright 65cm. When inclined the seating surface is 44cm from the ground and overall height becomes 78cm.
Limited Edition Spun iterations were also created from mirror polished stainless steel and copper for the Haunch of Venison gallery.
Style & aesthetics – A curious, varying form
Standing up on its base, Spun is a sculptural and intriguing form. It may not be immediately obvious what it is. As a chair, its shape belies simple categorization. Only when leaned over it reveals itself as a seating piece.
Furthermore, although Spun looks very much like a spinning top, its rotating action comes into play when it is inclined, rather than when upright. In use and rotating around a full 360º, Spun appears as an oversized toy.
Each material variation of Spun brings a reworking of its aesthetic style. The moulded polyethylene produced by Magis has been given a series of small ridges and grooves, much like a vinyl record, as the designers note. This is functional as well as aesthetic- it stops the sitter from sliding out of the seat. It also creates a wonderful play of light across the surface and emphasizes the form.
EDEN is the vision of a garden city
EDEN, the 20-story apartment is the setting for the granite Spun chairs and was also designed by Heatherwick Studio. The design extends into the air the idea of Singapore as the garden city, as envisioned by its Founding Prime Minister, Lee Kuan Yew. Shell shaped balconies on every floor overflow with lush tropical plants.
Design memento – Exploration leads to a surprise outcome
The design process for Spun was explorative and had no preconceptions about how the form could evolve. Multiple clay and plywood geometries and 1:1 scale models were tested, refined, and adjusted. When all the elements came together it resulted in something unexpected and delightful.
Thomas Heatherwick describes Spun as: "a funny, different, playful form of rocking." Yet, this was not necessarily what the design team was concentrating on creating.
The granite version yielded yet another surprise. These chairs are so heavy that they have been secured to the ground. It is not possible to rock them around like the earlier versions. Yet, with their polished seating surface, people can smoothly spin themselves around within the chair.
The writer's comment – Transformative seating and robust form
It is not very often that an ordinary and ubiquitous object undergoes such a complete reimagining. The bringing together of this functional object with an unexpected manufacturing process has resulted in a transformative seating experience.
Even when transitioned to other materials the initial Spun form has proven robust. Further material iterations should continue to add a new character to the shape and its use.
Experimenting with innovative technologies and new materials leads to incredible new types of furniture like the ones of The New Raw.