Furniture design
Lip transforms the humble coffee table with a simple split
3D designer Deniz Aktay is at it again with his rendered designs, this time offering users additional storage and a striking design feature.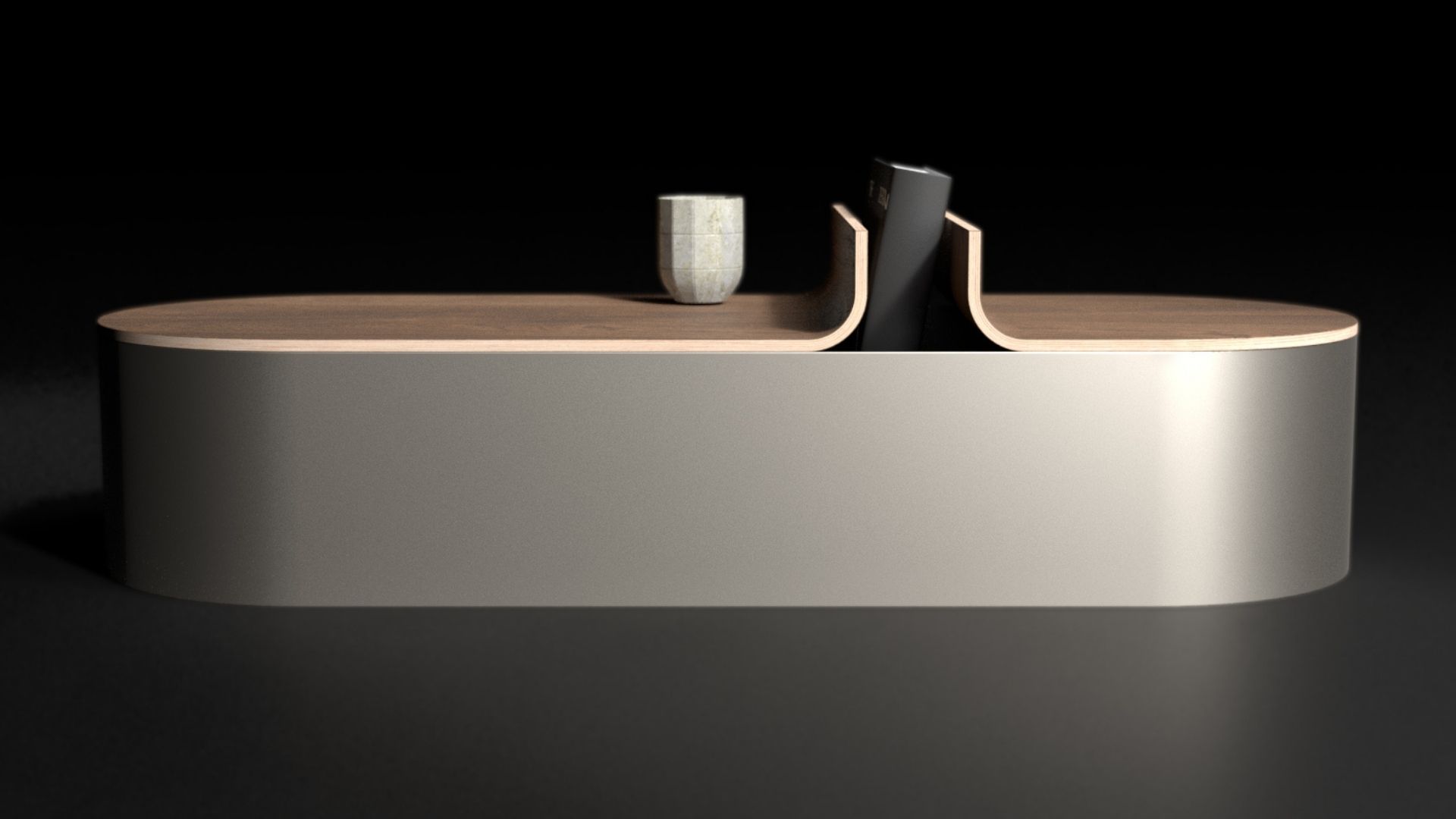 Using Maxon's Cinema4D and Corona Renderer, Aktay created Lip—a concept coffee table inspired by a can.
It gets its name from the distinct opening in the centre, which splits the tabletop into two parts, both with a lipped edge that creates space for storing books or magazines.
It also hints at the storage space hidden inside the base of the table.
"I'd like the image of a container where its content urges to break free, like it happens here with the books that want to get out and be read," says Aktay.
"So I came to this design idea of offering a low tabletop with a small and easy to reach book storage."
The coffee table's construction is fairly simple and minimal, despite the steam bending that would be necessary were it to be put into production.
It consists of 2 elements (the base and the table top) and 2 materials (aluminium and plywood).
The metal aluminium base follows the contours of the wooden top and supports the two plywood parts and the stored books.
"Although the tabletop would be easier to bend if made out of metal I liked to have a more natural surface for the top so it is made out of bent plywood," explains Aktay.
3D designers are turning ideas around in minutes
Sometimes the littlest interventions can be the most effective.
Here a simple cut and bend has given this simple coffee table extra storage options, a hierarchy of table tops to display items and some creative flair.
Thanks to hyperreal rendering, experiments like these can be visualised with quick turnarounds and to great effect. It's opening up a whole new world for the 3D designer, which we discuss with Aktay in an interview here.
"The design idea came quickly," says Aktay.
"To transfer it into 3D it took a bit to find the shape most pleasing to the eye. Then, once you have a nice look you have to find the right textures and lighting to check it visually in a rendering."
"Overall I guess it took me about 3 hours from the idea to the first visualisation."