Architecture
Hello Wood's Wauhaus viewing cabin is a minimalist retreat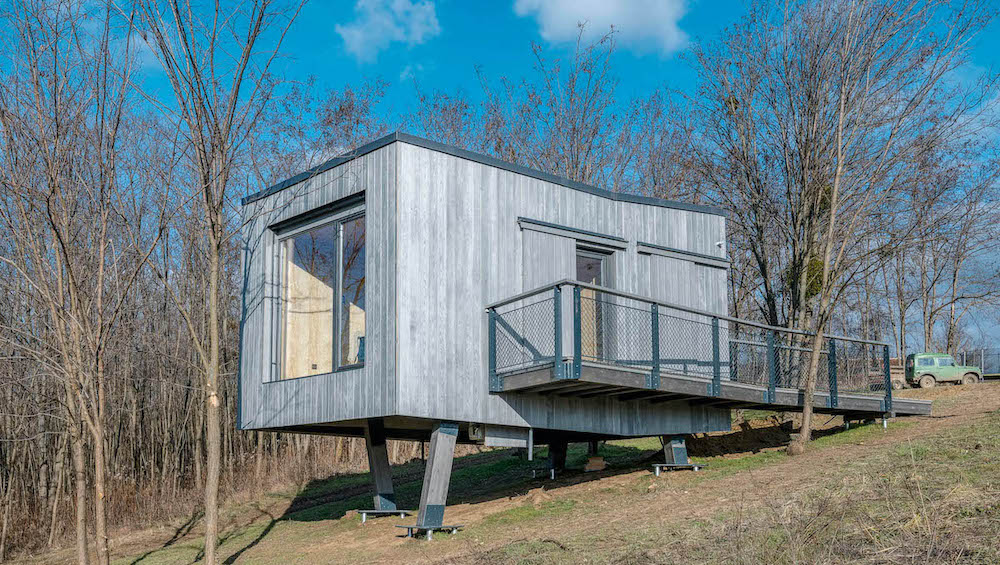 Perched on a hill in the Hungarian countryside, the canopy-level "treehouse" features understated interiors that draw the eye out towards the impressive landscape.
A desire for escapism sees designers and architecture studios like Hello Wood going to the canopy for architecture—treehouses that frame nature in a bid to help us connect with it.
The latest cabin dwelling by Hello Wood is as expected—minimalist and built from sustainable material—but no less impressive. These are the signature stylings of the Budapest-based studio, which have been utilised here to make the most of the cabin's stunning environment.
Called Wauhaus, the stilted cabin is located in an idyllic surrounding on top of the Zala County hills in Hungary and is intended as a guest house, study or glamping retreat. As such, the dimensions are compact and at roughly 20-square-meters the focal point is an open-plan lounge and kitchen space that doubles as a viewing area thanks to a large floor-to-ceiling window. Meanwhile, circular apertures work to frame other nearby scenery.
The cabin itself is clad in graphite grey larch planking, accessible via a narrow bridge that leads to an entrance on the side of the house. It perches on stilts that pierce the sloped land connected by a group of triple screws, to which are attached the beams that support the structure. Inspired by the natural landscape and in line with classic treehouse aesthetics, the inside is decorated with natural birch plywood and oak flooring.
Earlier this year, Hello Wood designed the Workstation Cabin as a perfect solution to keep work life and home life apart when you no longer work at the office.
A celebration of, and escape to, nature
Treehouses like this one are representative of the long-lasting popularity of exciting accommodations that escape us from everyday life. Often respectful of their environment and celebratory with their material palette, cabins and glamping accommodation feed a need to be closer to nature.
This defines Hello Wood's portfolio of eco-friendly designs, which like the Wauhaus, offer a sustainable alternative when it comes to weekend houses. The eye-catching, sleek design, cosy interior and high-quality workmanship stand out from the lightweight and container houses and establish a new category altogether.
DesignWanted interviewed Hello Wood and found out more about their vision, design process, and what they have in store for the future.