Lighting design
High Society converts agricultural waste and human vices into pure bright light
High Society is a sustainable design start-up based in Italy, founded in 2015 by craftsman Johannes Kiniger and designer Giulia Farencena Casaro, that creates plant-based lighting pieces recycling local post-industrial waste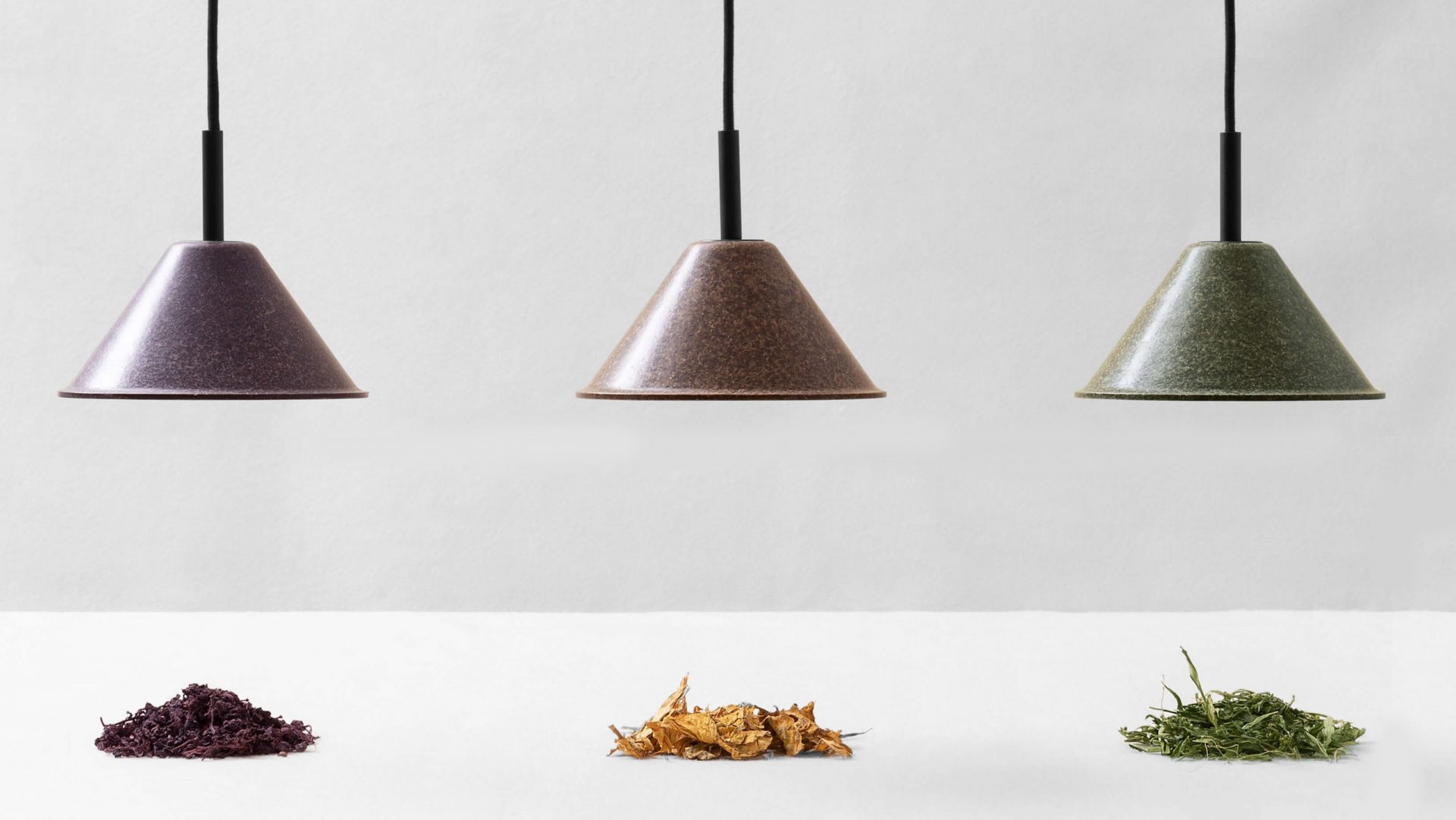 The purpose of High Society is to point out the importance of evaluating waste as a primary resource, finding solutions to repurpose apparently useless materials, exploring new production processes and recovering a genuine connection between nature and human beings.
Johannes and Giulia are the founders and the creative team behind High Society.
The design studio is based in South – Tyrol, Italy, and focuses its efforts on the creation of plant-based objects by up-cycling post-industrial waste.
Among their creations, we find the Highlight pendant lighting collection: a set of plant-based suspended lamps, produced using by-products found in the agricultural industry.
The project was recently selected to participate at London Design Fair 2019 as part of the Material of the Year exhibition, which focuses on biomaterials and agricultural waste.
As if converting waste into elegant lampshades was not poetic enough, High Society moves one step up the ladder of redemption, transforming human vices into pure bright light: the 3 pieces in the Highlight collection are made of hemp plants, tobacco and wine production leftovers.
All the leftovers used as raw materials are collected from local productions, chopped to obtain powder and compression-moulded by adding a bio-based binder using a low-temperature machine, which involves renewable resources and doesn't affect the environment.
Finally, the pendants are finished applying a natural wax coating to protect their surface from moisture.
The compression of the raw materials creates sleek and natural-looking creations, whose surface pattern is impossible to predict and determinate, resulting in unique lampshades, designed to suit modern commercial or residential spaces.
Moreover, very responsibly, High Society supports initiatives against drug dependency through the Highlight collection, in collaboration with Forum Prävention in Bolzano, Italy.
The Highlight hemp lamps are made from the industrial hemp harvest leftovers, cultivated without pesticides at 1300 meters above the sea level.
Hemp-based products have become increasingly popular over the past few years and Italian countrysides are multiplying the innovative experiences linked to hemp production.
With a greater than 10-fold increase in acreage under cultivation, in as little as 5 years, the industrial hemp is a field that could generate a business of almost € 1,5 billion across various industries such as cosmetics, furniture, food, pharmaceutical, packaging and many others.
The wide variety of potential uses of hemp has pushed many designers to develop innovative product solutions that combine experimental uses of hemp and the new digital manufacturing processes.
For Highlight Tobacco pendants High Society collects waste from an Italian supplier, who cultivates Tobacco without additives.
Did you know that Italy is the 10th tobacco producer worldwide?
The Highlight Wine pendants are made from pomace leftovers, the pulpy residue that remains after wine production, which is collected from a local biologic winery in South-Tyrol.