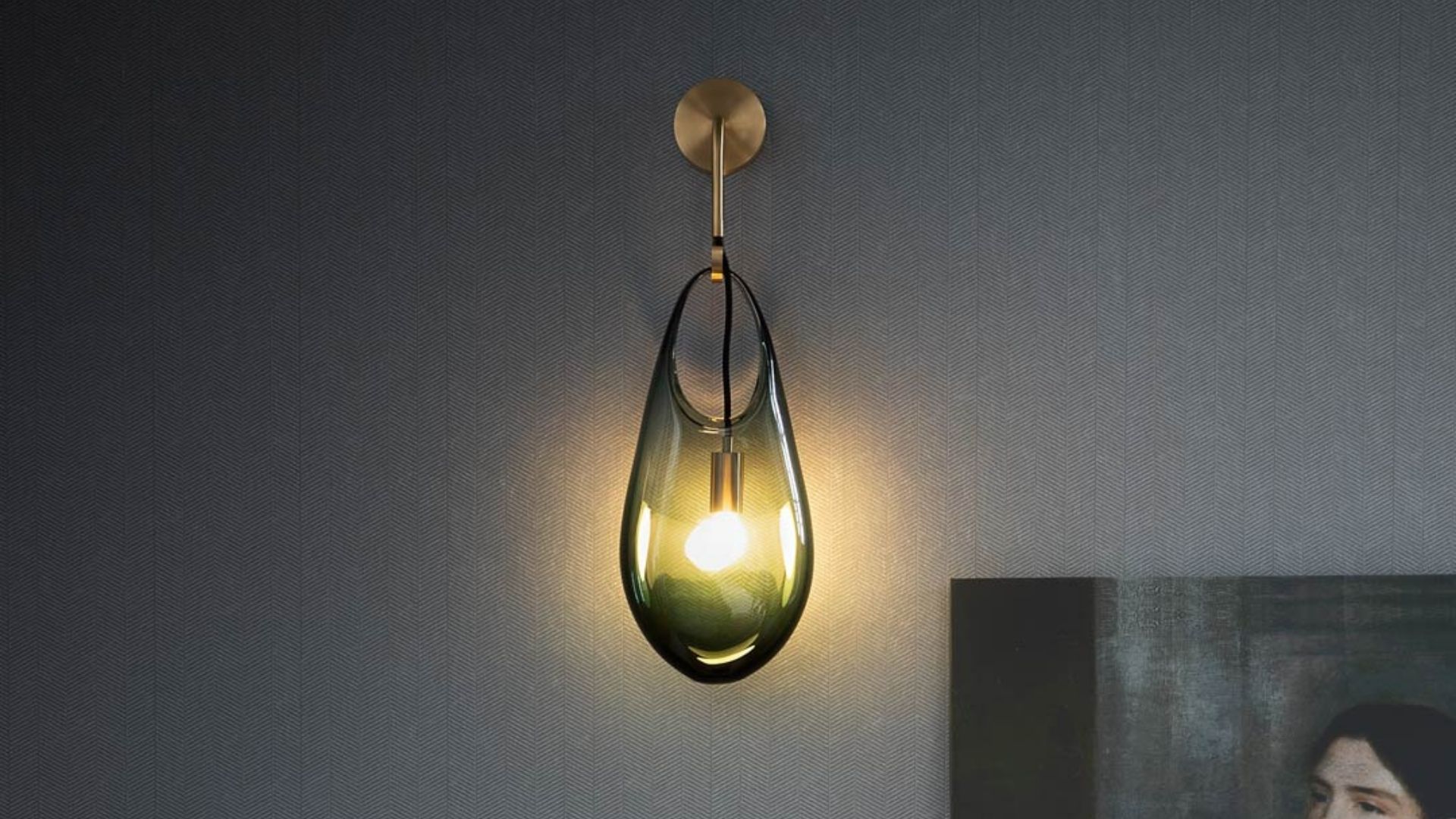 Sklo is the Czech word for 'glass', which sits at the heart of SkLO's lighting collection.
Here, the brand shapes this beautiful material into a jewel-like sconce, which achieves the simplest expression of an idea without sacrificing the most important consideration – beauty.
The Hold wall sconce is an expressive glass vessel that appears to droop from its hook as if molten glass serves as the shade.
"The original idea behind the design was to show the connection to handblown glass' molten origins, to make something liquid-like that looks like it is still flowing," explains the brand.
The socket is suspended from the hook on a fabric-wrapped electrical cord and is loosely suspended within the glass. 
Each one is created, one at a time, entirely by hand. Intentionally different every time, no two are alike. When used in groups, the differences become subtly clear, giving individuality to each one.
"The glass element in the Hold Sconce was one of our first designs," says SkLO. "[That] was over a decade ago and it continues to be a design that defines the SkLO brand. It is also one of our personal favourites." 
The Hold Sconce is a perfect statement piece for any wall light location. Its two sizes make it flexible enough to fit within different spaces.
A classic SkLO design, it is functional enough to work in bathrooms, fantastic as bedside lights, and perfect in hospitality projects large and small.
The brand describes it as 'a pure expression of glassblowing'.
"As a glass design, it is nearly impossible to make, and is a testament to the skill of the Czech glass blowers who produce our glass," says the brand. "It took some effort to develop it, and to make it something that could be repeated over and over." 
Cutting edge design with clean lines and an emphasis on materials
SkLO sits at the intersection of modern California design and centuries-old Czech glass tradition. The brand's lighting collection is designed by Karen Gilbert and Paul Pavlak.
Karen is an American craft artist, metalsmith and jeweller bringing her intuitive understanding of craft making, and a hands-on nature to the designs.
Paul is an American architect and designer bringing a belief in honesty of material, expression of process and simplicity to the SkLO lighting range.