Design
Design as an attitude to read the world with David Dolcini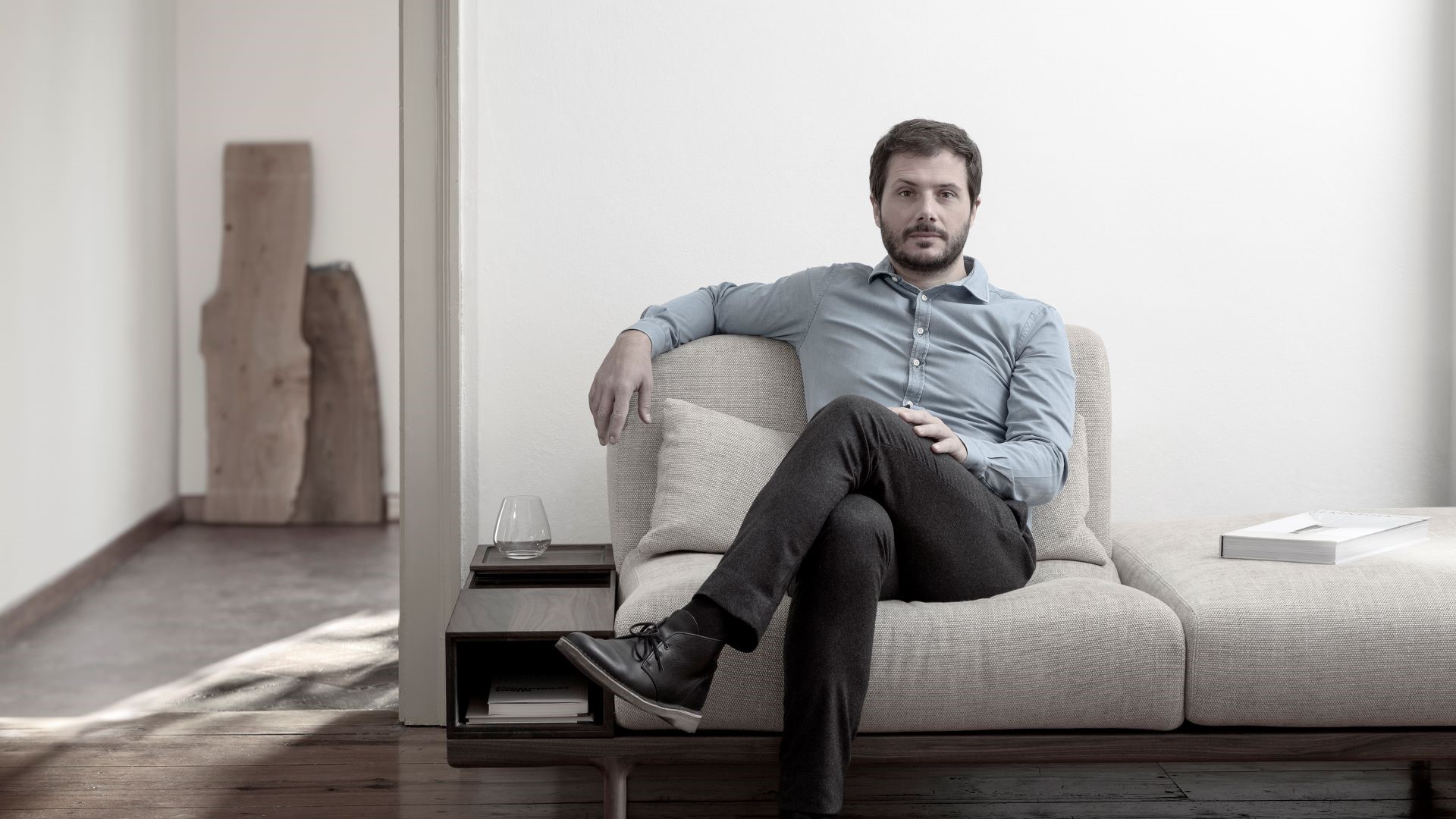 Born in Italy, in a family with a long craft tradition, David Dolcini founded his own firm in 2007. The studio combines product, industrial, interior design and art direction under a strict methodology plus a multidisciplinary analytical approach.
A long familiar tradition in woodworking together with a "nomad" personality, addicted to art and exploration of the world around, were key catalysts for David Dolcini to enter the design field. Since 2004, he has started interacting with companies such as Luceplan and A00, implementing in each project the knowledge of materials and production technologies, along with continuous research: from art to architecture, from handcraft to industrial design.
David Dolcini Studio, his own firm, was founded in 2007 aiming at combining different expertise under design, envisioned as an invisible thread and an attitude to face problems or to interpret reality. Over the years the Studio adopted a strict methodology and a multidisciplinary analytical approach, based on the opposite yet complementary values of Hand and Tool, Home and World.
Fascinated by his "honest products that last" and interested in such a comprehensive design approach, DesignWanted interviewed David Dolcini, to know more about his journey, focus, research flow, prototyping practice and further steps.
Who is David Dolcini? How did the journey for David Dolcini Studio begin?
David Dolcini: "I grew up not far from Milan, in a family with a very long craft tradition in woodworking… But life has always brought me abroad. Mountain and nature are my passions, good food and wine are things I can't live without… But art it's what truly feeds my mind.
I've always considered myself as a nomad, attracted by new challenges and pushed by curiosity. Always listening and watching, I try to follow the flow… I believe that if we keep the eyes wide open and never stop getting prepared for "what's next", life will lead us where we have never imagined.
In 2004 I started working for Luceplan as a project manager, 2 years later I moved to Shanghai to work for A00, an architecture and design office. It's there I probably started thinking about doing things by myself. When I came back, in 2007, I opened my own firm."
Why focus on multiple disciplines of product design, interior design, and art direction?
David Dolcini: "At the beginning, product and industrial design, interior design, and art direction were three equal parts within my studio's activity. I almost immediately understood that design is an invisible thread connecting all the related fields… It is an attitude to face problems, or simply, to read the world.
Over the years, my work was gradually focusing more and more on product and industrial design, but still, I keep the analytical approach typical of when I do art direction. I aim to create honest products that last. Objects to love. Things that give us elegant and comfortable solutions for our everyday life."
Interested in product design? Discover the new-newsletter by DesignWanted: the only notification a product and industrial designer should look forward to receiving!
All your projects are the result of a strict methodology characterized by continuous research. What information is most useful to carry out your creative process?
David Dolcini: "Project developments are always carried on through a strict design methodology improved over the years. This approach touches on all the different and more rational aspects of the project: technology, costs, materials, benchmark, production processes, strategy, etc. This grants me and my team to reach a certain "design quality" result.
On the other side, there is another research, in which I dig at full hands, that arises spontaneously from my sincere interest in things that I meet on my path: art (mostly), crafts, materials, history, traditions, costumes, technologies, or simply details or gestures. When I succeed in matching my research with the design development process, there comes the projects I love most."
Your work is tailored to each project, constantly testing solutions and details through prototypes and hand-made models. How different is your first prototype from your first sketch?
David Dolcini: "The prototype should always be a test-step in the design process. We have an in-house laboratory where we build almost every prototype we do (and we do a lot of them). Sometimes when a project it's quite complex, it requires more than a prototype.
Sometimes it's not necessary to make a complete prototype, but just a sample of a part it's enough to solve my doubts. The prototype almost never looks like the product and neither with the first sketch."
In your opinion, what makes a design idea truly innovative?
David Dolcini: "Innovation means improvement with respect to the existing, I believe, due to how pandemic changed our relationship with objects, with private and public spaces and also with people.
We will see also in furniture a functional and even typological innovation process. The values' scale of things has been reset, so anything that surrounds us maybe needs a re-design process."
Overlooking your career, what would you say were the most important milestones or defining moments?
David Dolcini: "The 2010 Pinocchio stool for Riva1920, the 2013 Kaleido chandelier for Panasonic, the 2016 Bow lamp for TossB, the 2017 Garbí for Luceplan, the 2018 Argo sofa for Porada, the 2019 Ulisse suitcase for Bric's – B|Y, and the 2020 Astra lamp for Porada.
I would say that the most defining moments of my 15 years working in the design field, contrary to what everybody can think, weren't projects, but always coincided with casual meetings with extraordinary personalities, that reoriented my perspective on my work and sometimes even on my life."
What's the next step for David Dolcini Studio?
David Dolcini: "For sure new interesting projects will take shape in 2021, and the studio will try to get off from the comfort zone of the furniture design to experience new subjects, as we successfully did with the suitcase Ulisse.
On the other side, the lockdown due to pandemic has remolded our priorities and our relationship with things and time. In my case, it gave me the "time needed" to develop and shape a personal project not directly related to product or industrial design. It will be launched soon."
How are products actually built? Let's explore manufacturing, prototyping and production techniques to go from raw materials to finished products.