Visual design
Product Design meets with CGI: behind the scenes of Tom Dixon's Fat chair 3D film
Jonathan Formento demonstrates how CGI is transforming product design and the way we present projects by taking us through his visualization of Tom Dixon's Fat chair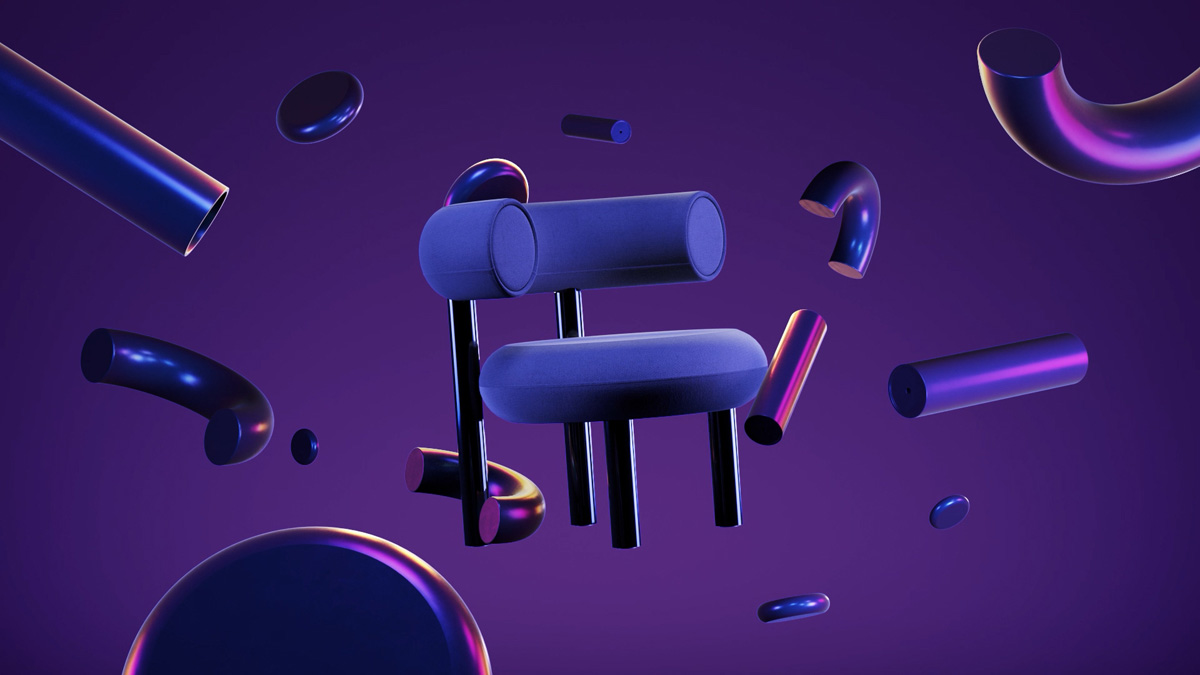 Computer Generated Imagery (CGI) is revolutionizing the way designers showcase their products by allowing them to create incredibly realistic-looking visuals. Jonathan Formento, leader in the design and visualization industry is working across the platforms of CGI, architectural visualisation, animation, motion graphics, VR, photography and directing to give life to products that haven't been physically conceived yet. 
With an endless passion for art, design and photography, Formento naturally developed advanced skills in computer graphics at an early age and went on to study interior design and product design in Brazil before moving to the UK.
In 2020, amidst the pandemic, he started his studio jformento., which quickly took off to work with great design brands and studios including Tom Dixon, Moncler, Snøhetta, Normann Copenhagen and Canyon Bikes.
In this article, we explore CGI and its impact on product design by talking to Jonathan Formento about the visuals he made for Tom Dixon's Fat chair and understanding the process behind his work. 
Signed by Tom Dixon, the Fat chair is an upholstery furniture piece designed to hug the body and allow for multiple sitting positions. Available as a three and two-seater sofa, dining chair, counter and bar stool, chaise longue and lounge chair, the extreme simplicity of the components is a testament to form following function, whilst maintaining a humorous silhouette and a reductionist aesthetic.
What is Computer Generated Imagery (CGI)? Why do Product Designers need it?
"My job exists to bring products, buildings or sometimes even bigger and more aspirational endeavours to life before they are physically conceived", explains Jonathan: in his work, he uses imagery, moving pictures and VR for design purposes, but mostly for marketing collaterals.
There are a thousand ways to showcase a chair, or any product in general: photography, film, illustrations, etc. 
"The CGI campaign approach we took for the Fat chair films was to help market the range in a creative, compelling and unexpected way. It is not only supporting other marketing material but also adding a new layer of content to it in a more surreal and unusual manner."
[ Discover other ways technology is affecting designers' work: Virtual Reality is changing the game for product designers ]
Using 3D and CGI to showcase a chair or any product, allows Jonathan to create the unexpected (and sometimes the impossible). It allows him to solve the problem of giving life to something that hasn't been built yet.
He took this opportunity to anticipate and share with the world what the next Tom Dixon piece of furniture would look like: "It helped to start creating momentum and an initial buzz.", explains Jonathan.
The biggest advantage of using 3D and CGI animation is simple: there are no creative boundaries.
It allows to create anything, from the very basics, such as scaling products and changing materials to making chair seats jelly-jumpy-abstract objects, from stretching and growing into a barstool to creating a waterfall of chair legs. 
Apart from the creativity and fun the software brings in, CGI relieves from the multi-complex and heavy logistics of a traditional photo shooting, permitting to achieve photo-realistic product look. 
Artists and studios working on Computer Generated Imagery like jformento. come into the picture at different times of the design process. They might create initial visuals to showcase what the product will look like and contribute to generate concepts. But they can also create full campaigns to market the project, which is usually what Jonathan does. 
"In this case, we've taken part in where Tom's design was almost finished and we started working from there" explains Jonathan, "Gathering 3D files, textures and materials that would be available on the chairs and starting to understand the design process behind the product that could then be used to drive some of the narratives across the films."
The Fat chair film – Step by step
The brief: "Create a film for the new Fat chair"
"We realized that there were quite a few different parts of the story that we wanted to tell", explains Jonathan.
The film was split into three small chapters: The Intro, Materiality and Finale. The first introduces the chair, the second explores its different materials and the last wraps the sequence in a minimal and elegant way. 
1- Story, storyboard & styleframe
The story of the films exists around its design, as Tom Dixon describes: "… the chair range is designed to hug the body and allows for multiple sitting positions… the extreme simplicity of the components is a testament to 'form following function', whilst maintaining a humorous silhouette and a reductionist aesthetic."
With that in mind, Jonathan used the elementary design forms of the chair to drive the narrative across the films.  
2- Technicalities
"I tried to use as much as I knew to keep things simple and efficient". Coming from an architecture visualization background and being used to 3D Studio Max, Jonathan kept the technicalities under control throughout the production of the entire videos. 
As soon as the narrative, lighting and art direction were set, he used the time to experiment and do some research & development to make parts of the film pop. The iridescent materials throughout the Intro film, as well as its jelly jumpy elements, were created during this phase.
3- Post-production & sound
Most of the project colors and art direction were already formed in the 3D production phase. "We've used post-production to basically add an extra layer of juicy levels and contrast to the films", says Jonathan.
Ultimately, Theo Gibson created the sound for the films which gives it a very atmospheric feel.
Designers are envisioning the impossible and adding a new layer of creativity to their work with CGI animation. From generating concepts to marketing products, the technology is giving life to projects that don't physically exist.
[ If you want to know more about the innovative use of new technologies in design, don't miss Avatar artist turns Manchester's 'The Factory' into virtual installation inside Fortnite ]