Visual design
Machine intelligence as a narrative tool in experiential art – Interview with Refik Anadol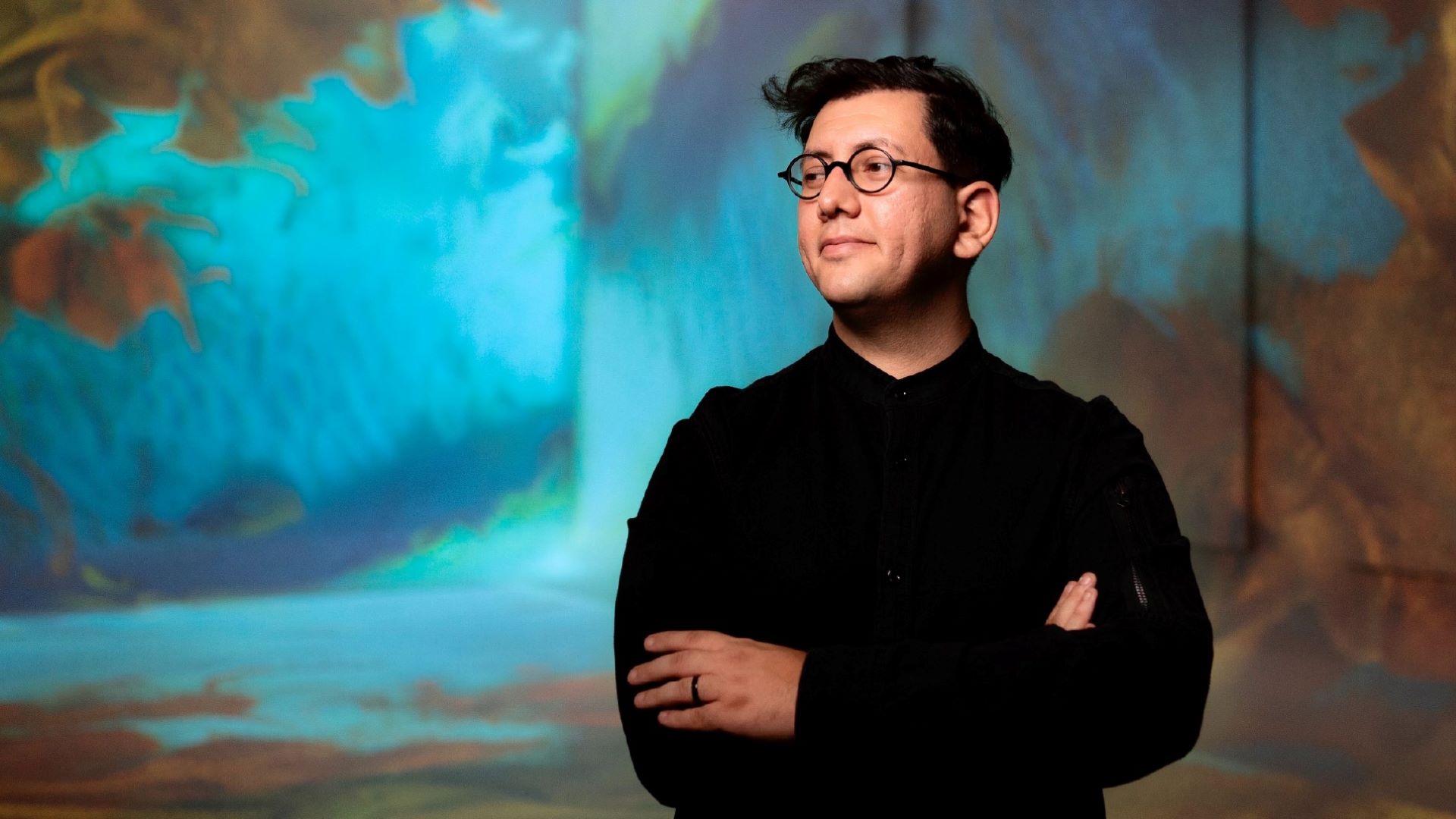 Los Angeles-based Refik Anadol Studio creates unique art experiences materializing the invisible data that surround us. Refik Anadol, director of the studio, guides us through his imaginative process.
Could you imagine machine intelligence – including AI, quantum mechanics and big data – as a tool to create public art? LA-based Refik Anadol Studio makes this possible by exploring the intersections of media, science, and technology and communicating them visually. The outputs consist of site-specific immersive installations, data paintings, and audio/visual performances, bringing the invisible data that surrounds us to concreteness.
Space represents the main focus for the studio, especially while it relates to artificial intelligence, neuroscience, and architecture. Seeking to give value to the imagination-physicality, self-environment, technology-history dualities, Refik Anadol Studio creates human interconnections by turning our memories, histories and dreams into reality.
DesignWanted had the opportunity to interview the Turkish media artist, director of the US-based Refik Anadol Studio, who recently took part in the Business of Design Week, finding out more about his design journey, recent projects, participation in BoDW event and future plans.
What was your journey in design like, how did your career evolve?
Refik Anadol: "I started as a video and photography enthusiast. I crafted my skills in photography in large format, medium format and in the digital realm. Then, I jumped to videography. From there, it was 3D design, and then custom software and computer graphics came later. But, the early stages were visual communication design – from web design to typography to graphics to 2D/3D imagination with additional tools. They were all part of my basic palette in the beginning.
Our department is really very unique in Istanbul. It was actually a pioneering department. Everyone was criticizing, "why do you teach typography, web design, programming, and photography at the same time?". The head of the department was saying, "You have to – you cannot separate these disciplines if you want to understand all of them" which was a big speculation. So, we were exposed to many fields at the same time and it was pretty cool."
Are you willing to explore more "that undefined space" between design and data? Go to check Data, Design & Innovation with Paolo Ciuccarelli
Which is the focus of your practice, why did you choose it? Can you tell us about your goal and purpose along your design process?
Refik Anadol: "My focus has always been to use my imagination in life to make experiences that have never been seen before. This comes from my need for discovery and innovation in life. My goal and purpose are to achieve dreams, turn dream ideas into reality. For me, success means making dreams real and the process is the in-between.
My design process starts with understanding my canvas, an architectural scale, or an environment to augment, or an archive to teach to AI, or a machine to dream, or a space that feels the invisible signals of Wifi/LTE/5G. The palette is based on the aim of the project. We have very diverse collectors and collaborators who are always looking for cutting-edge imagination and technologies.
My design process almost always starts with the idea, and then the process is augmenting that narrative with data and machine intelligence, then we apply data dramatization to make sure there is human emotion at the centre of every single project."
Which is your most representative project, what was the design process behind it? Where did the inspiration come from?
Refik Anadol: "Our most important current project is Quantum Memories, commissioned by the National Gallery of Victoria in Melbourne, for their upcoming Triennale. That project is very special because I've been very obsessed with data. For me, data is not just a bunch of numbers. For me, data is actually a memory.
From that perspective, I'm always looking for what kind of collective memory that we are holding as humanity, and how can we use these memories and turn them into a pigment or a sculpture that represents who we are as humanity. That's been the main challenge of the studio for many years. But, for this project, we are also pushing a whole new idea which is using quantum mechanics, and specifically quantum computation data. "
Refik Anadol: "For this work, we were inspired by the Google AI Quantum supremacy which is a very big challenge and developed by the Google AI engineers who were able to compute information with a quantum computation that would be impossible with our classic computers. So, this breakthrough inspired the project. The second inspiration is coming from the Many World Theory of Hugh Everett who is a pioneer scientist who speculates about the idea that many worlds and many dimensions may exist if they can measure quantum mechanics.
We also took this speculation and trained our AI with 200 million photographs of nature and simply let AI dream alternative realities by looking at quantum data. The project is called Quantum Memories and it will be the first of its kind. I'm very proud to work with a museum that is also extremely important in the field of the arts."
Participating in the Business of Design Week, what are your expectations, and what is your perspective in regards to this year's theme?
Refik Anadol: "I'm really excited to connect with people during the pandemic in a way that I can't do. I can't fly to Asia. I've always been inspired by Asian culture. And, it's a very meaningful time to share my work with a community that cares about the future, sustainability and the power of design. So, I guess our vision has clicked, connected in a natural way.
I do wish to share my work with the people in Asia who may be inspired and open to collaborating. I'm always looking for fresh works and imagination inspired by new cultures. So, that's one of my expectations for the event, to be able to connect with visionaries, and people who want to change the world."
Transforming data into experiential art, which new projects are you working on?
Refik Anadol: "For an upcoming project we are working for the state of California, for their air quality board, which for the last 6 decades has been measuring the air quality in California. And, I'm proud to develop an art collection where we are using 60 years of pollution data from California, being more sensitive about nature – as much as possible and just paying attention to what we have recorded scientifically and how our effect on nature has been measured.
The artwork will be using AI and their big data to emphasize the power of nature and how we can be more sensitive. It's a topic that is equally important to anyone in the world. The second important project we are working on is for the Venice Biennale of Architecture. We are creating a major pavilion that will be a ground-breaking parametric design approach with 3D printing. I think it will be very fresh, especially for the design community."
Curious to discover unique applications of 3d printing technology? Don't miss Making Data Matter: MIT Media Lab creates data-sculptures with multi-layered 3D printing!