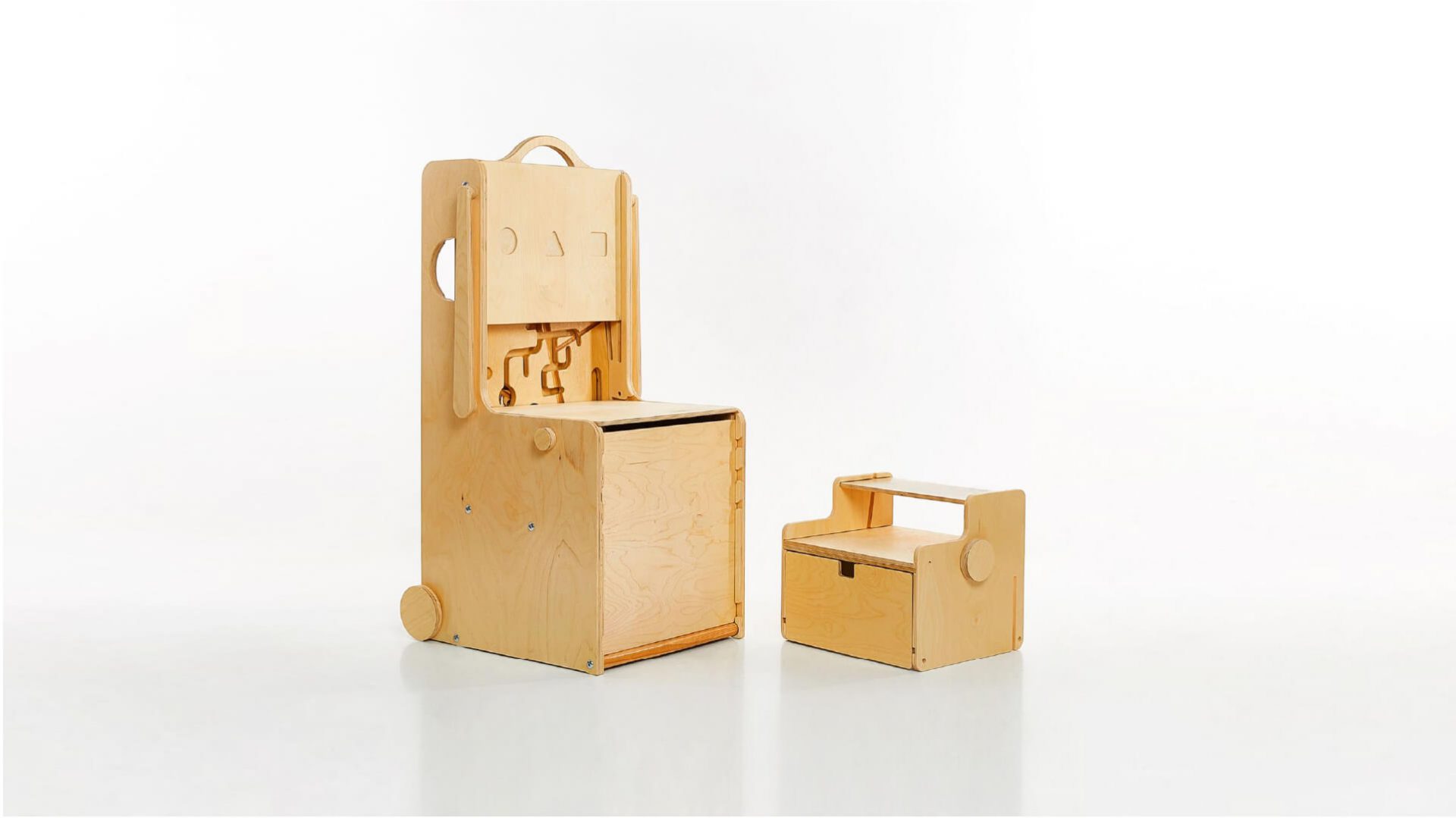 Created by father Dan Popa, Leoleo is a slide, a ramp, a rocking chair, an activity desk, a high chair with a feeding table and so much more…
"With only a few types of building bricks, you can build an entire world," says London-based architect Dan Popa—and he is right. Also an experienced father (arguably his most valuable qualification on this project), he created Leoleo, a "hyper-functional" and playful piece of furniture that contains enough different activities to keep children entertained for hours.
The project features a wooden modular toy range with a multitude of different functions and features, all concealed in a chair-like design. With Leoleo, Popa wanted to solve several problems faced by parents, including the lack of space to accommodate play toys and the harmful effects excessive screen time can have on a child.
Made from CNC-cut 15mm thick Birch plywood, a series of parts can be taken apart and recombined in many different ways without the use of keys or any other tools. It requires a minimum initial assembly to form a base structure but after that, users can choose from a selection of planks, wheels and boards, to change the chair's function. A starter package includes accessories to turn the chair into an observation tower, an activity desk, a slide/ramp, a blackboard, a rocking chair, or a high chair with a feeding table.
Curious to know more about modular designs for kids? Don't miss Magnus is a magnetic play couch that becomes anything kids want it to be.
"Leoleo wants to have a minimal amount of parts that, combined in different ways, will get the user to very different results," explains Popa. "This project is a challenge to accomplish more with less."
"I find this idea of building anything out of just a few parts fascinating, practical, and unifying."
It is also possible to add a number of additional accessories to increase Leoleo's potential functions. For example, an accessory consisting of a wheel and a handlebar turns Leoleo into a push-bike. Meanwhile, a handful of other elements turn the base into a mini-kitchen. When the accessories are not in use a built-in storage rack can be used to stow them away.
Made from CNC-cut 15mm thick Birch plywood, Leoleo features a series of parts that can be taken apart and recombined in many different ways without the use of keys or any other tools – ©Leea
Leoleo is designed for children aged between 25 and 36 months to encourage adult-child cooperation and the development of motor skills, physical movement and independence. The point is to create open-ended play by freeing children from the regimented structures often promoted in traditional toy design.
"The parts themselves, you can change their role depending on the needs and the situation," says Popa. "So, no more unused objects, all [of] its parts can be re-used! It is a recycling idea taken to another level!"
Find out more about designs that empower children, don't miss The Booca toy car is a board game (and a toy car).