Home appliances
Scandinavian style meets Korean design for a new concept of air purifier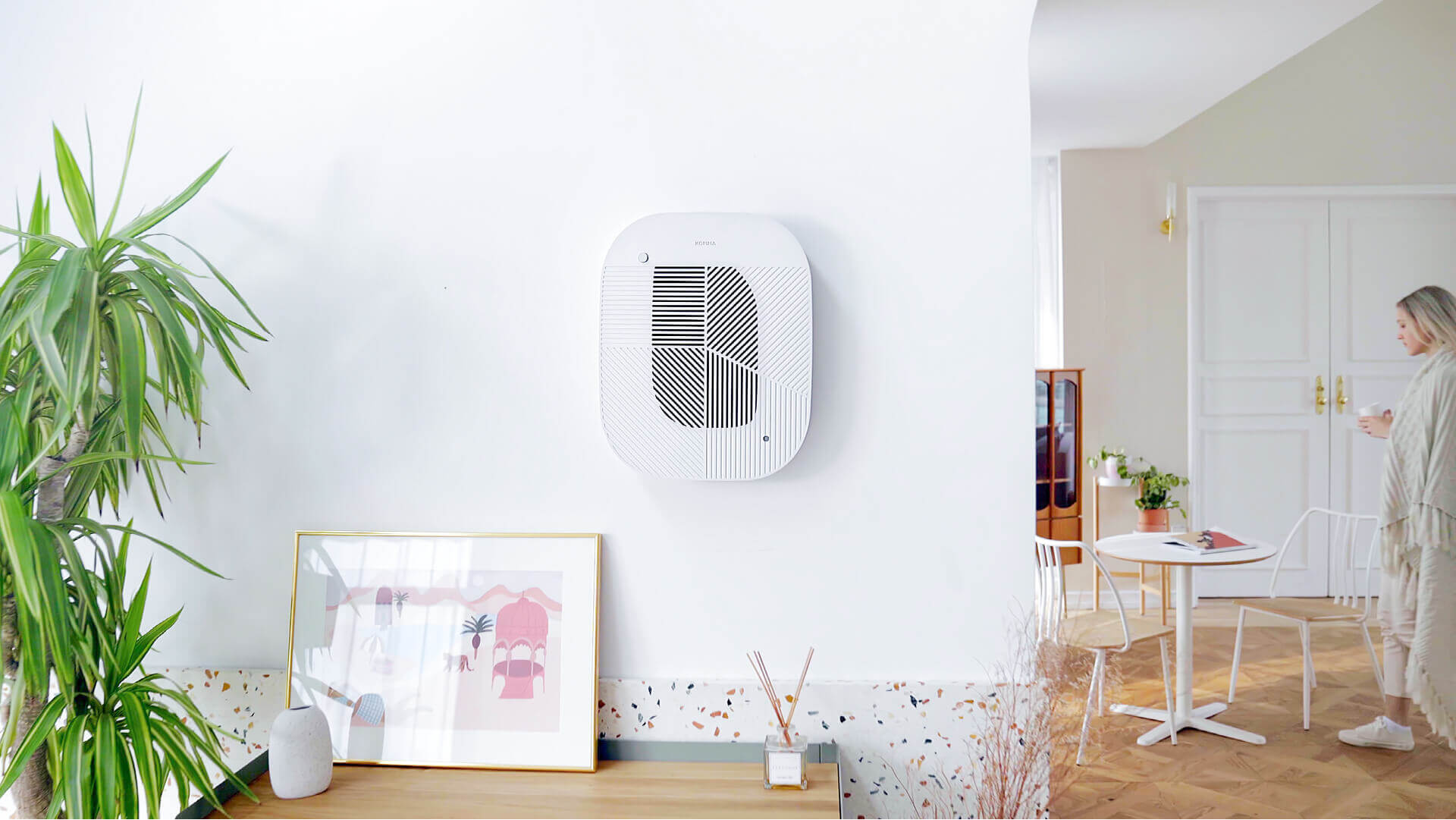 Löv is the nature-inspired air purifier that will save you precious space through a minimalistic design while cleaning the air you breathe.
Komma was founded in 2018 by a newlywed couple in the Republic of Korea who are passionate about interior design, product design and indoor air quality. Komma is the same word as "Comma" in Nordic countries. The founders' aim is to change home appliance paradigms
by creating an Object that is both functional and beautiful.
With human beings spending more time than ever indoors, it is important not only that the air we breathe is clean, but that we can take comfort from our indoor spaces. Now there is the Löv air purifier, a high-performance, high-style option lovingly crafted by the Danish designers and Korean engineers at Komma, Inc.
Featuring a HEPA filter, adjustable positioning, and only 8cm of thickness, the Löv air purifier has a pre-filter and a carbon filter so as to promote the elimination of hazardous substances.
Available in four positions as a standing or a wall-mounted air purifier, the Löv expels 25 single cubic meter boxes of clean air in only 10 minutes. Its sophisticated sensor measures fine particles and then displays the concentration of those particles in varying colors.
The Löv air purifier suggests a new way to style your space
The Löv air purifier is a new concept in air filtration: the marriage of style and function. To achieve this, the creators spent countless hours at interior design showrooms, exhibitions, and the homes of consumers. In the process, they gathered insight about maintaining the personality of a space and crafting an air purifier that would adjust with the space while, of course, maintaining its beauty as well.
The project main focus was the awareness of how important it is to value our own space. Bulky air purifiers take away your space unnecessarily.
In order to do that, changing the mechanical appearance of air purifiers was key. The creators of the Löv air purifier drew inspiration from nature, specifically from the forest, gathering ideas from renowned Scandinavian's masters in furniture design and architecture: designs that look natural and focus on the essence of what the product does. The Komma team designers sought to go beyond existing mechanical-looking air filters and reached for something inspiring.
The Löv air purifier, rooted in Nordic design, was brought to life by working with partners from companies like Samsung and LG. Over 28 months, 180 lab tests, and 35 blade simulations, the team of designers and engineers finetuned the Löv air purifier through 5 iterations until they got it just right.
Löv is made to bring freedom to your precious space, helping you to save space for things that are valuable to you, like another plant in your small apartment or maybe some more toys in the children's room.
Finally, they hit upon the perfect design that combines the nature-inspired shape with the Scandinavian style and named it Löv, which means "leaf" in Scandinavian.
A limited quantity of the Löv air purifiers is now available through the Kickstarter campaign.
Interested in well-designed air purifiers? Have a look also at Natede – Technology, design, and nature joined in one to fight against air pollution