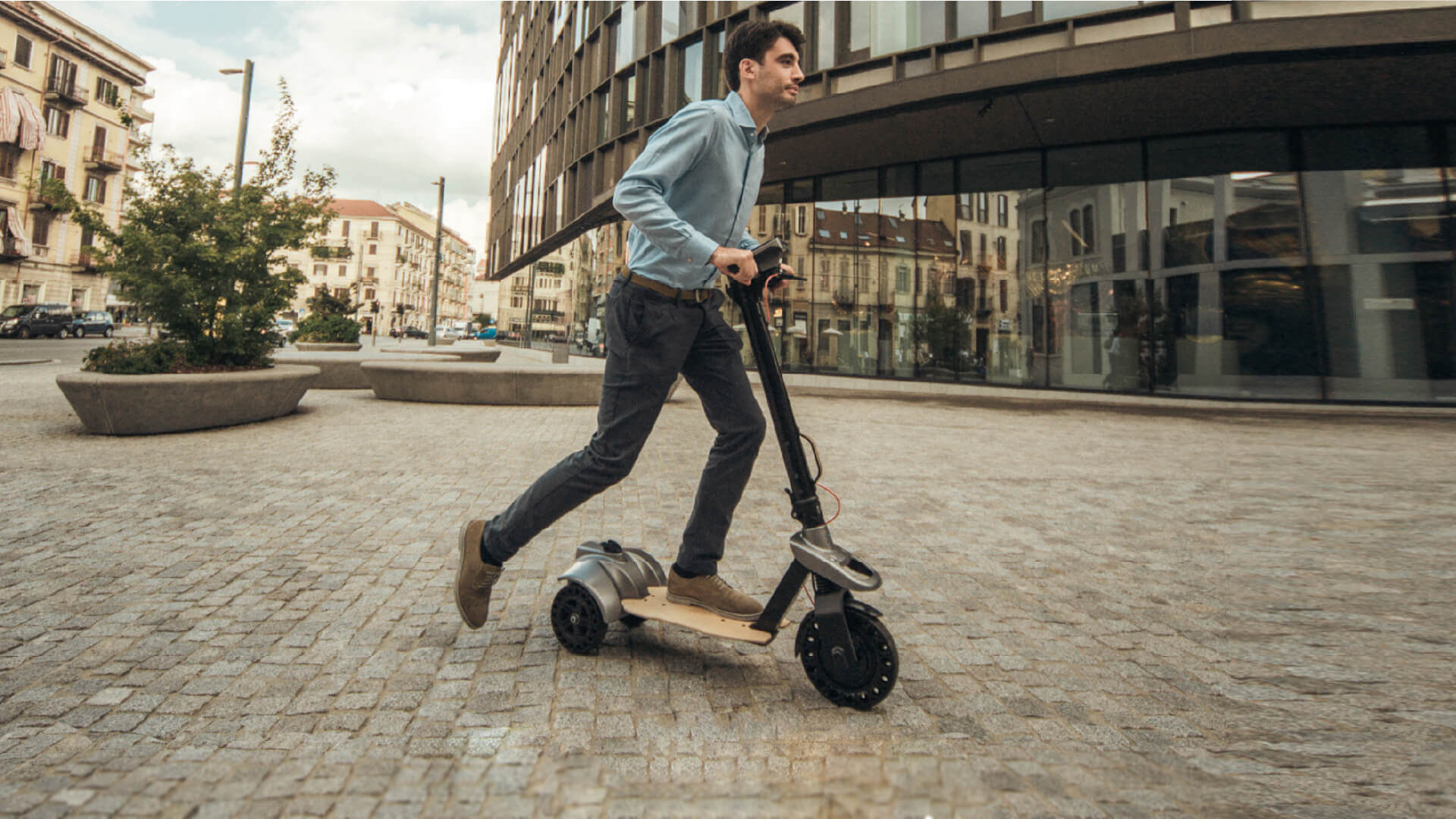 LYNX has all the expected elements of a foldable, personal mobility device, but it's focused approach on customer satisfaction sets it apart from other scooters on the market.
Once upon a time they were few and far between, often associated with the city commuter whose suited and booted appearance felt jarring against the gleeful act of scooting to work.
Nowadays, they are a ubiquitous mode of transport, suddenly everywhere on the streets of big cities. E-scooters are an environmentally friendly alternative to busy trains and buses and yet there's still one major aspect stopping people from using them.
Why LYNX? To create an easy-to-use E-scooter that eliminates concerns over safety
TO.TEM has launched a crowdfunding campaign to realise its design for an E-scooter that focuses on safety where other brands fail to. The starting point was an in-depth study, which included over 250 interviews and over 650 online surveys, identifying mobility needs and addressing them when designing LYNX. In doing so, TO.TEM discovered that commuters' main pain points were portability, pollution, and above all: safety.
The minds behind LYNX – TO.TEM
Based in Turin, TO.TEM (Torino Technologies & Electric Mobility) is an Italian automotive start-up committed to developing user-centric products that promote ease in travelling from place to place.
The company comprises a team of 5 people who specialise in automotive technologies combining their skills to disrupt the micro-mobility industry with their debut product: LYNX, currently crowdfunding on Indiegogo.
Materials & Techniques – Aluminium & Wood
TO.TEM kept sustainability in mind when developing its electric scooter. LYNX is made using low-carbon elements such as wood, which forms the scooter's deck, and 100% recyclable aluminium for the frame. A gesture signaling the importance of a circular industry, eventually, the brand wants to incorporate an application that closes the material loop by monitoring the status of their scooter and allowing users to easily swap out worn-out parts for new ones.
Designed for short trips or last-mile journeys, LYNX is light enough to be folded down and carried around. Together, the rigid components of the scooter weigh around 11kg in total or 13kg when opting for the 40km battery instead of 20km.
Designers are creating scooters in all shapes, forms, and with a variety of functionalities, don't miss A scooter that runs on air? Poimo is portable and inflatable.
Style & Aesthetics – Sleek & Accessible
LYNX is built around a wide wooden deck giving the scooter a natural aesthetic, which is echoed in the handlebars accenting an otherwise industrial design. Combined with a sleek aluminium frame the scooter's foldable design minimises the footprint when not in use.
The entire structure is supported by three large honeycomb tires, which utilize the same type of rubber as solid tires but are built in a way where air pockets are left open in the tire making them less stiff and without the risk and downtime from penetrations and impact damage.
Two of these tires cleverly conceal the scooter's removable and rechargeable battery. Meanwhile, handles above the front wheel and the front of the steering column let users wheel their LYNX around easily or carry it around like a suitcase.
Safety first for fearful riders
Starting with the wooden deck and eventually an artificially intelligent 'collision alert system', TO.TEM's objective is to make the rider feel safe and comfortable. When conducting its study, the company found that some users were fearful when riding with one foot behind the other. According to the company, it was able to identify what it calls a 'blue ocean' of non-customers who enjoyed riding eScooters but wouldn't adopt regular use for this reason.
TO.TEM focused on this customer, creating a wider surface and committing to a three-wheeled design to increase stability and the user's sense of safety. It was also careful to incorporate turn indicators at the rear of the vehicle combined with an AI-powered system that uses a camera to generate alerts when something is approaching from behind.
Design memento – Creating the perfect balance between sustainability and safety
The trend towards using eScooters in built-up cities around the world has led to a flurry of slimline designs with a physical footprint as minimal as its carbon one.
These 'barely-there' vehicles don't address the fears of those who are scared to use this relatively new mode of transport. Where others have failed to, LYNX champions a design incorporating all the appropriate sustainability measures but in adherence to this customer's feedback.
The writer's comment – Smart, simple solutions that are safe and sustainable
LYNX responds to an interesting dilemma in design that when focusing on two positive ideas (in this case sustainability and safety), the two can sometimes cancel each other out. That's not to say that slimline E-scooters are unsafe in practice but that the user's perception of safety is compromised, and that is just as important.
Currently seeking funding via Indiegogo, LYNX is a unique E-scooter that addresses these concerns, which tend to be forgotten in the quest for sustainable and often minimal design. Three wheels and a wide wooden deck are simple and clever solutions to ensure a safe, maneuverable, and stable ride.
E-scooters are gaining momentum and popularity, find out more about them and don't miss Would this compact scooter make you Switch your commuting habits?.