Furniture design
Magnus is a magnetic play couch that becomes anything kids want it to be
Designed for kids but catering to parents, Magnus is a hybrid couch comprising modular elements for making furniture forts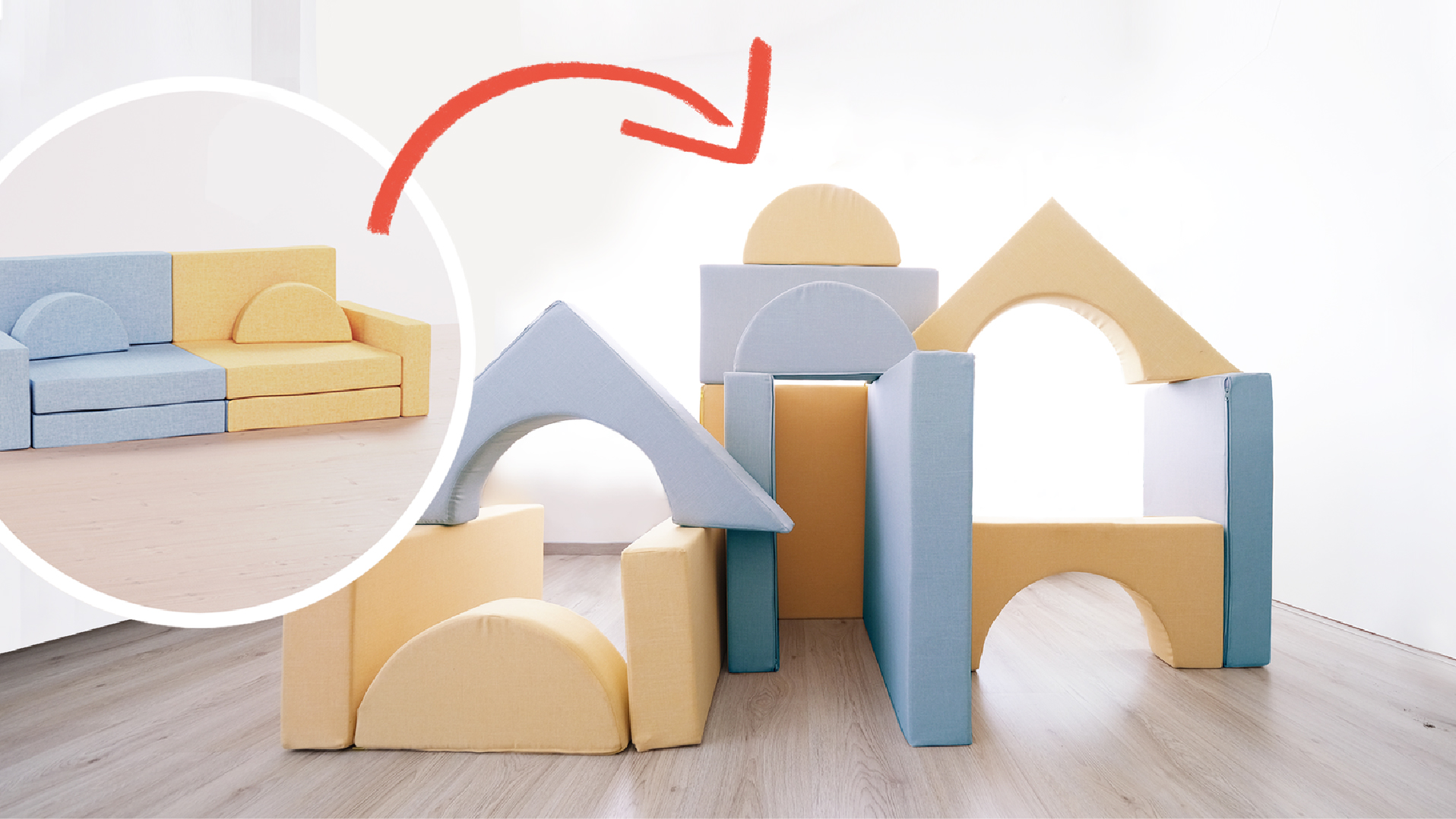 Comprising differently shaped cushions, Magnus can be assembled as a children's sofa or disassembled and put back together to realise a kids vision of a fort, a flying car, or a wipeout obstacle course.
Homes change when kids live in them, at least that's what people tend to believe. The prospect of broken appliances, a flood of toys everywhere, and concerns over crayola-covered walls, spoils any desire to maintain a stylish home, and suddenly the old adage sets in: "This is why we can't have nice things".
But you don't have to sacrifice good design simply because there are kids in the mix. You just need pieces created with your transition to parenthood in mind.
That's the idea behind Magnus, a magnetic couch that hides children's playthings in plain sight.
Once the playing is done, Magnus can quickly go back to being a couch, an armchair, ottoman, daybed, or whatever looks best in your home.
"We designed Magnus to be super fun for your kids, but also beautiful to make your home look nice" explains Adrian Bassols, who created Magnus in collaboration with fashion designer Mar.
"I have always had a strong opinion that there is no better way to play than building things with your hands. So I set out to create the best toy ever. Something that would keep kids entertained and active for hours, but that wouldn't require destroying the whole house."
Looking for designs that are wacky or fun? Don't miss these 10 playful furniture and homeware designs!
"I began brainstorming with my wife Mar, who happens to be the most creative person I know, plus, a sewing expert. And that is how it all started." Together, they came up with an idea of a couch designed for kids and parents.
The couch is made up of 14 foam-filled pieces in five different shapes, including squares, rectangles, triangles, semi-circles, and arches, making it possible to come up with fittingly complex creations.
Each piece is lined with magnets that are strong enough to hold kid-built structures together, but not too strong for little hands to manipulate. 
Letting their imagination go wild, children can intuitively build whatever they want without really needing the help of adults. When playtime is over, the couch can be put back together as a piece of furniture that is both stylish and functional.
Magnus is available in six different shades: bubblegum, azure, banana, sand, olive and elephant, with the choice to mix and match two colours in one single couch. Adrian and Mar chose durable cotton for the upholstery that can be removed and washed in the washing machine, which means the Magnus kit is easy to clean and maintain. 
"We built the first rough version in an afternoon and tried it out with my nephew," they explain. "He loved it so much, his mum wouldn't let us take it away and that's when we knew we had something special.
Every time we had a new idea, we quickly prototyped it and just gave it to kids to see what they did with it. We built over 60 prototypes using different foams, magnet strength, size, weight and fabrics."
After eight months of tests and prototypes using the feedback they had received from various children, the couple finalised a design and decided to launch a crowdfunding campaign which has received support from over 3,500 backers.