Lighting design
Masiero's Olympya chandelier decorates ancient Greek shapes with volcanic glass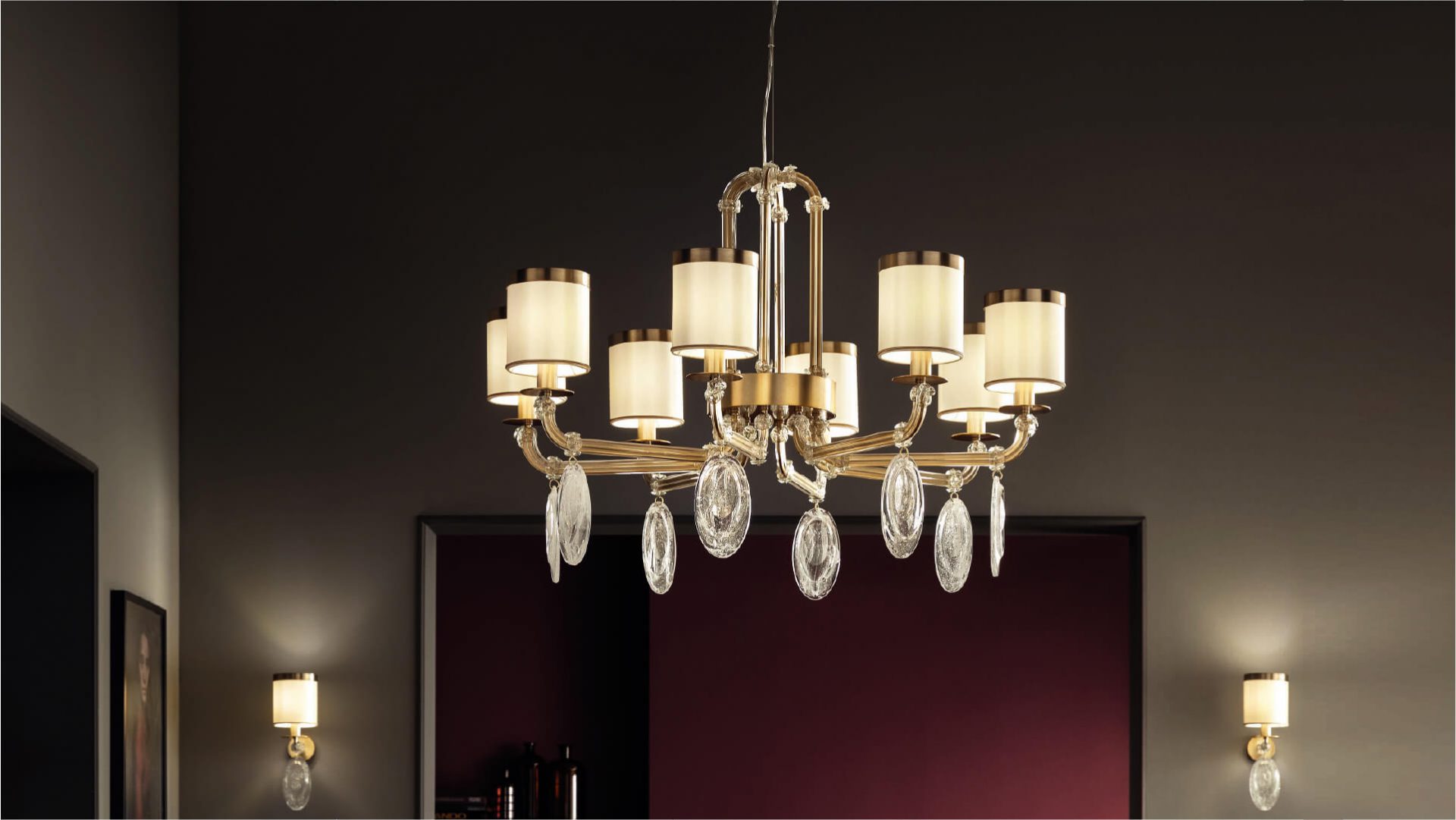 Venetian lighting brand Masiero has created a contemporary chandelier that draws inspiration from ancient designs.
Masiero has done it again. Showcasing superior craftsmanship and skill in mastering glass like no other, the Italian company has unveiled the latest addition to its Dimore Collection. The Olympya chandelier joins a family of uniquely modern lighting solutions and is intended as a modern take on antique chandeliers.
Created by Masiero Lab, the brand's multidisciplinary lab component that focuses on research and development, the Olympya chandelier was inspired by the branched ornamental structure of antique models. The central column is reminiscent of a Greek temple with its vaulted top and the shades trace classic columnar shapes.
"Typical of the iconic Venetian chandeliers, [Olympya] has been modernized by working on sharper and more rigorous geometries but still producing a classic shape," says Masiero. "The construction involves a unique mathematical scheme of steps for the accommodation of the arms that start from the center and drawing geometries in [the surrounding] space."
"The star of the composition is the interweaving of metal and glass," says Masiero.
Tinted with a refined galvanic finish, the metal frame is embellished with pendalogue-like pieces of transparent glass. These decorative elements begin at the crown and continue down the central body before extending outwards and punctuating the chandeliers' flexible arms. A series of hanging pendants add another decorative element, made by hand-crafting "Crek" glass into an oval shape.
"Everything recalls the tradition of the territory," Masiero explains. "The pendants chosen for this article are not in crystal, but in Crek glass, a product of our territory handmade by Venetian glass masters."
Find out more about Masiero's designs and beautiful craftsmanship, don't miss The wonders of Venetian glass come to life in classy 'Ribbon' of light by Oriano Favaretto for Masiero.
"Crek glass is typical of the Venetian territory: Design Process & Manufacturing and inserting air bubbles in the glass which, bursting randomly, create the unique [volcanic] effect that characterizes it."
For Olympya, Masiero Lab deconstructed one of the brand's classic models, the Maria Teresa, which is defined by its iconic Venetian design, with glass-covered arms, volutes, and an array of hanging pendants. After breaking the design into pieces, the designers experimented by reassembling it with a geometric interpretation.
Representing a stylistic union between classic and contemporary, Olympya is undoubtedly a unique product, which summarizes Masiero's expertise in the design and processing of classic chandeliers and its stylistic evolution towards the world of modern design.
"Olympya is a line of products that takes on a more contemporary rather than classic allure based on the type of environment in which it is inserted, harmonizing with the context and enhancing it," Masiero adds.
It is available in two different styles—one with a circular base and the other oval-shaped. The suspension with a circular base is available with 8, 12 or 15 lamps, while the oval-shaped version is available with 8 or 12 lamps. Customers can choose between traditional bulb types and LEDs, resulting in warmer or colder lighting.
Masiero is a staple of Italian lighting design, find more about the company's iconic products and don't miss Masiero goes gold with icons collection celebrating 40th anniversary.