Lighting design
The minimalist Meta Parallel lamp is made from volcanic rock
Mexico City-based designer David Pompa wanted to create a strong statement with a refined simplicity when he created the Meta Parallel Lamp series.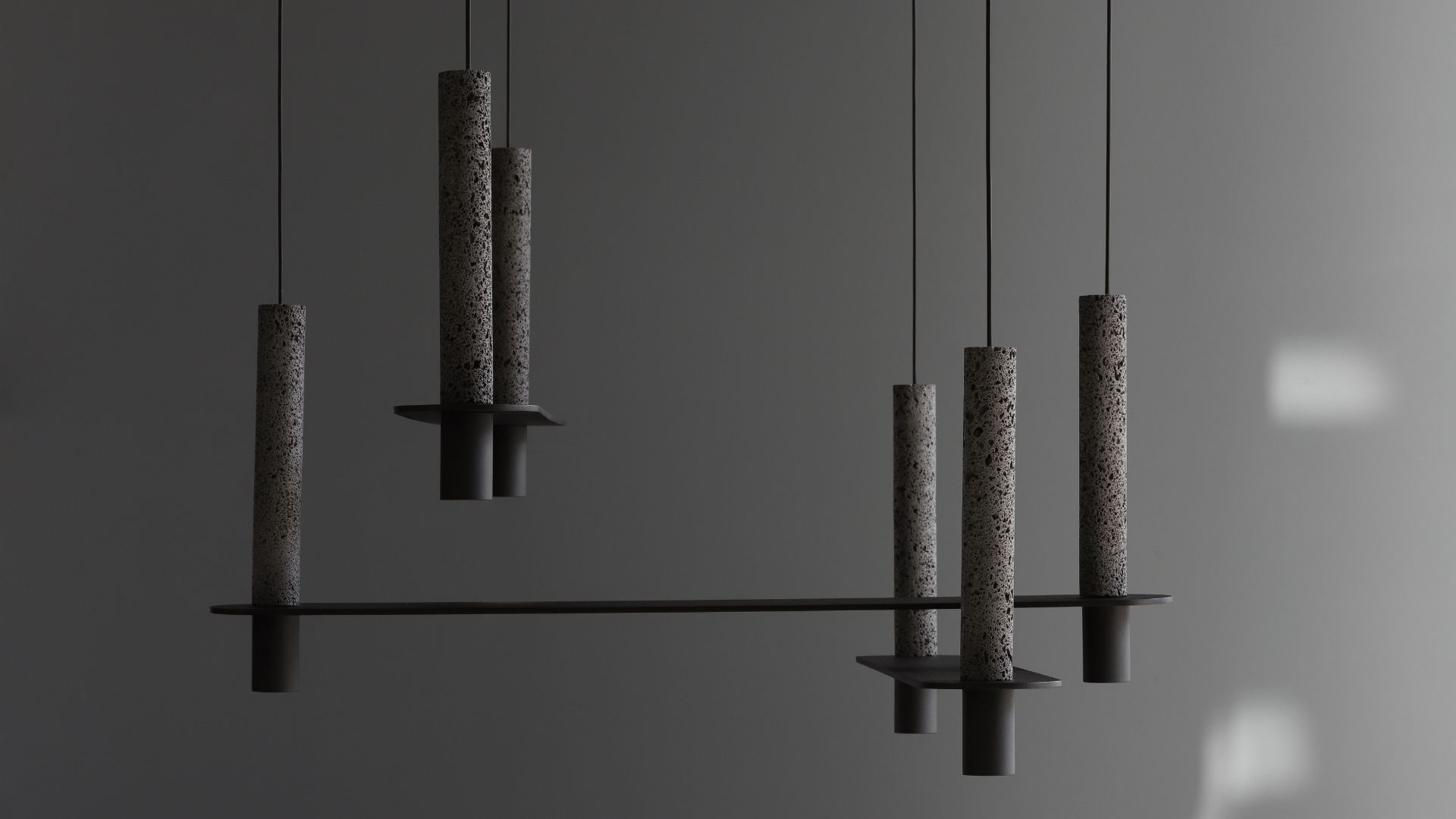 Here, an elegant form creates a visual interplay of balance and tension between two columns made from natural stone.
Connected by a single horizontal metal element, the Meta Parallel lamps enclose volcanic stones placed at a defined distance depending on the preferred design.
As such, the lamps can be combined and layered to create striking chandeliers or sculptural installations. 
Emitting a warm and dimmable white light, two 7W LED bulbs enclosed within each cylinder illuminate the space.
The Meta Parallel uses Recinto for the columns, which is formed during lava solidification. Also known as volcanic rock, it's created when lava cools down rapidly on land surface after a volcanic eruption. 
It's a distinct and enigmatic material with a porous texture that may vary in refinement with rich nuances of dark grey created through irregular variations on the surface, making every lamp unique.
Meanwhile, the Meta Parallel White uses Fiorito, a light grey natural stone quarried in Puebla, Mexico. Both materials give the lighting a natural, porous texture that's equal parts industrial and luxurious.
"Its beige tone makes it very easy for use in neutral contemporary projects," says Pompa.
"A stone which has been used both in America and Europe throughout ancient times due to its durability." 
Meta Parallel lamp: Materials with a cultural identity
It might not seem obvious at first but the Meta Parallel series is a celebration of Mexican culture. Just take a closer look at the materials.
Recinto is a strong and resistant rock that has been present in Mexico for centuries, used by several Mesoamerican cultures, mainly for sculptures, kitchen utensils and architecture.
Iconic examples are the Mexican Molcajete and Metate, pestle and mortar-style objects dating back over 3500 years.
"Recinto, deeply rooted in Mexican culture, represents historical richness," says Pompa.
"A material with an unquestionable aesthetic."