Lighting design
Forget about boring traditional light bulb designs: here 5 original designs
These projects are a treat to look at and will help express the desired character of your space
In this article, we've handpicked five original light bulb designs, which are sure to enhance the aesthetic appeal of any space.
Throughout centuries, lighting has been a predominant factor in interior design. That doesn't come as a surprise. Proper electrical and lighting products don't just affect the mood of a room but are also important for our overall well-being. 
Well-chosen lights create depth and height and can become the center of attention.
1. Bulb – Pendant light by Tom Man Design
The Israelian artist and designer Tom Man has designed a lightbulb called 'Bulb Pendant light', which offers a new and exciting take on the classic symbol of light. It is a versatile, beautiful, timeless everyday lamp used alone or with glass pendants.  
The winner of the LOOP Design Awards 2022 is currently studying Industrial Design at the Shenkar College of Engineering and Design. His interest lies in developing complicated projects that contain broad research. 
2. Bubble Bulb by Yuma Kano 
Next on our list is the work of Japanese designer Yuma Kano, whose designs aim to create a world that's fun to live in and where anyone can discover new possibilities by observing everyday things. In collaboration with Kyoko Sano, he's created Bubble Bulb. As you can guess from the name, the unique product was inspired by soap bubbles. 
The Tokyo-based designer made minor modifications to ordinary light bulbs, and this way, a new narrative was born. Simple, yet original. The Bubble Bulb will add a nice touch to any room.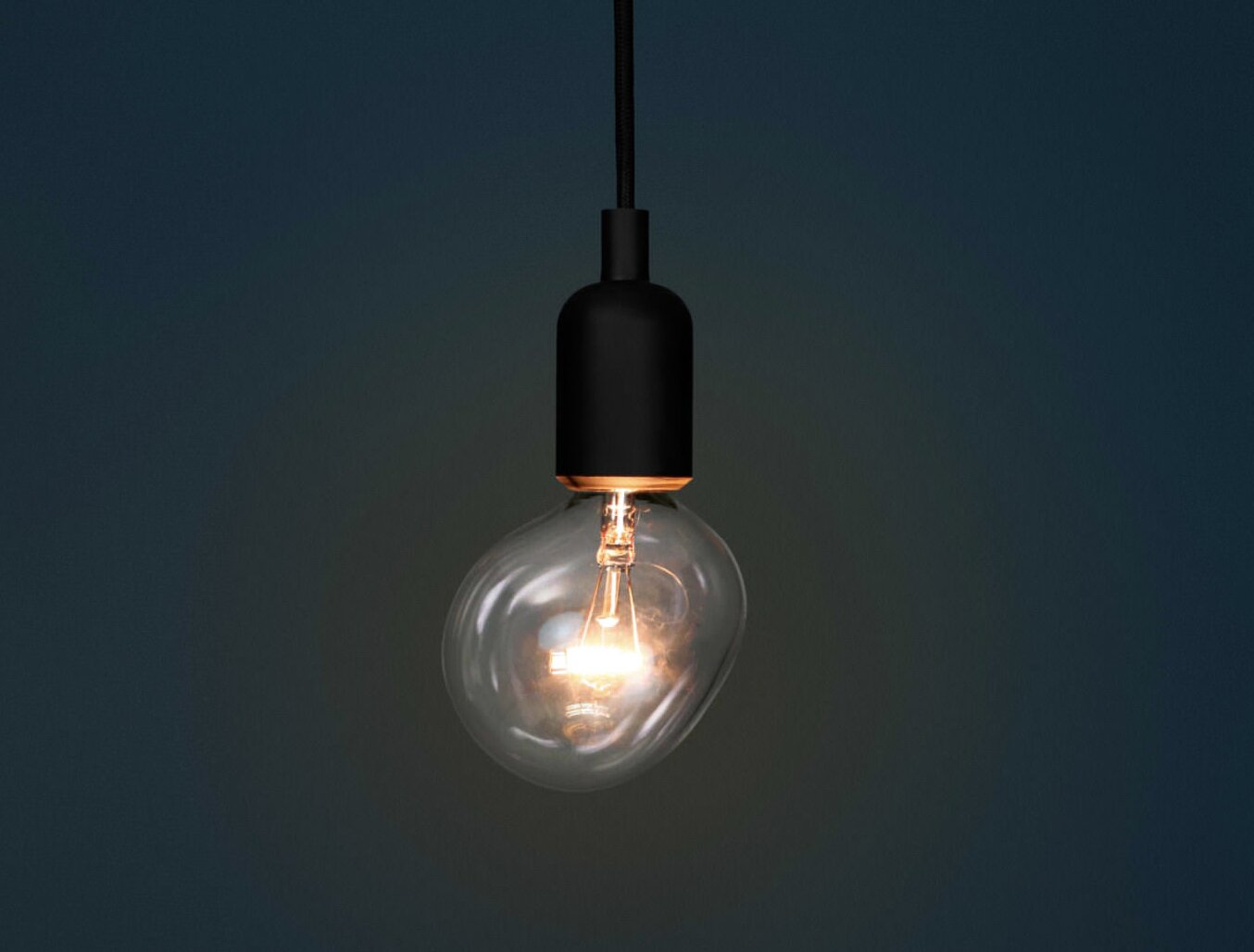 3. The Lamp Lamp Bulb by HH Style 
Among the coolest light bulb designs is the project of Hronao Tusbio. He's taken a traditional light bulb and twisted it slightly to make the leap from ordinary to extraordinary. The unusual design of an incandescent light bulb results in a bewildering optical illusion.
This product, placed near any table, desk, or flat surface with the help of the optional stand, will become a real centerpiece. Just by looking at it, you could never imagine how it could be hanging, sitting, or even charging. The project by HH Style turns a standard lighting fixture into a central artistic design object. Impressive, isn't it?
4. 001 by Samuel Wilkinson and Plumen
In 2011, Plumen won the Brit Insurance Design of the Year, which is known to be one of the world's highest-profile design awards. The product you see in the photo, however, is an environmentally friendly version of its original 001 bulbs. This redesign has a patented LED construction, which replaces the compact fluorescent technology used before.
Even though the light bulb is now produced differently, the brand has kept the double-looped shape created by British designer Samuel Wilkinson. According to the company, 001 hopes to inspire change in the world, making it a more sustainable place.
5. GAM by Hyogyeong Kang
Have you ever thought about the way you switch the light on? Designer Hyogyeong Kang has found a new and exciting way to do it. The Persimmon, a tree-growing fruit, inspired her concept design GAM lamp that has gained huge traction in Korea. With her interactive light design, she challenges the way we view light.
GAM requires you to interact physically with the light source itself. The project features two orb-shaped bulbs that users can 'pick' and 'take' with them wherever they go. It doesn't get much more original than this!
End notes
Lighting can make or break the entire ambiance of your space. While function comes first, aesthetics shouldn't be forgotten too. These original light bulb designs have the best of both worlds – they look good and will serve their purpose well.