Furniture design
Moroso's nature-inspired furniture collection looks exactly like mossy rock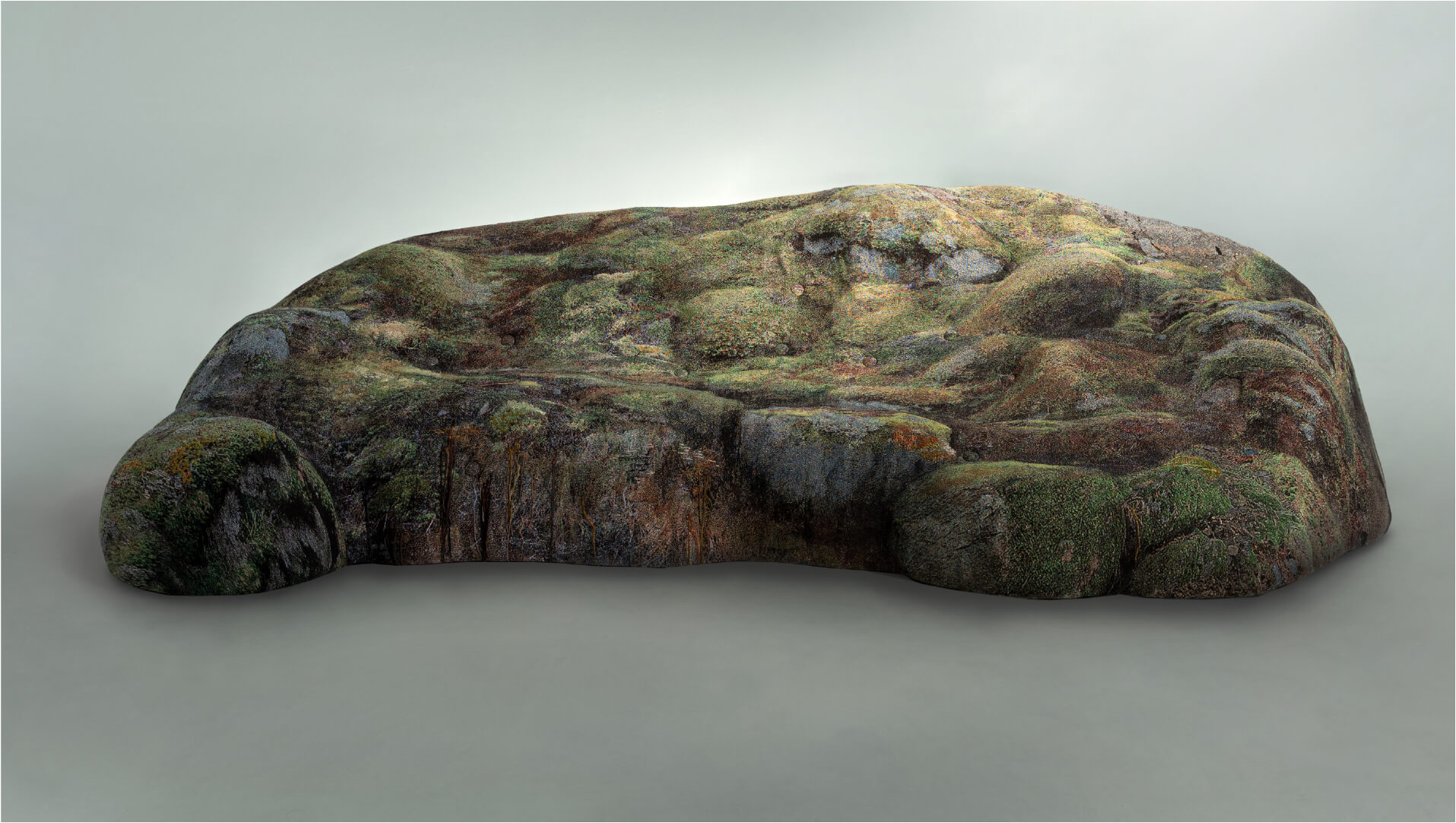 Swedish studio Front has collaborated with Italian brand Moroso on a furniture collection that mimics elements in nature thanks to 3D-scanning technologies.
Letting the outdoors in is good for us. It's not a new trend but one that's been in the air for a while now. Otherwise known as "Biophilic Design", it highlights the positive impact references to nature both abstract and literal can have on our mental wellbeing. Designing with this notion in mind, creative studio Front has created a furniture collection that draws from the beautiful wilderness of their native Sweden.
Created in collaboration with More-So, the internal division of Italian design company Moroso, the "Design by Nature" furniture collection mimics objects typically found in nature. Seating, wooden tables and vases appear as faithful reproductions of three-dimensional forms such as branches, rocks and moss created using 3D-scanning, milling and weaving.
Sofia Lagerkvist, co-founder and partner of Front, says: "We wanted the pieces to create the feeling that someone had lifted a whole glade from a forest with a gigantic shovel and moved it to a home."
To achieve this effect, the designers took photos and 3D scans of various woodlands and seaside areas, which they used to digitally build their designs while a milling machine was used to achieve their shape.
Nature offers more than resources, it offers genius, check out Fold Panels are the novel nature-inspired designs by WOOD-SKIN.
"We wanted to collect both the dimensions and physical properties, but also the experience and atmosphere of nature," explains Anna Lindgren, co-founder and partner of Front. "There were lots of paintings and drawings, and we 3D-scanned entire areas in different natural settings and used those forms to create the pieces of furniture."
The textiles that cover these complex forms are an integral part of the works. They were provided by Kvadrat-owned textile company Febrik, which took images from Front's scanning process and digitally rebuilt them into tapestries customised to fit the three-dimensional furniture pieces.
How good this furniture would actually be for you is questionable. A significant part of any ergonomic furniture is lumbar support, which helps stave off a bad back. Then again, we can imagine these amorphous "rocks" decorating a breakout space in an office environment where their purpose is to encourage lounging and relaxing.
Design by Nature also featured the study of structures built by animals, including the nest of a potter wasp whose form is echoed in a pair of clay vases. Elsewhere, the venous structure of wood inspires a set of stools. "Our interest has been to look at how those structures work and how they relate to their surroundings," adds Lindgren. As such, the Design by Nature project is an attempt to explore the creative interface between an organism and its surroundings.
Nature-inspired design is not only beneficial to our health but can also add a layer of luxury to our lives, don't miss Visionnaire to launch nature-infused collections at Milan Design Week 2021.