Mobility design
MVRDV and Airbus collaborate to design the integration of Urban Air Mobility (UAM) into our existing cityscapes
Following years of research and development, MVRDV and Airbus have been working in collaboration with various teams to design scenarios showcasing how vertiports can be integrated within existing architecture and transportation infrastructure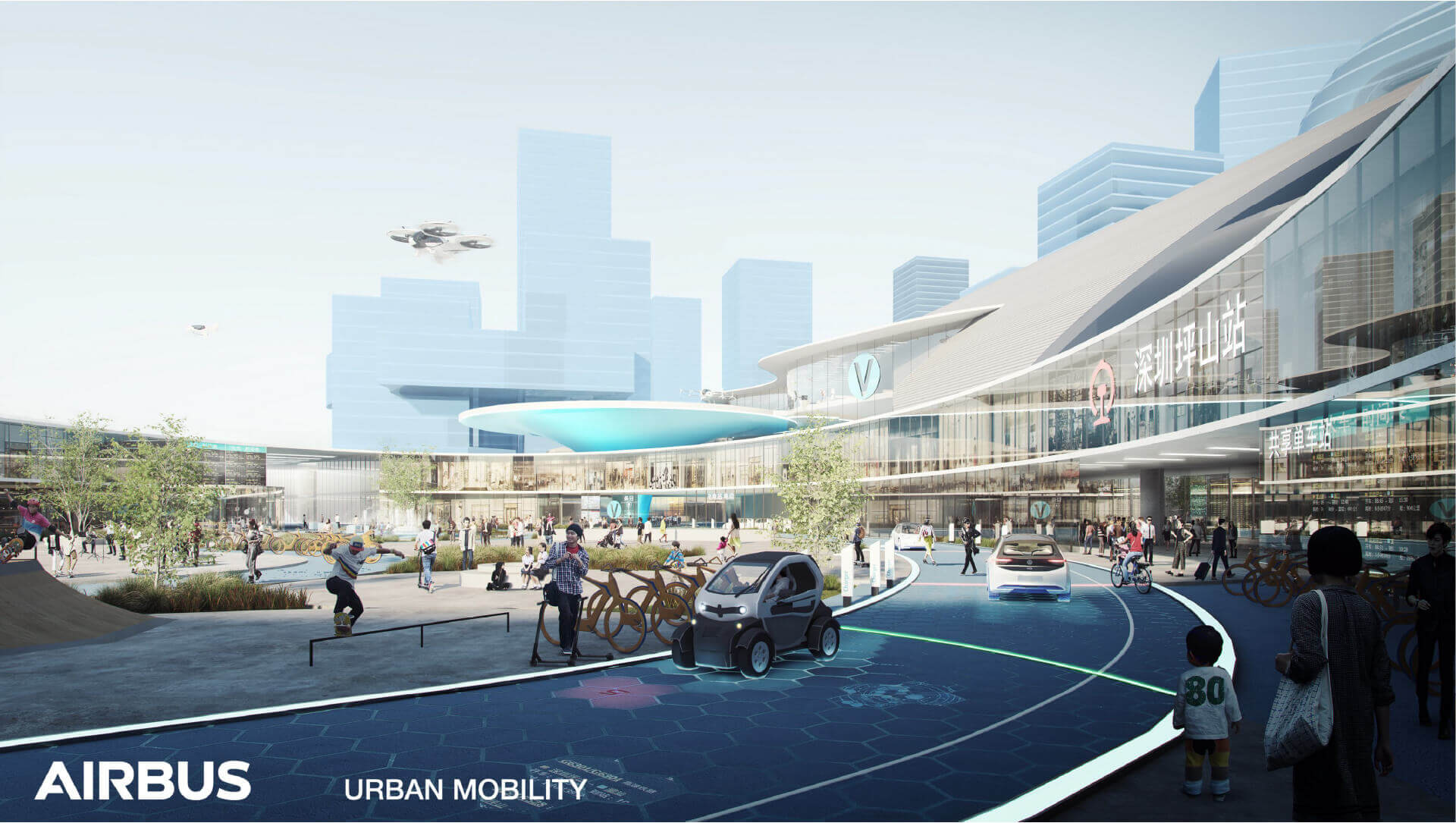 Dutch architecture practice, MVRDV has been working in collaboration with Airbus, Bauhaus Luftfahrt, ETH Zurich, and Systra on the investigation into how architects can plan for the future of Urban Air Mobility (UAM).
Urban Air Mobility is about developing a plan for the future of flying vehicles in metropolitan areas and address the issues surrounding their impact
Envisioning our future urban landscape with flying vehicles is something that highlights many questions surrounding the integration into current architecture and transport routes. MVRDV architects have been looking into comprehensive mobility concepts that can begin to slowly be introduced into contemporary architectural designs. 
The minds behind Urban Air Mobility – MVRDV and Airbus
In 1993 MVRDV was formed using the first initial of the surnames of its founders; Winy Maas, Jacob van Rijs and Nathalie de Vries. The studio is based in the Netherlands but works across the world on contemporary architectural designs and specializing in urban issues. 
They work in a highly collaborative manner with in-depth research at the forefront of every project to inform exemplary and outspoken results that develop cities towards a better future. MVRDV has exhibited across the globe and has received a large number of international awards, they also have official in-house BREEAM and LEED assessors.
Airbus is an international aerospace company that designs, manufactures, and delivers industry-leading commercial aircraft, helicopters, military transports, secure communications, urban mobility on a global scale. They strive for a better-connected, safer, and more prosperous world utilizing cutting-edge technologies and digital and scientific research.
[ Read also Brand Story – MVRDV ]
Research & Development – Vertiports and urban development
The advancements in computing, materials, and electric propulsion technology is propelling the possibility of flying vehicles, which may become a reality in the near future. Urban Airbus Mobility alongside MVRDV have envisioned a comprehensive mobility concept that involves Vertiports – landing hubs that integrate the aerial network with the existing and future ground transport system. 
Over the last few years, MVRDV has supported Airbus in the exploration of strategic urban development scenarios with the aim to leverage UAM as an opportunity to grow cities into the futuristic cityscapes that have been long present in the public consciousness.
The research and development carried out leverages UAM as an opportunity to grow cities into thriving urban regions across the world. 
The research aimed to address many questions that arise surrounding the future possibility of flying vehicles, and work to avoid any detrimental impacts that could be caused by the introduction of revolutionary transportation.
The team studied how careful planning in modern architecture can prepare for both short-term and long-term scenarios when air mobility is introduced. Flying vehicles could cause vast disruption to the existing architecture and transport methods when it's introduced, so the research is taking place to ensure a smoother transition when the technology is introduced. 
Rethinking urban mobility – Three-dimensional city
The key to unlocking the smooth integration of modern and existing transportation and architecture is the introduction of vertiports. The design envisaged for vertiports come in various sizes and styles, just like traditional stations, stops, and terminals.
However, unlike traditional transport, vertiports do not require tracks, tunnels, or roads linking them, resulting in saving energy, natural resources, and land. This allows versatility in the design of vertiports for use in different locations to enhance existing urban scenarios. 
Vertiports are not looked at as just stations, but also as intelligent hubs of renewable energy, data, and public amenities. They have been designed as catalysts for urban improvement while addressing the questions surrounding the seamless integration of air mobility in our current cityscapes.
The research carried out by MVRDV, Airbus, Bauhaus Luftfahrt, ETH Zurich, and Systra also looked into how "the last mile" issues could be solved. This is where locations that are underdeveloped may have difficulty to be integrated with the transport links in the larger cities.
The team considered the principles of transit-orientated development by not only bringing airborne transportation links but also integrating with other transport options to continue the connection into undeveloped areas. 
In remote areas that aren't as developed as main towns and cities, vertiports can be designed as opportunity hubs with educational and healthcare facilities. These spaces can also be created as business incubators, for example, vertiports can serve as a bridge that connects various neighborhoods in areas that are fractured by roads or railway tracks. 
Urban Air Mobility and vertiports don't seek to replace the existing infrastructure of existing transportation but to enhance connections using new technology
Although flying vehicles and vertiports are something of the future, they are not designed to remove or replace the existing transport facilities or infrastructure that has been part of our landscapes for centuries.
Instead, the technology is designed to enhance the transport facilities and it could serve as an interesting contributor to a discrete and distributed contribution to the mobility system.
Design memento – "Mobility is at my balcony" Winy Maas, MVRDV
MVRDV and Airbus created a series of scenarios based on existing cities around the world, to display how vertiports could be integrated into the existing cityscapes. A collaboration between MVRDV, Airbus and Squint/Opera showcases what the future can look like in the form of an exhibition titled "The City and the Sky Above" – which is currently on display at the Bi-City Biennale or Urbanism/Architecture. 
"As cities become denser and technologies improve, it becomes increasingly clear that the truly three-dimensional city – one that includes flying vehicles – is surely one of the city models of the future… a city where mobility is at my balcony!" – Winy Maas, founding partner of MVRDV.
To reach this stage there will be many small steps that need to take place and it's a credit to Airbus that they are trying to foresee these issues and prepare for them in advance. 
The writer's comment – The future of Urban Air Mobility
Seeing how MVRDV and Airbus created three-dimensional models of how design and architecture can shape the future of mobility is inspiring. They are thinking far in advance to try and reduce the negative impact that such revolutionary technology could have on existing architecture.
I think this is admirable that they are essentially trying to future-proof architecture in preparation for the future of Urban Air Mobility. 
[ Read also 2050: What is the 'New Deal' for highways? Carlo Ratti is on it ]