Furniture design
Passiflora by Maurizio Galante & Tal Lancman for VGO Associates
Project selected among the 10 must-see exhibitions in the 5VIE design district, for our DWalking guide dedicated to Milan Design Week 2022.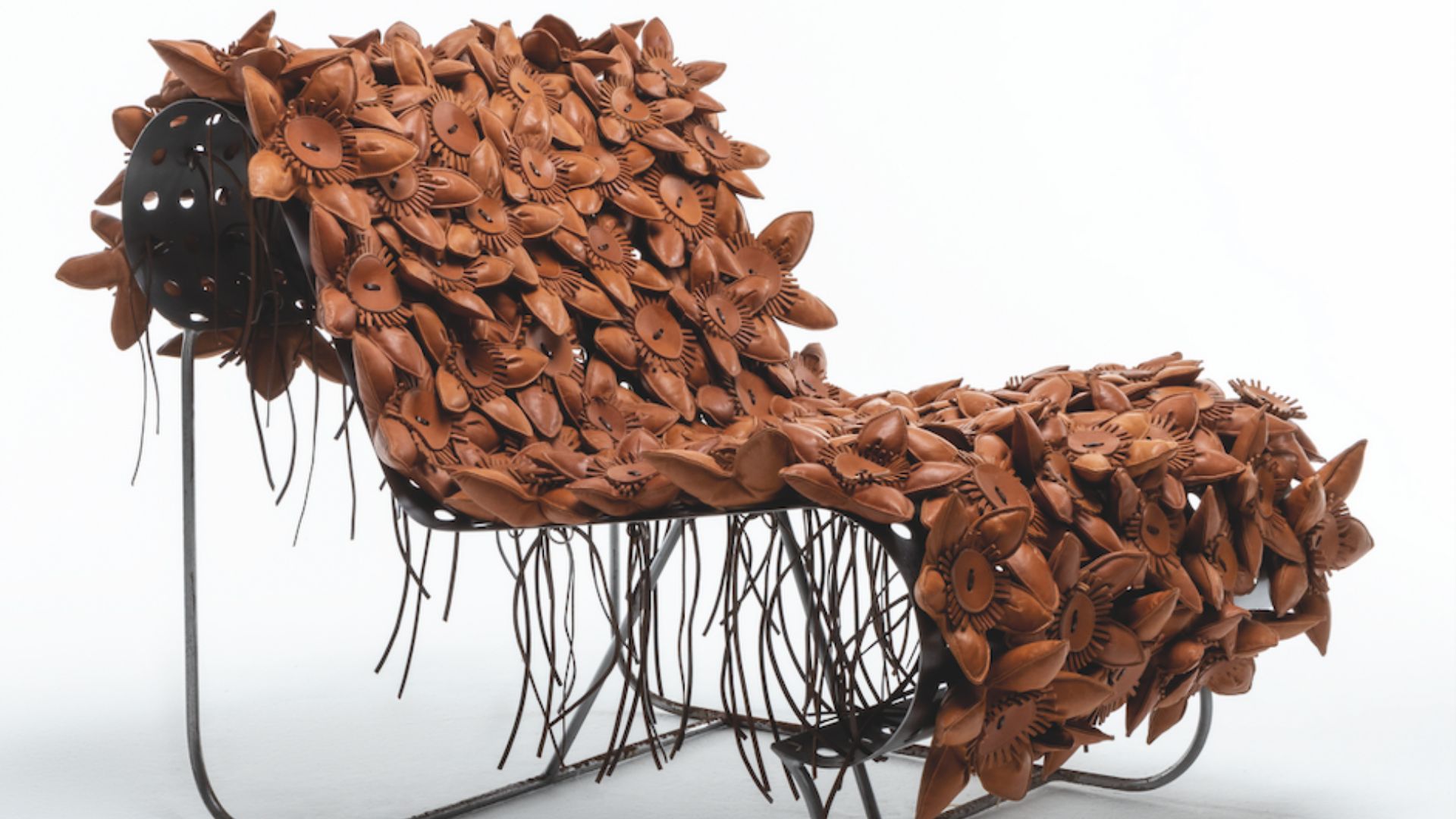 Passiflora chaise longue by Maurizio Galante & Tal Lancman for VGO Associates consists of 36 large and 57 small flowers made of hand-knotted and sewn vegetable leather.
It is a hand-knotted chaise longue on which to lie as if it were a soft bed of flowers.
"To be seated within a bouquet of blooming passion flowers, immersed in petals." say the designers.
Constructed from a bent perforated industrial plate structure, to which soft leather flowers are hand tied and fixed by chrome rings.
The Passiflora chaise longue seat is elastic and unexpectedly comfortable.
Harmoniously, the cold metal contrasts with the warmth of the leather dressing, as industrial meets artisanal
The cold metal contrasts harmoniously with the warmth of the leather upholstery, while the industrial meets the handcrafted.
About Maurizio Galante and Tal Lancman
In 2003 Couturier and designer Maurizio Galante, in partnership with trend forecast analyst and designer Tal Lancman, founded the creative studio INTERWARE.
The duo have exhibited their work at the Musée des Arts Décoratifs, Paris, France. Museo della Ceramica di Montelupo, Italy. Eretz Israel Museum, Tel Aviv, Israel, MOMA Museum of Modern Art, New York, USA. MUDAM Museum of Modern Art, Luxembourg; Musée d'Art et d'Industrie of Saint-Etienne, Italy. Milan's Triennale Design Museum, Italy. Pompidou Center Paris, France.
About VGO Associates
Based in Grasse, south of France, VGO Associates is flooding in natural light into an atmosphere of concentration and an exchange of ideas.
The gallery fosters collaborative practices to give life to spiritual objects and soul space development.
Philosophies underlie every project with the aim to creating unique bespoke design experience that fits functional needs and a deep research of an emotional, artistic and expressive relevance.
From functional art to collectible design.