Architecture
Puma Skill Cube lets you train with your favorite sport stars
Puma Skill Cube is an immersive experience created by Green Room Design which allows customers to come and play with the brand ambassadors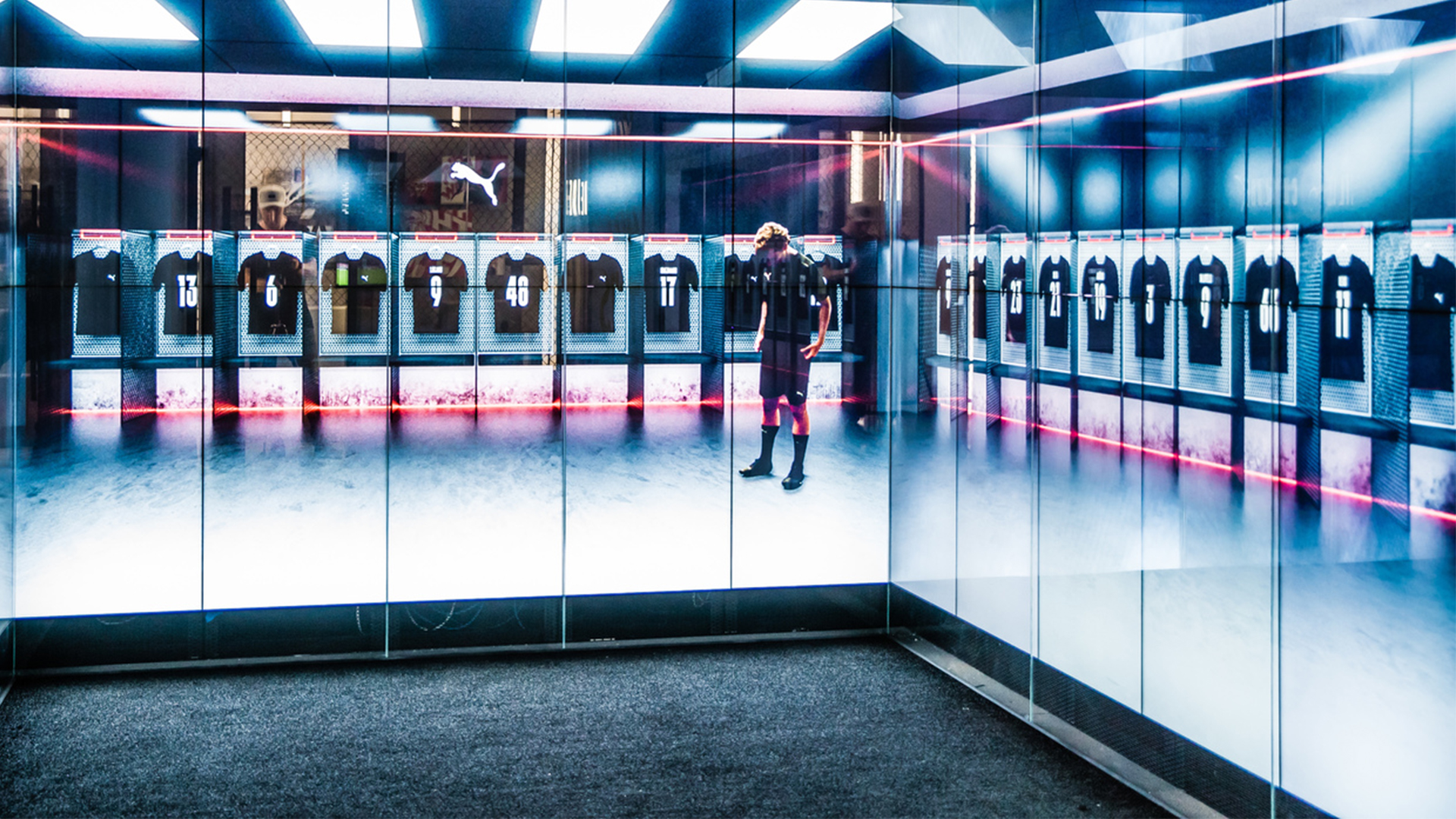 Puma recently opened their new flagship store in New York's 5th Avenue. This two-story store features Milan's historic San Siro Stadium inside – neatly packed into a small box named the Puma Skill Cube.
This experience, created by Green Room Design, transports you into a virtual football stadium, or a disused warehouse; an experience specifically designed to deliver the best authentic footwear trial whilst still in store.
Green Room is a human experience design studio that enriches people's lives.
A perfect blend of magic and logic, combining physical, digital and communications to produce seamless multi-channel solutions that connect through the senses, fulfilling the emotional needs of the customer and the commercial needs of brands.
Green Room's creative platform 'idols brought to earth', integrates global PUMA brand ambassadors, respected for their training regimes and prowess, athletes Lewis Hamilton, Antoine Griezmann and Romelu Lukaku into an immersive experience, positioning the sports star as virtual training buddies, as opposed to elite and inaccessible celebrities.
This strategy was created to capture the interest of PUMA's new target audience, Gen Z. The football experience begins in the locker room with either Griezmann or Lukaku. The players are then transported to a CGI replica of the San Siro Stadium.
The highly detailed experience features 5 million individual blades of grass, independent movements of all the 80 thousand football fans, and updatable sponsorship boards, TV screens and pitch patterns.
The floor is covered with a high-quality, multi-sport, synthetic turf – designed to provide a hyper-realistic experience, Puma Skill Cube lets the players truly experience the benefits of the footwear.
At the end of their training, the players receive a score in the midst of confetti cannons, fireworks, and a cheering crowd.
You can also train with Lewis Hamilton. The cube takes you to an abandoned warehouse. This experience has three trials – the ladder, jab, and jump. It lets you go head-to-head with your idols and learn directly from them.
All the while, the cube captures your play and enters you into a Leaderboard, where you can compete against other customers. This is displayed in the waiting room. They also send you a personalized email and SMS for social sharing.
This strategy encourages customers to come back to the store again and again to top their scores.
Jamie Mac, Design Director at Green Room said: "We wanted to create an authentic experience of using PUMA products – one that was multisensory and utterly immersive. The Skill Cube has been extremely well received, and in the 7 weeks post the experience opening, PUMA recorded 1145 trials."
There are a few reasons why this is a stand out example of great retail experience design.
Firstly, the experience is highly engaging. Secondly, it ties in naturally with the brand and is very unique to it. Thirdly, it helps increase store visits and sales. Lastly, it does not feel forcefully put-together. Very few brands are able to successfully balance all these factors.