Furniture design
Hannes Peer's architectural additions to SEM's Paesaggio collection are striking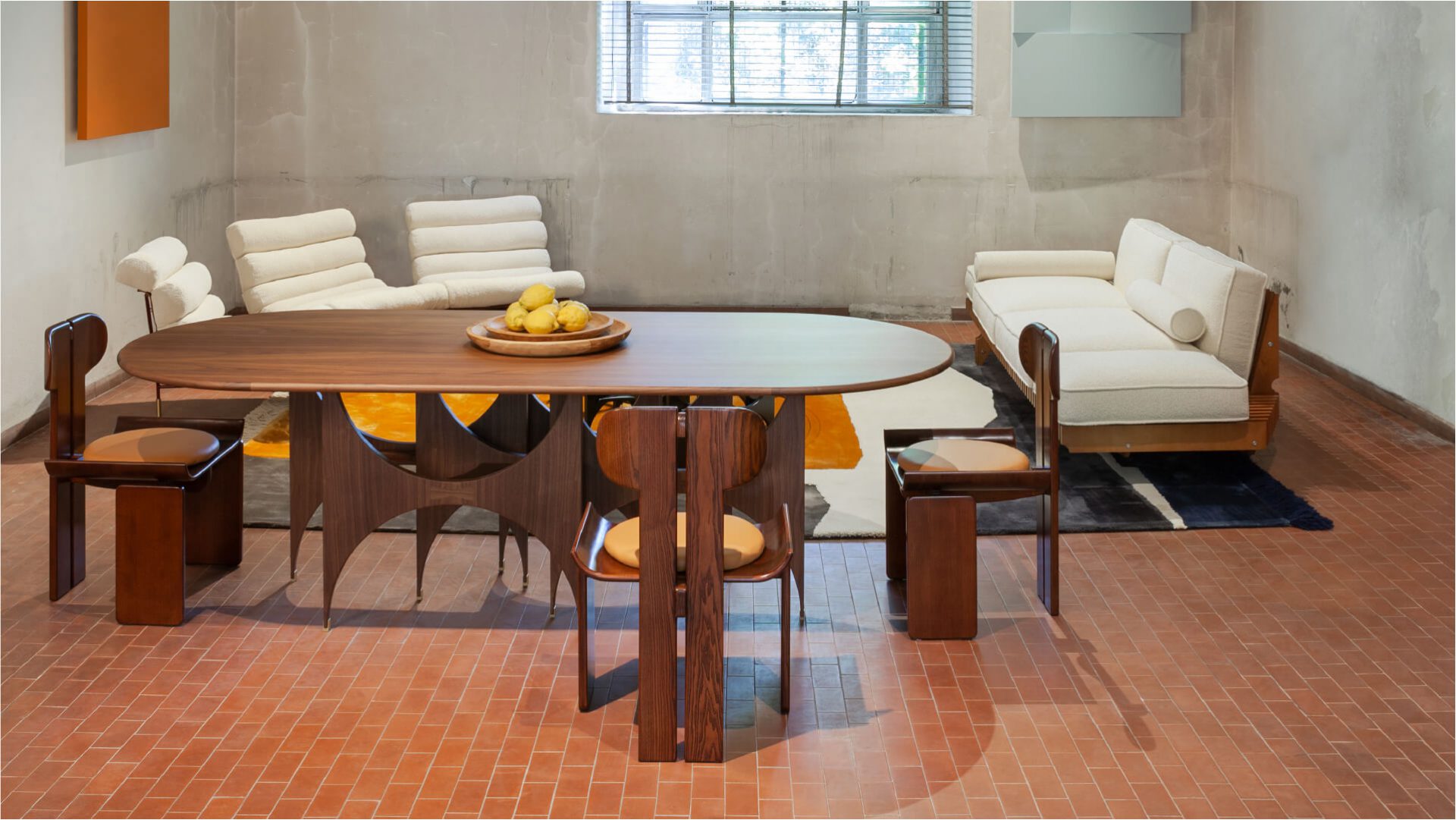 Expanding on his debut collection for Spotti Edizioni Milano, Hannes Peer returns to offer more of his eclectic style and nonconformist aesthetic.
Modernist houses, purist fashion designers and a list of Italian design greats… These were the inspirations Hannes Peer looked to when designing the latest additions to his Paessagio collection for Spotti Edizioni Milano (SEM). Exhibited during Milan Design Week, the home furnishings brand invited the Milanese architect to return and expand on the series, which originally debuted in 2019.
This year, the collection's latest additions were unveiled as part of a living and dining room concept illuminated by a striking chandelier made from 1000 cast glass tiles. As well as the monumental glass centerpiece, the duo revealed a coffee and dining table version of its original Butterfly console, a completely new modular Muir sofa, Alea dining chairs, and a three-seater interpretation of Nuvola, a redesign of an existing armchair.
The collection, which stays true to the designer's distinctly modern aesthetic, was unveiled at this year's Alcova Fuorisalone edition, a platform typically staged as an immersive and experimental showcase. It suits a designer who cites design greats like Ettore Sottsass, Carlo Mollino and Gabriella Crespi as his inspirations, combining their revolutionary spirit with his own transgressive attitude.
The Alea chair finds its conceptual roots in the essentialism of Italian-French designer Pierre Cardin and Parisian carpenter Pierre Chapo. Inspired by the concept of deconstruction, Peer has attempted to piece together wooden elements in a way that makes their separation unclear.
A closer look reveals a wide curved backrest, which offers ample back support whilst doubling as an armrest. Meanwhile, a circular cushion adds extra comfort to the generously sized seat.
Discover other exhibitions displayed at Alcova during Milan Design Week, don't miss Alcova presents a design evolution in Milan.
"Hannes Peer's design philosophy lies right there," says SEM. "—in trying to make the obvious less obvious, to transform the perception of an object from the daily use, render it more captivating, graphic, pure but at the same time comfortable."
The Muir Sofa was inspired by a trip to the Northern California coast, specifically during a stay in a modernist house overlooking Muir Beach. Its structure draws from the interiors of the house, which were clad in Douglas Fir Plywood panels and decorated with cushions. As such, Muir comprises a multitude of sections in mahoganized Plywood and an oversized relaxation padding.
The piece de resistance of the installation is the Butterfly dining table, which Peer developed together with Claudio Spotti of SEM. It echoes the complex and organic configuration of the console table in the original collection of the same name.
The Butterfly Dining and Coffee Tables feature a structure made up of several layers of solid poplar wood and finished with a 'Masselletto' of Canaletto Walnut. An immediately visible detail is the butterfly joint at the center of each leg, which is typical of Japanese carpentry.
"The aim was to create a piece of furniture that was aesthetically the child of the iconic Butterfly console but constructively it had to be diametrically opposed," explains SEM.
The Nuvola armchair is a 3-seater interpretation of the original collection's single-seater. It combines a streamline iron structure, which links three veneered plywood shells upholstered with a three-tier soft padding.
"The padding in leather or fabric is deliberately exaggerated and oversized and is superimposed on the body and tied to it by crossing it with leather laces, another very sensual detail that makes this piece of design unique and unmistakable," says SEM.
Finally, the glass chandelier which Peer realised in collaboration with 6:AM Glassworks, a leading agency of glass production based in Murano. The sculptural addition features organically shaped tiles that slowly descend from an initial surface area of 16 square meters mounted directly on the ceiling.
The glass chandelier shrinks and tapers with every level of glass before finally hovering above the floor. "Paesaggio aims to join the long Italian tradition of monumental exhibition chandeliers such as the one designed by Carlo Scarpa for the 1961 World Expo in Turin," says SEM.
Find out more about the exhibitions during Milan Design Week, don't miss Five designs to see at "Masterly — The Dutch" as it returns to Fuorisalone 2021.