Lighting design
Ukrainian ancestral craftsmanship revived in lamp collection SONIAH by Victoriya Yakusha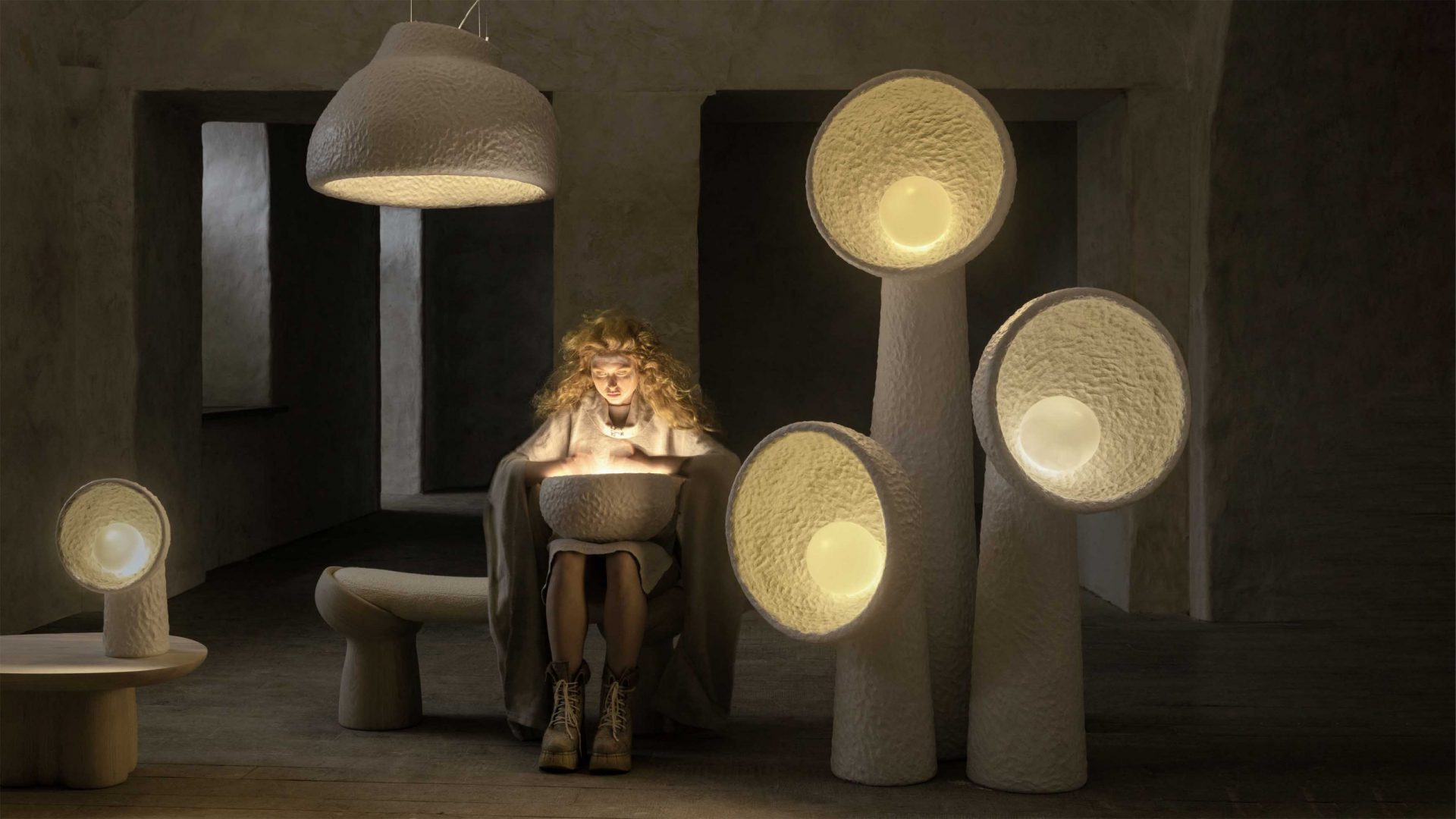 Ukrainian designer Victoriya Yakusha is using traditional building techniques as a homage to the country's official sunflower in her SONIAH lamp collection featuring floor, table, pendant and wall-mounted lighting pieces.
Yakusha Design is a multidisciplinary studio founded by Ukrainian-born Victoriya Yakusha in 2006. The studio works within the fields of architecture, interiors, creative direction, and product design with the furniture brand FAINA.
The Kiev-based designer released SONIAH for FAINA as a homage to her home country. The collection is composed of lamps inspired by the Ukrainian's national sunflower and modelled using the ancestral country's technique based on a clay called "Ztista".
"The new FAINA collection includes floor lamps, sconces, a pendant lamp, a table lamp, coffee tables, and a bench designed in a primitive style and dedicated to the idea of 'Following the Sun' " explains Victoriya.
"There's something primal and natural in 'Following the Sun'. From ancient times our ancestors built their lives around the solar cycles and lived in harmony with nature. In our new collection, we are going back to the basics. Primitive shapes and simple design. 'Following the Sun' means to follow the essence, our true selves."
Literally translating from Ukrainian to "made of dough", Ztista is the environmentally sound material invented by FAINA and introduced at the "Circular Materialists" exhibition during Dutch Design Week 2019 in Eindhoven. Ztista is a blend of clay, recycled paper, hay, straw, wooden chips, covered with biopolymer, offering a fresh twist on eco furniture design.
Discover more Ukranian design studios, head to Evoking emotion through timeless design – Interview with SOKOLOVA Design Studio.
"The material organically continues and reveals the brand philosophy 'live design' — made one with nature, but still in touch with the roots. Made completely of living components, it decomposes in the soil in a few years."
The base of Ztista is clay. A sacred material that references the old "valkuvannia" technique which was appreciated on Ukrainian land from ancient times. Layer on layer, ancestors finished the walls of local dwellings with clay.
Victoriya brings the same principle to modern objects applying a living clay mass to the recycled steel frame. A biopolymer made from corn starch covers the finished products to ensure their durability and quality.
"There was a ritual of coating the house. Clay, straw, water and other organic impurities were kneaded with hands or feet to the flexible mass of homogeneous consistency resembling a dough" she explains.
The final result is a set of lamps with different heights. They are mounted on a moulded foot and are surrounded by a circular shade that is oriented towards the viewer, as sunflowers tend to orient towards the sun.
Interested to know more about the integration of Ukrainian culture into design? Don't miss the Interview with Victoriya Yakusha.