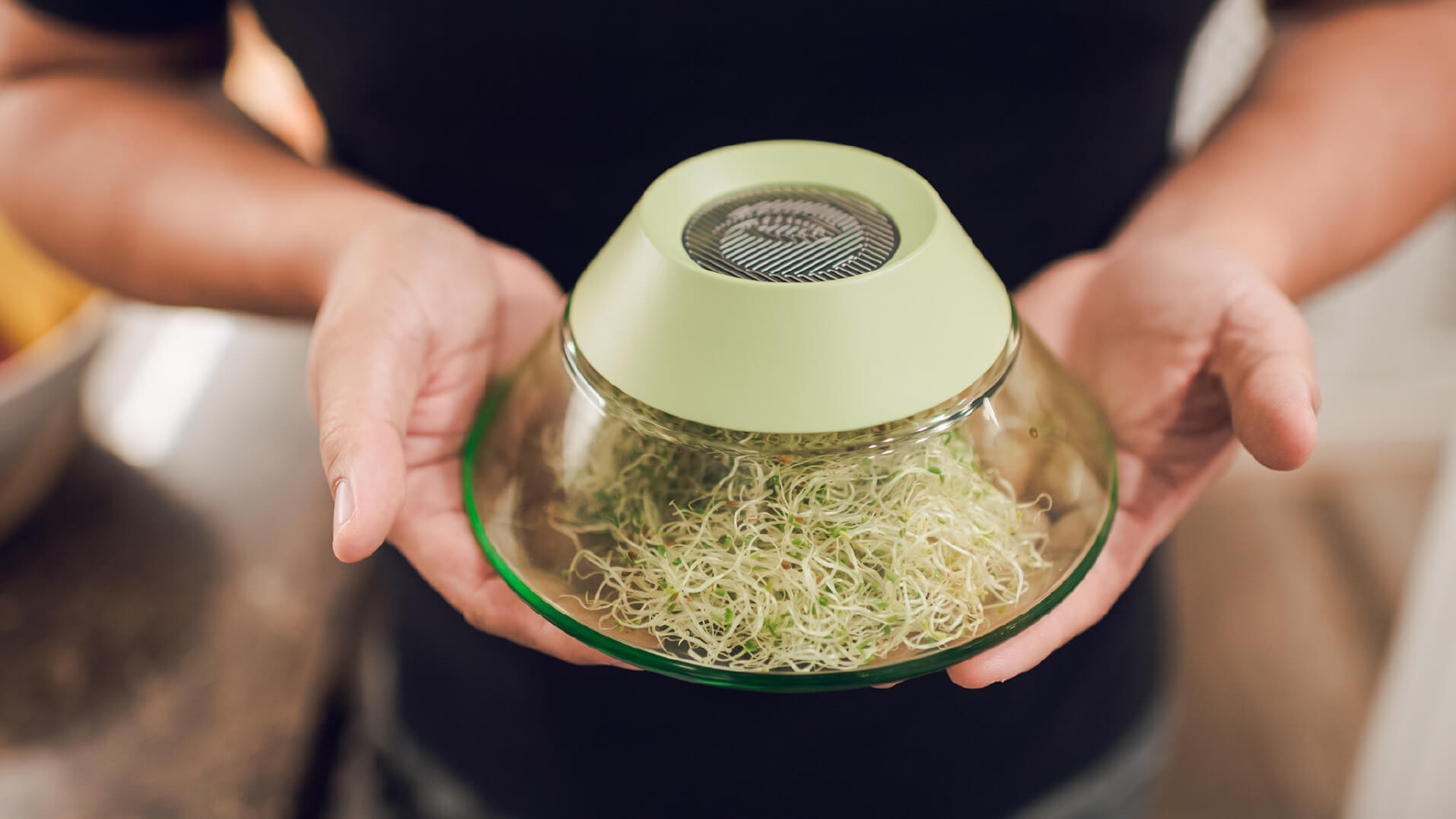 Growing your own sprouts at home with SproutyPod can save 104 pieces of single-use plastic from entering the ocean each year.
Growing sprouts at home isn't a new phenomenon, but it is definitely one that could be improved. Transforming the traditional mason jar (a fan favourite amongst DIY sprout growers) SproutyPod simplifies the process with an easy-to-use all-in-one device.
"The biggest problem is the shape of a mason jar," explains the team behind SproutyPod. "It's small surface area does not provide enough growth area for the sprouts, and doesn't allow for proper air flow, which causes sprouts to sit in water and go bad."
"We had an idea to create a product specifically crafted to bring sprouted foods to the masses with an easy-to-use, fun, and beautifully designed system."
The at-home gadget features a pod-like shape into which users put seeds and water before using a companion app to guide them on how to properly grow their sprouts. Throughout the process users can roll SproutyPod 360 degrees while making the most of its angled edges. This increases airflow and prevents seeds from sticking together and holding onto moisture. It also helps to rinse the sprouts before serving.
Want to discover more food design innovations? Check out SquarEat's food cube concept is innovative (and dystopian).
A variety of food-safe materials—soda-lime glass, stainless steel, platinum cured silicone, bamboo and ABS (Acrylonitrile butadiene styrene BPA free)—are used in the construction of the greenhouse, the reservoir and a handy pair of tweezers for serving the sprouts. The canopy, which is used to block out light during the germination process, is made from RPET (recycled polyethylene terephthalate). There's also a platinum cured silicone bag for storing sprouts.
The materials serve a triple purpose as all of them are dishwasher safe and also recyclable. According to the team behind SproutyPod, using the device to grow sprouts at home could prevent 104 pieces of single-use plastics from being thrown into landfills each year. It's currently garnering support on Kickstarter where it has already quadrupled its funding goal (ATTOW).
The SproutyPod is described as the "next-gen micro-farm for your home", which feels like an overstatement because of its lack of futuristic features. What it lacks in tech it certainly makes up for in ease-of-use, which we feel is the whole point here. SproutyPod responds to a recent trend in at-home gardening and indoor hydroponics with a simple design to make those two concepts feel a lot less intimidating.
Can a mushroom-growing terrarium connect us back to nature? Discover another at-home gardening product design.