Design
T-Style: DEWA DEWI (DEsign from Waste of Agriculture and Industry) crafts designs from leftover materials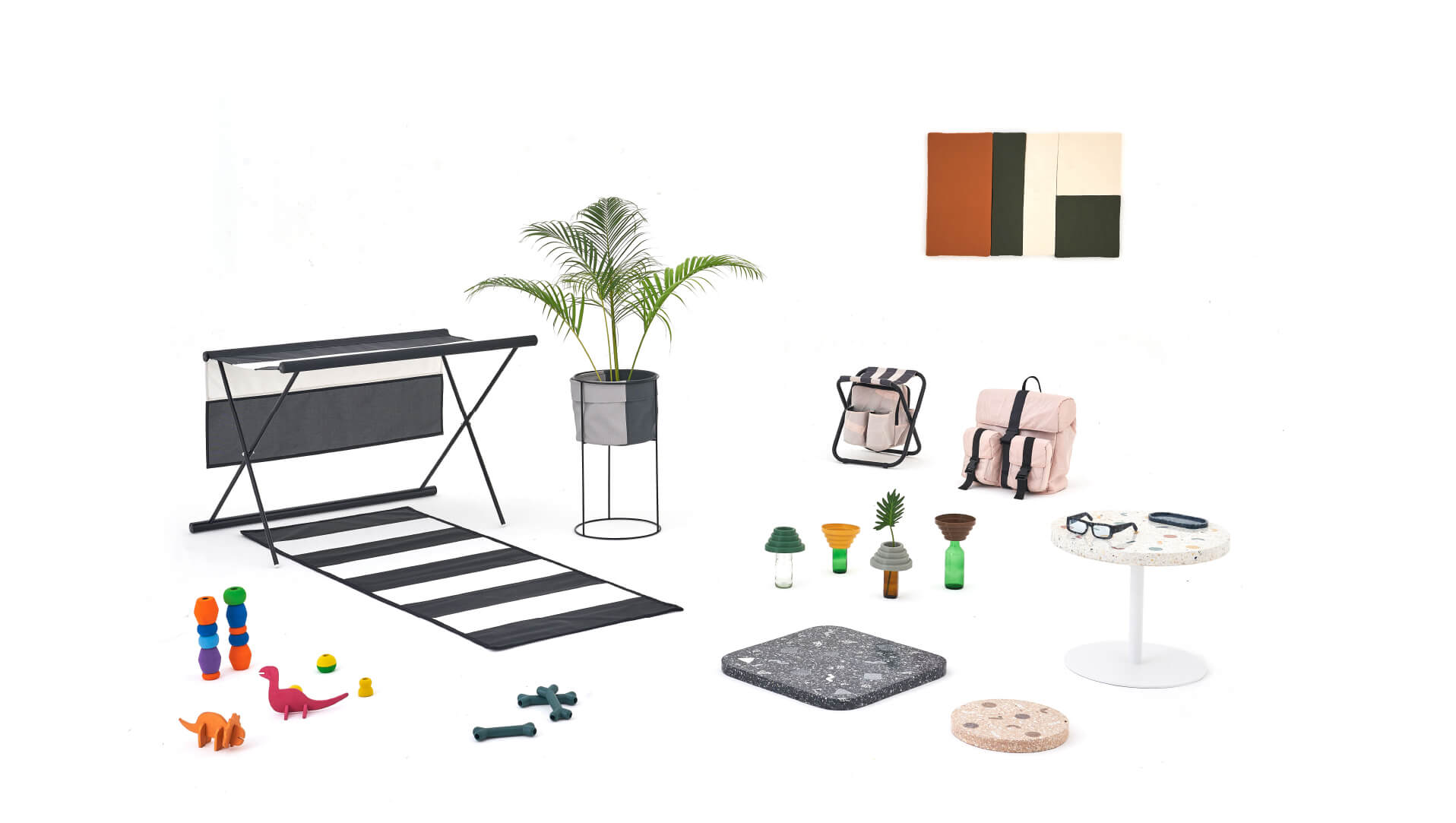 Thailand's pioneering, eco-conscious designers exhibit projects committed to the circular economy as part of a showcase supported by the Department of International Trade Promotion (DITP).
When it comes to design in Thailand, one of the most important issues is designing for the Bio – Circular – Green Economy or B.C.G. Model, an economy that is restorative and regenerative by design. That means experimenting with materials and production processes to revise and reinspire current ways of crafting and making.
Spearheading this mission is DEWA DEWI 2021: DEsign from Waste of Agriculture and Industry, a design venture that studies, researches, and experiments with agricultural and manufacturing waste matter such as crops, plant byproducts, and other leftovers in order to develop new processes and creative materials. This year in collaboration with the famous THINKK STUDIO.
As Thailand is one of the leading agricultural producers and manufacturing bases for exports of the world, there is an abundant amount of agricultural and industrial waste created every year. The T-Style: DEWA DEWI project was established to inspire the use of agricultural waste when creating products for the international market.
It puts pioneering, eco-conscious designers and entrepreneurs in front of experts in product development. The result is a series of innovative projects featuring a harmonious blend of Thailand's traditional craftsmanship and contemporary design production ideas…
HARV's crafts stools from scrap chipboard
Repurposing fragments of plywood and chipboard, furniture maker HARV has created a series of sustainable stools. They are made from chipped rubber tree branches—a by-product from aged trees collected from the plantations in southern Thailand—which are crushed and compressed into sheets using adhesive containing low formaldehyde emissions.
"On average, each sheet of particle wood used in production will leave behind 15% of itself in loose pieces," explains HARV. "The 125-250 kg of sawdust produced every day is usually bought by other manufacturers [but] In the case that the material becomes surplus, it will have to be disposed of, which could cause further issues with the local community and the environment."
"The upcycling of these so-called 'waste' is, therefore, a necessary step in waste management and the reduction of carbon footprint. Should the project take a step further, it could help manage waste from other large-scale furniture manufacturers in Thailand."
Boasting 37 years of expertise in manufacturing, HARV is focused on producing collections that promote a circular economy. It does so by utilising waste, re-using materials and properly managing every element within its production process. In the future, it intends to open a "handyman service" for repairing and upcycling pre-loved pieces.
T-Style brings together the best of local Thai brands into global view, don't miss Thai Spirit returns to Maison&Objet with design for a post-pandemic world.
Lamunlamai's transforms food scraps into tableware collection
Using leftover wood waste, artisanal design studio Lamunlamai has created a tableware collection. Mixing eggshells, carrot pulps, and coffee grounds with clay, the designers have produced items that tell the story of their source materials: an egg server is made from eggshells, a coffee brewing kit from coffee grounds and a set of vases from carrot pulp, etc. Each piece also features a coating texture to resemble its source material.
"Food scraps from individual households, restaurants and larger industries are the most common form of bio-waste material, and more are made everyday," explains Lamunlamai. "It is estimated that every individual in Thailand generates 254 kg of food waste per annum. According to the Pollution Control Department, 64% of waste in Thailand is organic, and amounted to 17.6 million tons in 2017."
Blending Thai craftsmanship with an industrial approach, Lamunlamai's portfolio spans projects encompassing production design, custom-made orders for restaurants, cafés, hotels and site-specific installations. Its work intends to show dedicated craftsmanship and attention to details that in turn highlight the beauty and soul of its materials, in this case, their sustainability.
Thai Num Choke's bio-textile is made from scrap pineapple leaves
Thai textile company Thai Num Choke has created a bio-textile using the scraps left behind from pineapple growers. Its yarns are made from natural fibers extracted from the leaves of pineapples, which it has blended with industrial and other natural fibers. The resulting textiles were suitable for making bags, clothes, and home textiles.
"Pineapple is one of Thailand's economic crops with roughly 2 million fresh pineapple leaves in waste per annum," explains Thai Num Choke. "These leaves are a burden to the growers, who mostly incinerate them contributing to the heavy smoke and PM2.5 pollution that plagues local communities."
"Fresh pineapple leaves have an average fibre content of 2.7% by weight, a relatively high proportion. Once the fibre is extracted from the leaves, it has a length of approximately 50 cm, cream colour and glossy. It can be spun into yarn to weave, and used to make artificial leather."
Thai Num Choke is a Thai textile company founded in 1992 interested in agricultural waste such as pineapple leaves and hemp barks which are disposed of in large volumes in Thailand. The company has conducted research and development to find ways of transforming these scraps into fibres, yarns, and weaving them using environmentally friendly processes.
Qualy turns PET plastic screw tops into decorative vases
Recycling PET plastic screw tops from glass bottles, design studio Qualy has created a collection of reversible "mouths", which can be used to transform the vessels into decorative vases. The designers were inspired by the stepped formations of mountains, which are translated into geometric shapes to contrast the flowers' organic form.
Founded by two brothers who originally worked as part of a family business to produce plastic components for products including refrigerators, rice cookers and automobiles, QUALY cares for the environment by using recyclable materials and pollution-free manufacturing processes. It collects waste donations from the public via its own circular design scheme with a particular focus on single-use plastics that are not widely recycled including screw tops, PET food trays, and opaque coffee cups.
It focuses on function, innovation, and user-friendly designs while taking the environment and sustainability into consideration. It has produced several successful prototypes utilising waste in Thailand, including a collection of wall tiles made from recycled plastic and aluminium food packaging.
Thamrongchai turns scrap terrazzo into circular terrazzo
Finally, Thamrongchai Company Limited has created a collection of tables made from TRC, a terrazzo that builds on the circular production methods already inherent in the material. Collecting waste from its network, the company has utilised mixed marble scraps, recycled glass chips and cement to craft its collection of "eco-friendly" furniture, which is crafted from the waste terrazzo of other projects.
"Energy costs of cement production alone accounts for half of the total energy cost of the whole production, and produces almost the same weight of carbon dioxide as the cement yield—a heavy cost on the environment," the company explains. "This inspires the idea of reducing waste from terrazzo production by upcycling the leftovers, creating value and material return while maximising cement usage."
The tabletop comes in three different sizes; targeting dessert shops and cafés which often use smaller, more compact tables that are easier to store and deliver. Three different leg designs are available to choose from as the customer sees fit.
"Terrazzo is highly durable and will last for many years to come," the company explains. "And because they are made from stone flakes and cement, broken pieces that are beyond repair can be crushed and can be used to make new terrazzo. They can also be mixed with residues from other production lines from different industries to explore new possibilities, the future is full of options."
"Seeing this, hopefully, the design and its individual beauty will communicate to consumers the importance of reusing materials."
Innovative sustainability is at the forefront of the design world in Thailand, check out The latest Talent Thai and Designers' Room showcases repurposed furniture, textile waste and cement bags.