Design
Vitra is much more than a brand but rather a staple of design.
Established in 1950, the brand has left its mark in design history through its transcending path. Starting as a furniture producer, it paved its way to manufacturing and ultimately becoming the powerhouse design institution we see today.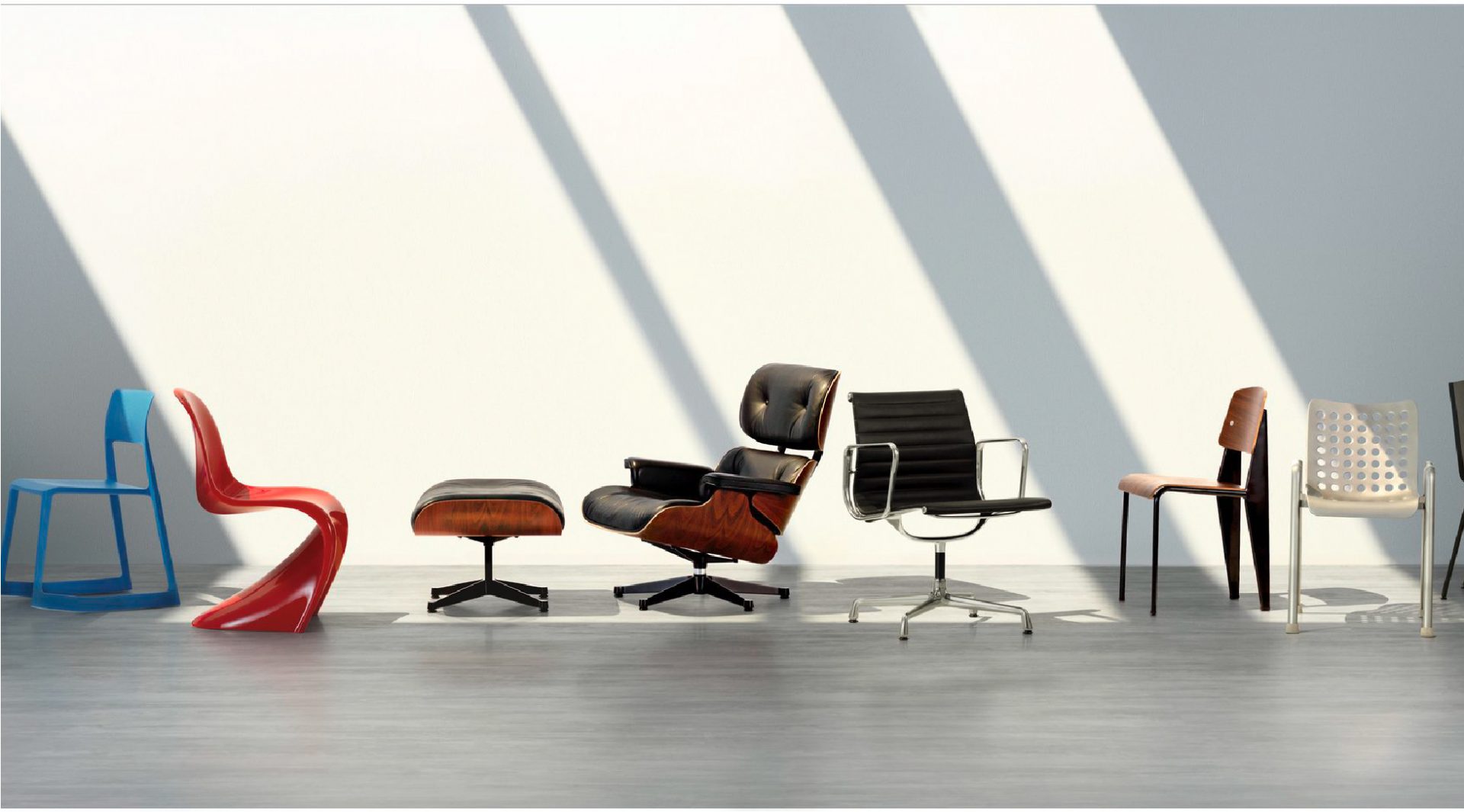 It's the Swinging Sixties: from fashion to music, from style to television, it's hedonism, freedom, comedy, and when it comes to design, it's colors, vibrations, curves.
What could this wanton scenario possibly have in common with the Nordic minimalist design school, the 'less is more' academy, the black and white philosophy of living? A man, a chair, an idea.
Verner Panton, Vitra's special one
When the forward-thinking Danish designer developed the idea of a bright-colored, one-piece all-plastic chair, featuring a sculptural shape and a cantilever design, it turned out to be a nearly impossible challenge for manufacturers who did not want to pursue the daring concept.
Not for Vitra.
A chair of one's own
Willi Fehlbaum, co-founder of the Swiss (originally German) company, was already seeing the big picture: the Panton Chair, first introduced in 1967, was also the first independently developed product by Vitra.
Panton's best-known design was consecrated in 1999 with mass production, ironically shortly after his death, attaining legendary status and bearing witness of the special relationship between Vitra and Verner Panton.
Vitra and friends
At the heart of Vitra's product development lies the relationship with designers from all over the world – whom they refer to as authors – meant as a creative pragmatic synthesis of artistic impetus and industry knowledge.
This philosophy has shaped the company's culture since the first meeting between the Fehlbaums and designers Charles and Ray Eames in 1953, when the founder of Vitra discovered chairs designed by the couple.
He decided then to become a furniture manufacturer, developing the first of the many relationships that have always returned a great moment of design and – as they love to say – an original by Vitra.
Vitra Campus
Sometimes the biggest opportunities in life are born from inexplicable tragedies, and the story behind the Vitra Campus is no exception, when in 1981 a fire devastated their Weil am Rhein establishments, Vitra decided to build its factory up into the largest architecture collection of our times.
In the following years, the most prominent names of architecture – Alvaro Siza, Zaha Hadid, Renzo Piano, Tadao Ando and counting – were called to design a piece of Vitra's one-of-a-kind architectural park.
Vitra Design Museum
Among the others, Frank Gehry's contribution to the Campus deserves a special mention, as the archistar is the author of the building that hosts the Vitra Design Museum, today among the world's leading museum of design.
More than a museum, the deconstructed structure dedicates itself not only to the housing of the company's growing collection of furniture, but also to the research and presentation of art and design and their relationship with architecture, everyday culture and life.
Sustainability, or how to last forever
Today, companies are more and more committed and judged on what they are doing for the planet. At Vitra, this commitment has always been a way of life: an original Vitra is a classic, remaining popular and relevant for decades, whose timeless appearance is also mirrored by an extremely durable quality that allows the company to offer multiple decades guarantees on office chairs, for example.
Occasionally, Vitra adapts its classics to new requirements and advancements, adding wireless charging capabilities to a table designed in the Sixties, ready to serve a new generation of users and their heirs.