Home decor
Teun Zwets made a funky planter out of his own trash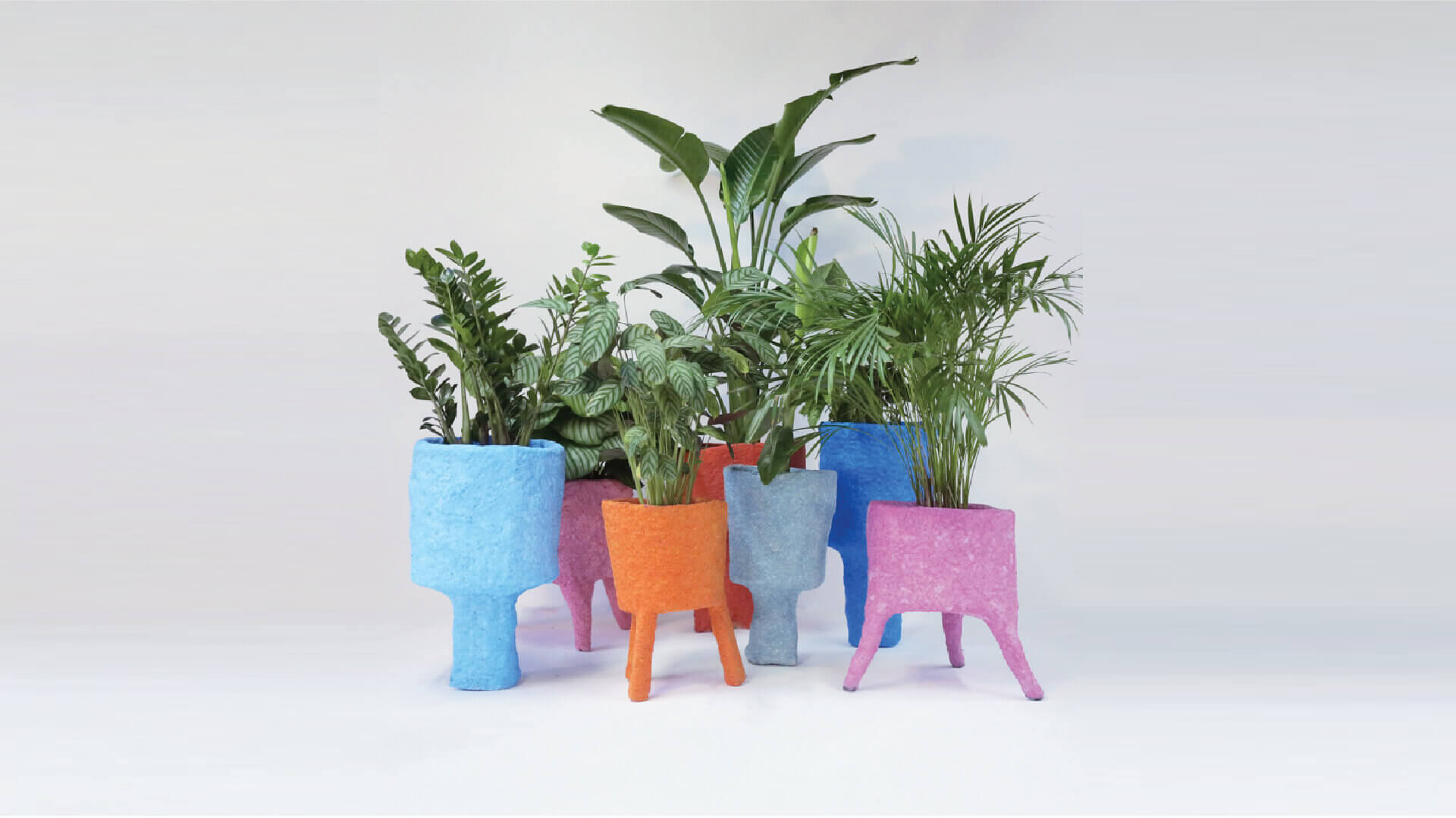 Dutch designer Teun Zwets shows the potential of collecting materials from daily trash and transforming them into design products in his exhibition "Teunland" and his "Pulp" project.
Teun Zwets shows the potential of recycling through a series of practical furniture. His creations are made on the spot with material that is available on site. For him, speed is key, as it gives him the energy to stay focused on his ideas: "There is so much potential in the trash that people don't see. Going around the neighborhood and collecting trashed materials and objects, I can give your house a make-over in one day without spending money".
The Design Academy Eindhoven graduate likes to focus on refurbishment: "Most materials I use are found in trash bins or for instance, reclaimed from old houses, broken furniture, and scrap steel." he explains.
His graduation show "Teunland" is a representation of his unique world that demonstrates his ability to adapt and exploit these materials. As part of this show, Teun decided to disrupt the conventional planter with his "Pulp" project.
"The starting point was to make a funky planter in contrast to the plant," he explains.
"I was in the middle of my graduation and the installation I made didn't have plants yet so planters needed to be made."
To do so, Teun started looking around for a simple way to make a planter with a funky shape. "Using metal or wood it's hard to accomplish those shapes. By making clay that self hardens it's easier to create the organic shapes I was looking for."
Using water and paper he would find across his neighborhood, Teun made a special clay: "I used paper waste because I had a lot of it as anyone does in their household," he explains, "sometimes when I don't have enough paper I use sawdust from my workshop, this has the same qualities."
"Clay is a very satisfying material to work with and maybe one of the oldest craft materials there is."
Curious to know more about unusual materials? Don't miss Omayra Maymó turns beer waste into totem-style pedestal for Heineken.
Now the clay needed a structure to harden on, once again the answer would be found in the simplest way possible. "I went to school and looked for scrap metal in the workshop that I roughly welded together. I took the frames home and did some experiments in my kitchen," says Teun.
When asked about his secret recipe, Teun mentions these following steps:
"1. Collecting paper waste. Sometimes it's my own and sometimes I collect from others. Can be regular A4, cardboard, or even sawdust from my workshop
2. Soaking paper in water
3. Boiling the water
4. Shredding the paper in water
5. Squeeze out the water
6. Add special glue and binding materials
7. Adding coloring pigments
8. Apply clay to the built structure"
The end product is a planter that comes in multiple colors and shapes. The shapes are derived from different metallic structures which give them uniqueness. Their funky aesthetic is a great reflection of Teun's distinctive style.
"The objects are always unique and will be different in shape and color. Because of the usage of waste in the structure and the finish, the outcome can not be controlled," concludes Teun.
Coming up next, the young designer has been asked to realize a big project for the hotel of Piet Hein Eek. "Piet is a designer that works with waste but from his production, he generates a lot of waste. With the waste from his waste, he asked me to design a special room in his hotel in my style."
Next to this, Teun is working in his own design company in Eindhoven and is now starting to produce bigger objects. We are looking forward to seeing his upcoming projects!
Find out more about designers using waste to create amazing products, don't miss The New Raw – From plastic waste to furniture with 3D printing.