Architecture
The modern office as a sacred space by Olson Kundig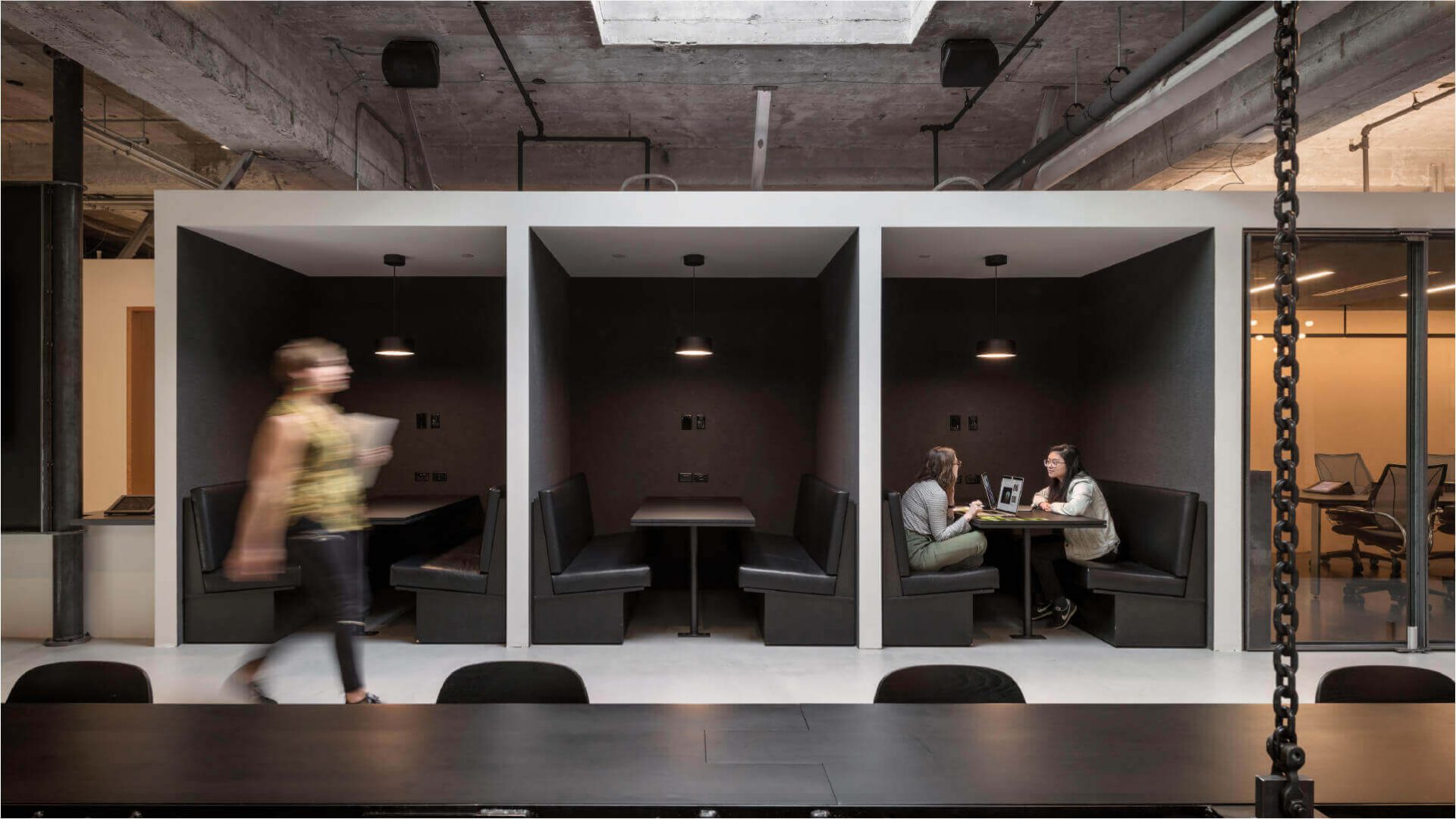 The modern office represents a kind of "sacred space" for workers. It represents the common agreements that people within an organization share and functions as a hub for their collective identity.
Just as a university has its established traditions and history, a workspace reflects shared values through its form, providing both a place for work and convening and observable layers of organizational history.
The best workplaces balance these twin considerations of physical form and intangible identity, integrating both our evolving understanding of the role of the office and the tried and true principles of design that result in pleasant, functional spaces.
First, what we know: office design has a profound impact on the health of the workers. Overall modern workplaces are less adherent to hierarchy while carrying higher expectations for the physical and emotional wellbeing of staff.
Access to natural ventilation and daylight leads to better outcomes than endlessly circulated air and artificial lighting. The ability to transition between indoor and outdoor spaces can be a key shared amenity, while transparency and views likewise serve to connect workers to their surroundings.
The pandemic has forced employees to rethink their habits and work culture – Smartworking expert Luca Brusamolino asks: "Do we still need an office?"
Adapting tenets of residential design, including integrated lighting and art, establishes a human scale within an office and create spaces that feel as comfortable as home.
The use of real materials further communicates the craft of design and construction while limiting exposure to toxins and providing texture and variety to interior spaces.
Guided by biophilic principles– direct and indirect connections to nature –these elements help to foster a sense of comfort and ease.
Another vital consideration is flexibility. Office spaces have to encompass a range of different types of use throughout the full gamut of a person's day: working quietly at a desk, quick stand-up meetings or check-ins, longer internal meetings and breakout sessions, events with external partners, and more.
Workplace design must give form to all of these various functions within a limited footprint. Integrating elements that move and morph allows users to adapt a space to meet the shifting needs of their day.
Flexibility allows organizations to do more with less, to pivot and respond to changing priorities. It also means more of the office is activated through the day, an added touchstone for an organization's mission and shared values.
Designing for flexibility feeds into designing for collaboration, a major component of most modern workplaces. The office environment catalyzes teams and fosters group cooperation, though designing to encourage collaboration is somewhat subjective.
Shared resources and common spaces like lobbies, galleries, meeting rooms, maker spaces, and labs are essential in building organizational culture; these spaces allow us to interact with the physical components of our work, share tools, display objects and bring people together around a shared experience.
Most importantly, these shared spaces–often extremely flexible spaces, as well–provide natural opportunities for the kind of informal, spontaneous interactions that unite teams and drive projects forward.
Yet a workplace must also consider personal space. A recent trend in workplace design had been to minimize personal space in favor of maximizing collaborative space–very small desks or densely populated pods supplemented by a variety of meetings and collaboration areas.
While this approach may seem to center flexibility and collaboration, it results in an environment with limited visual and auditory separation where individuals struggle to focus. Asking staff to leave their desks to take phone calls or engage their teammates can also impact workflow and be disruptive rather than unifying.
For our clients–and within our own office space– I encourage a balanced ratio of personal and collaboration spaces. We want people to be able to take calls at their desks or have impromptu stand-up meetings without having to source a venue elsewhere in the office.
In the current era of COVID precautions, this strategy has meant an easier transition to more socially distant arrangements. I imagine we will continue to see a bit of program redistribution and renewed consideration of personal space in the future.
While designers and clients work to solve the unique puzzle of every office's program and function, maintaining focus on the human impact of design is a time-tested approach for creating healthy, productive working environments.
From corporate to domestic contexts, reimagining workspaces also means better solutions for our health: have you heard of Active Office furniture?