Architecture
Lightweight structures to explore form and spatial experience
THEVERYMANY studio is innovating a non-linear type of geometry for public art installations.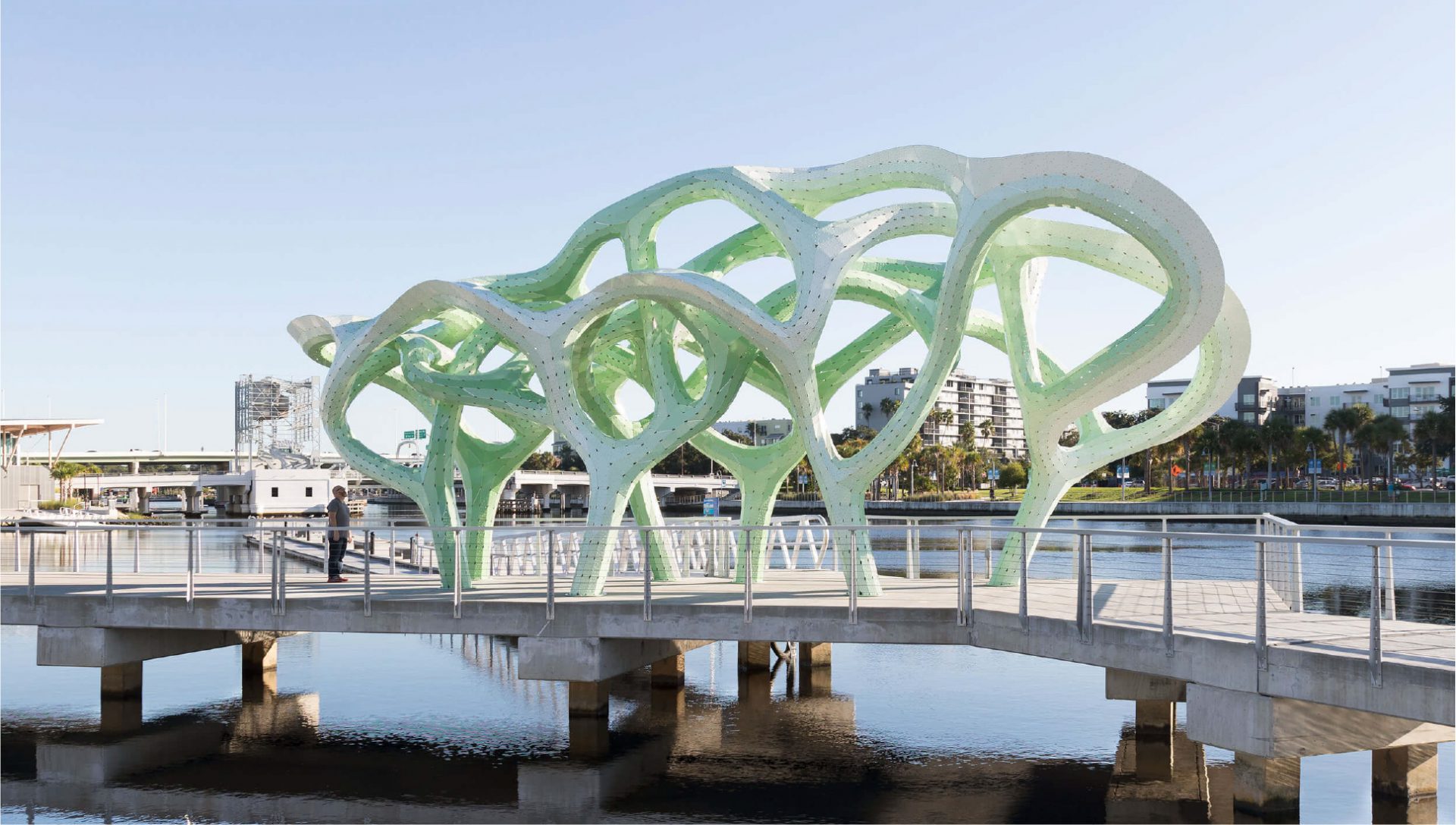 THEVERYMANY is a design studio, led by Marc Fornes, who is practicing the relationship between art, architecture, and computation. The practice is renowned for its ultra-thin aluminum structures that resemble organic forms found in the natural environment, exploring tangential continuity.
Their body of work has a particular focus in the realm of public art and can be found across the world, including the "Pillar of Dreams" in North Carolina, US, and "Pleated Inflation" in Argeles, France. 
The mind behind THEVERYMANY – Marc Fornes
Marc Fornes is a French architect, artist, and designer who leads THEVERYMANY studio in New York. Over the last decade, Marc has designed and built a collection of structures that are situated between the fields of art and architecture. Each public art installation offers a unique spatial experience for community engagement and visual interest. 
Marc's continuous research into form and the intersection of ultra-thin light-weight aluminum structures has been shared as a TED Talk, public lectures, academic appointment and artist residencies.
He was also a project architect at Zaha Hadid Architects for an experimental Mediatheque in Pau, France where he conducted extensive material research and geometrical development for what would have been the largest ever self-supporting carbon fiber shell.

Materials & Techniques – Perforated aluminum
Marc Fornes and his studio THEVERYMANY are renowned for their installations that explore the boundaries of form, structure, and space using perforated hand-curved aluminum. 
Each individual piece of aluminum is just one millimeter thick and curved in such a way that it is strong enough to walk on. Single pieces of perforated aluminum are riveted together in strips, that Marc Fornes refers to as "structural stripes". The strength of these structures is achieved by intensive, tight curves across the whole skin of the form, which plays on the concepts of lightness and strength against each other.
Marc Fornes' expertise in computational design propels THEVERYMANY's explorations of design through codes and computational protocols to address new ways of observing complex curvilinear contours using flat sheets of perforated aluminum.
Styles & Aesthetics – Contours of natural forms
The work of THEVERYMANY studio explores elements of the natural world and organic forms to create futuristic installations that offer a sense of familiarity yet alien. The futuristic aesthetic of these installations has a mysterious quality that is softened by the organic curves we see every day in the natural environment.
Fornes plays with our understanding of depth by manipulating light, color, and mass in these fantastical structures. The organic references of these forms are developed using digital fabrication which then maps out the custom-designed parts to create the aluminum self-supporting skin.
The strength of the curvilinear surface provides a hard shell that is intriguing to the eye as the audience tries to understand the contrast between the hard aluminum and curvaceous form.
Exhibiting the scripting techniques
Marc Fornes launched "Scripted by Purpose" in 2007, the first exhibition to solely focus on scripted processes within design. This exhibition was curated for the European section at the 2008 Architectural Biennale in Beijing.
Design memento – Natural yet alien
The most remarkable aspect of the work carried out by THEVERYMANY studio, is the constant research that goes into creating these computer-generated aluminum skins that form the visually delicate shell of the art installations.
The beauty of these structures is how the viewer tries to understand these bubble-like, curvaceous forms being delicately constructed from exceptionally strong but thin aluminum sheets. 
The writer's comment – Art and Architecture
Marc Forbes and THEVERYMANY studios work reminds me of the architectural forms created by Zaha Hadid Architects, they both play with creating organic forms using traditional construction materials seen in architecture.
ZHA often uses glass, aluminum or concrete to create curvilinear forms that intertwine around and throughout a functional building, whereas THEVERYMANY uses these forms for public art.