Furniture design
A sofa project conceived to reduce excessive human consumption
Voxel sofa by BIG is the ultimate modular seating system with elements that can be moved, flipped and rearranged, inspired by Lego.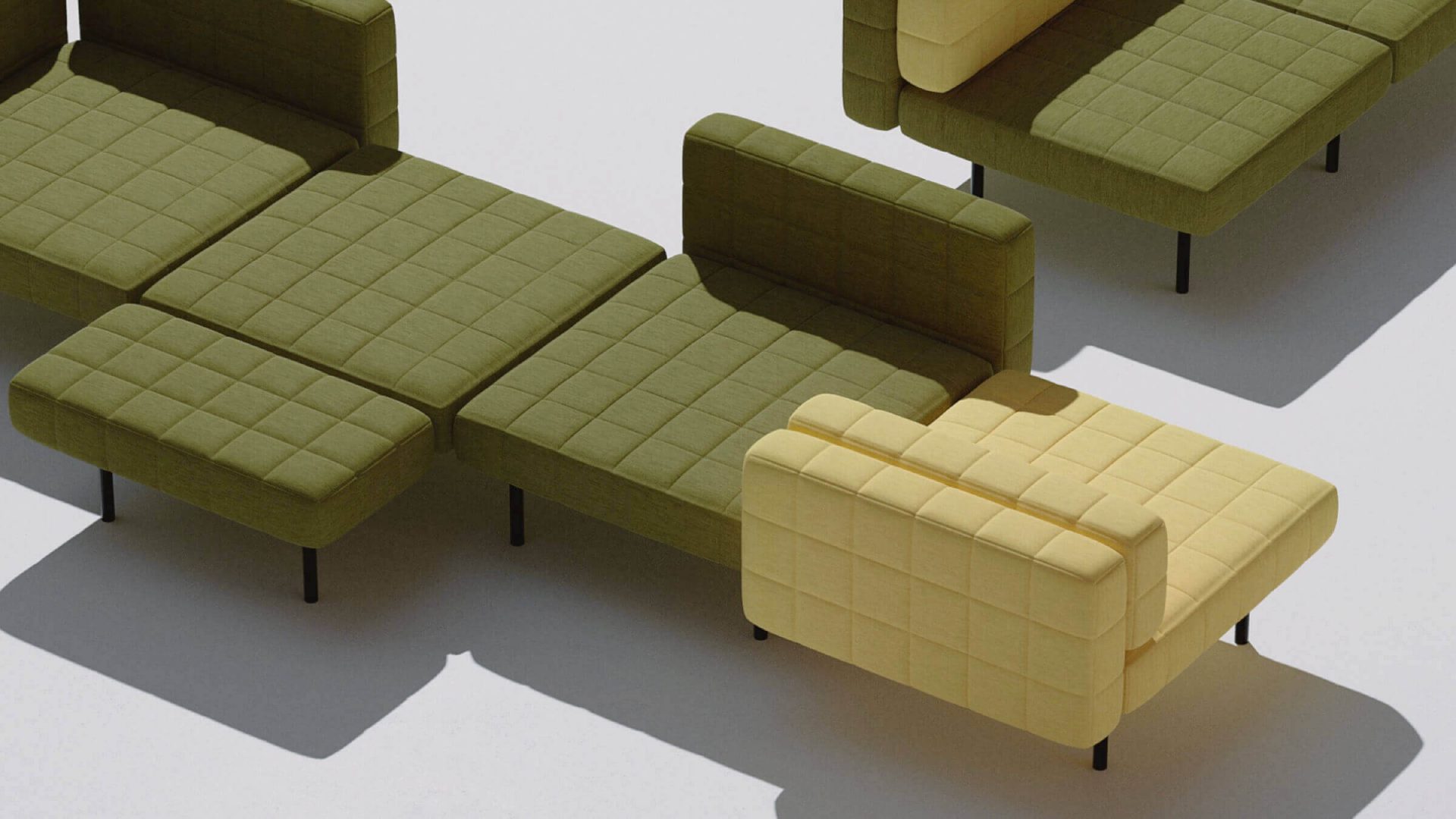 Voxel sofa was designed by BIG to protect the environment from massive human consumptionIts grid-like patterns allow multiple configurations and can be assembled in countless ways from four parts.
The idea behind the design is allowing its elements to move and interact with each other in order to create a comfortable, adaptable and more functional seating area.
The true motivation behind this project was to reduce excessive human consumption, by creating a sofa that has a configurable, modular look. Therefore if a part is no longer usable, it can be replaced without discarding the whole sofa. Even if through time you need a change in your home, you can rearrange the grid-like pattern of the sofa and get a completely new seating area design. 
The minds behind the Voxel sofa – Common Seating x BIG
The Danish architect Bjarke Ingels and his firm Bjarke Ingels Group, or BIG, collaborated with a fellow Danish furniture design brand, Common Seating, on designing the unique modular sofa system called the Voxel sofa.
Materials & Techniques – Metal & wool-based fabrics 
The Voxel sofa system can be assembled in multiple scenarios from four parts – armrest, backrest, seat, and legs. The modules that are flexible are encased with uniform melange, a fabric blend containing 68% wool, 28% nylon, and 10% polyester.
This unique system of furniture is available in various colors, such as light or dark grey, yellow, red, green and blue.
Style and Aesthetic – Modern and comfortable block-like design
While working on the design of the Voxel sofa, the architect focused on two things he wanted to incorporate – a pixelated block-like look and a minimalistic, adaptable design.
The block-like design inspired by Lego can also be discovered in some of his previous works. As far as the minimalistic, adaptable design, the architect took inspiration in the works by famous architect Mies Van der Rohe. A modular, playful Tetris-like design that allows the consumers to adapt the sofa to their home so it fully answers their needs.
Voxel – The evergreen sofa 
This interactive sofa is thoughtfully designed to never go out of style or look dull in your home. You can rearrange its parts, change their positioning or colors, replace them and even discard some of them.
Playful, challenging and so much more.
Design memento – Voxel sofa's form follows its function
Form should answer to the means of function, which is exactly what the design of this sofa system represents. Designed to meet your needs by being able to arrange it in whatever way you like, from as many parts you choose, this sofa is more than a classic single piece of furniture.
The writer's comment – "Voxel is the sofa from the future"
The Voxel sofa really impressed me. It represents a sofa you can really connect and bond with, as though it is a part of your creation. More importantly, it helps environmental sustainability, offers you endless possibilities to design your own furniture and stays with you longer.