Design
Making a statement through art: 6 war-inspired designs
Wars have directly inspired designers in the past, and in many ways, the unfortunate events have led to the creation of new materials and technologies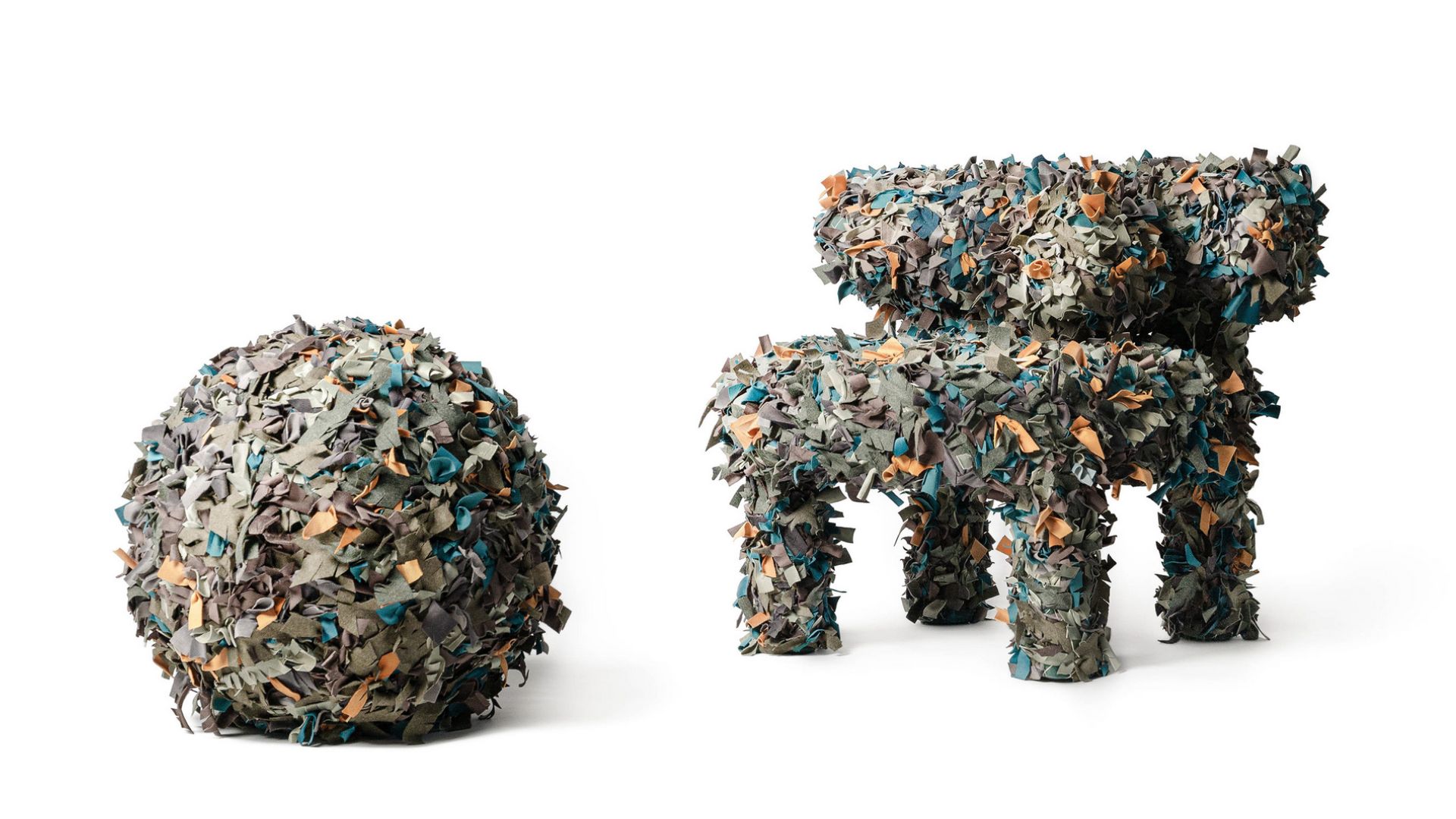 What can art and war-inspired design do in a war situation? Can it influence the movement of tanks, stop a soldier or get a child to safety?
Designers are not equipped to fight either direct war or information war; their words and ideas are drowning in the ocean of information and the tsunami of lies flooding us.
It's true that designers are neither in the first ranks nor in the second.
They belong to the bread earners who stay behind, but they can take care of those who fight to the death.
Through their work, they can offer support. Design and art aim to maintain balance in a situation that can only be described as chaos.
1. Victoria Yakusha furniture
Ukrainian designer Viktoria Yakush has created her first furniture collection since the Russian invasion of Ukraine, using tapestries and animal-shaped seats to show her connection to her homeland.
The collection, called "Stepping on Ukrainian soil", features a woven wool tapestry and several benches and stools.
Interestingly, the benches and stools were made with the traditional felting technique, which was once commonly used for decorating the walls of houses.
The designer applied felt material to the wooden base of the furniture to form a textured outer layer.
2. Prefabricated modular school by Zikzak
Another excellent example of war-inspired design is the work of the Ukrainian architecture studio Zikzak, which has designed a prefabricated modular school building to rebuild Ukraine's war-torn infrastructure.
The school building, called Revival, was created in response to the devastation caused by the Ukrainian war.
It can accommodate more than 176 pupils and uses an aluminum modular structure that can be adapted and modified to suit the users' needs.
3. Solidarity Poster by Ronan Bouroullec
During the war, it's important to show solidarity and unity, and that's exactly what the Wrong Store team has done.
They are partnering with the Disasters and Emergency Committee to raise much-needed funds for the Ukraine Humanitarian Appeal.
Exclusively for The Wrong Shop, renowned artist Ronan Bouroullec has created the "Solidarity Poster," a striking two-color poster in shades of blue and gold dedicated to Ukraine's national colors. 
Together with Ronan Bouroullec, the Wrong Shop donates all profits from selling these posters to the DEC appeal.
4. 'Mono' side table by Movimento Club
In difficult times, many great ideas are born, like Mono. When you first look at it, you may feel a sense of confusion.
What is it exactly? Simply put, Mono is the object between the stool and the side table.
The unusual creation has the typical architectural functionality of a stool but can also serve as a side table.
Its monolithic static appearance makes it a stand-alone object, but it also works well in public spaces.
Mono is part of an initiative by German designer Lukas Faber.
The design collective Movimento Club has brought together its members to offer a series of limited-edition works for sale to raise funds for humanitarian charities.
Each piece, from furniture to ceramics to lighting, has been created and donated by the designer himself.
Within the project, designers personally select the charities they wish to donate their sales proceeds.
5. Gropius Low Chair Military by Kateryna Sokolova
Design can find its place in war in many ways.
We often see it through the creation of camouflage nets.
The Gropius Chair is a fantastic example – it features more than 4000 knots and is woven in an original technique developed by Vynnytsia VinnSolar Center and its volunteers.
With the installation, the design wished to draw attention to the fact that the war was not over.
As an expression of resistance and solidarity, allies are invited to learn about Ukraine's rich creative culture – to listen and engage with Ukraine's creative community at this crucial historical moment.
6. Botticino Palm Tress Table by Naqsh Collective
Amman-based design studio Naqsh Collective, sisters Nisreen and Nermeen Abudail, paid tribute to Palestine through this iconic table, among the many beautiful artworks they have done so far.
Nisreen and Nermeen are inspired by both contemporary and traditional Arabic aesthetics, combined together with high quality local craftsmanship.
The Botticino table, which was designed in 2016, introduces a minimal style, and it's clearly inspired by the palm tree motif of embroidery.
This is where art and war-inspired design come in.
To support people in their struggle for values, to raise hope, and to create an environment where people can breathe and feel that they are not alone.