Design
Casa Roja aims at supporting women living in rural areas around the world
A comprehensive product service system designed to address the menstrual hygiene management (MHM) needs of millions of women, which offers a range of services, such as menstrual education and the free distribution of menstrual products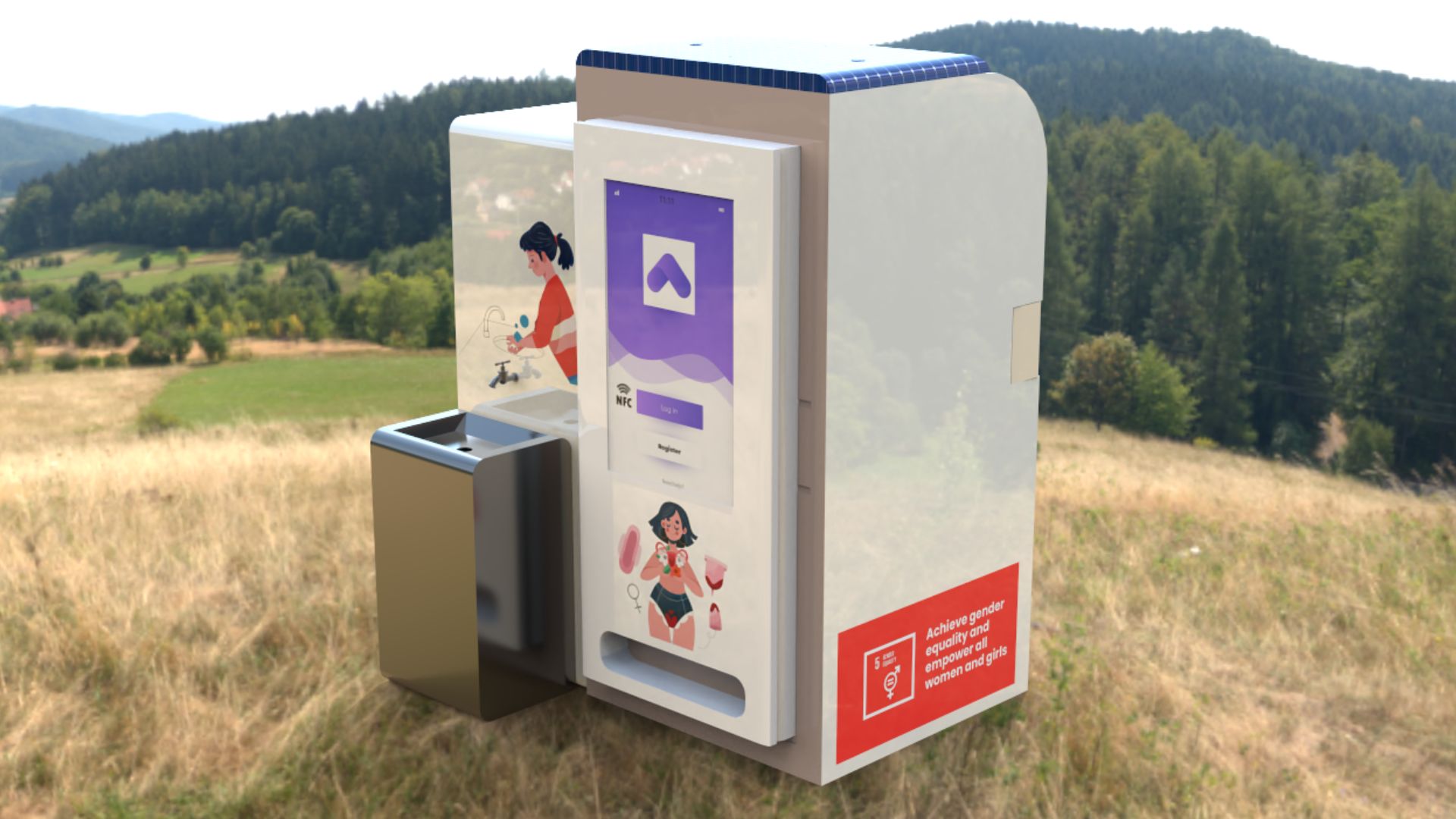 Recently, we participated as jury members in the 'Design for a Better Future' contest organized by Quantumleap, with the aim of evaluating the best submitted projects. Among the winners was student Maria Jose Ramos Alban, who created the project Casa Roja.
Maria is an Ecuadorian Product Design student with a strong passion for designing products aimed at children and women. She is also a skilled ceramist and has experience as a primary school teacher, demonstrating her commitment to education and human development.
We asked her a few questions to understand how the project came to be and, from her perspective as a student in the world of design, what lessons she has learned so far.
Could you tell us a bit about the Casa Roja project that won you the prize? What was your inspiration behind it?
Maria Jose Ramos Alban:
"Casa Roja is a product service system consisting of a kit dispenser of menstrual products to support the (MHM) menstrual hygiene management of millions of women living in rural areas around the world. The dispenser contains sustainable menstrual products such as compostable towels and reusable panties as well as a service at a Menstrual Management Centre where we support with Menstrual education and the distribution of free menstrual products. Everything is connected to an app (free and used without internet) that contains menstrual information, calendar of talks, workshops, meetings (at Casa Roja). Notifications to pick up the menstrual kit.
My first source of inspiration for the project came after several weeks of research into the problem of menstrual poverty. There are many projects that propose solutions for purchasing such products, but none with a real focus on sustainability, design, integration of a product-service system.
I researched many sustainable projects on menstrual management, women's empowerment, sex and menstrual education, and without a doubt, they were all a substantial part of my inspiration for this project."
How do you think winning this prize will impact your future as a design student? Are there any specific goals or aspirations it has inspired you to pursue?
Maria Jose Ramos Alban:
"Winning this grand prize from Quantum Leap, with my Casa Roja project, has been an incredible victory that I will never forget. This was my first official design competition, international, and I was able to finish in the top 3 projects.
The impact this award has had on my life has been very great. Many opportunities have presented themselves, that I have met many more creative people, besides that I have begun to situate myself in a field a little more professional, still being a student.
I would love to be able to tell the story behind the project to inspire and empower more women designers to work strategically on their proposals, their designs, and above all systemic and sustainable thinking.
Another huge impact of this project has been the opportunity to represent Ecuadorian design. Being a woman and being Latino, Ecuadorian, it makes me very beautiful to also have that strength, support and impulse from different organizations to be able to spread the design. There are many women designers and we deserve the same visibility. There is also a lot of design in Ecuador and it deserves to be shared and appreciated.
I am already fulfilling some of my aspirations and I am very excited. I would love to be able to continue learning about sustainability and design project management. I would like to travel and know different Design workshops. I would like to participate in more contests and be able to spread my ideas. In addition, I love to talk and would love to be able to be a speaker of this type of projects, to spread, educate, share the design."
Can you share any insights or lessons you gained from participating in the contest? Did it influence your perspective on design in any way?
Maria Jose Ramos Alban:
"Some of the thoughts and ideas I have had after this project and the contest:
Thinking about design management is fundamental to know if your proposal is viable and reproducible.
Sustainable projects require a lot of research, a lot of thinking and above all the ability to integrate additional services to your proposal.
We have to rely more on our talent and our ability, we will always keep learning and making mistakes is part of the process.
It is important to promote these initiatives for students to make much visible the work of young people in design. Get inspired, meet and talk to other designers. Sharing visions and thinking is vital to creating more empathetic projects.
Design has to be fun, enjoy the process
My perspective on design has completely changed when I learned about sustainable design. I have really fallen in love with the management of these projects, with being able to create and integrate services, with being able to connect people and enter into a vision much more linked to management."
Are there any mentors or influencers who have played a significant role in your design journey and contributed to your success in this contest?
Maria Jose Ramos Alban:
"Many people were involved in this project in different ways. Starting with women in rural areas who experience this problem of menstrual poverty day by day. While there were many mentors, designers, friends and family supporting me in the project, I must first thank the women for their courage, strength and humanity. I would love for people to be more empathetic and begin to see other very harsh realities in which design can intervene and help (without being invasive, of course).
My mentors: my family, for always pushing me to create, to try, to challenge myself. My teachers (Oscar Cuervo, Susana Oviedo) helped me a lot by guiding me, sharing tools and creative methodologies. To my friends who accompanied me while I did my work, my deliveries. To my boyfriend (he's a designer too) for giving me his feedback, his support and time and always listening to my crazy ideas.
To my school (Colegio Los Pinos) for creating women who change the world. Especially to my school Design teacher (Verónica Ferro) who guided me to this wonderful world of design. And last but not least, to the Quantum Leap team for guiding me and helping me through the sessions. (Jimmy Apolo and Majo Quintero have been a huge inspiration to me)."
How do you envision your future as a designer? Do you have any specific areas or industries you would like to explore or specialize in?
Maria Jose Ramos Alban:
"My future as a designer will be very exciting. I would love to learn more about design management, about sustainability. I feel like I am a person who loves to always try and experience many things to learn, I love to learn. So I'd like to try a lot more, but I'm clearly going to have a very strong focus on sustainability.
Also, I am a ceramist and I love working with clay, so I will surely have an approach with this beautiful material (Margarita Rosero, designer) shared her passion for ceramics with me and would love to continue. I was also a primary school teacher, art and design, and I love kids design, I would love to take some master's degree in toy design as well."