Furniture design
Linking UN's Sustainable Development Goals to furniture design – Klaus Jorlet of We Do Wood
The United Nations set 17 sustainable global goals to reach by 2030: Klaus Jorlet, CEO of We Do Wood, shares how they take into consideration such goals in their furniture business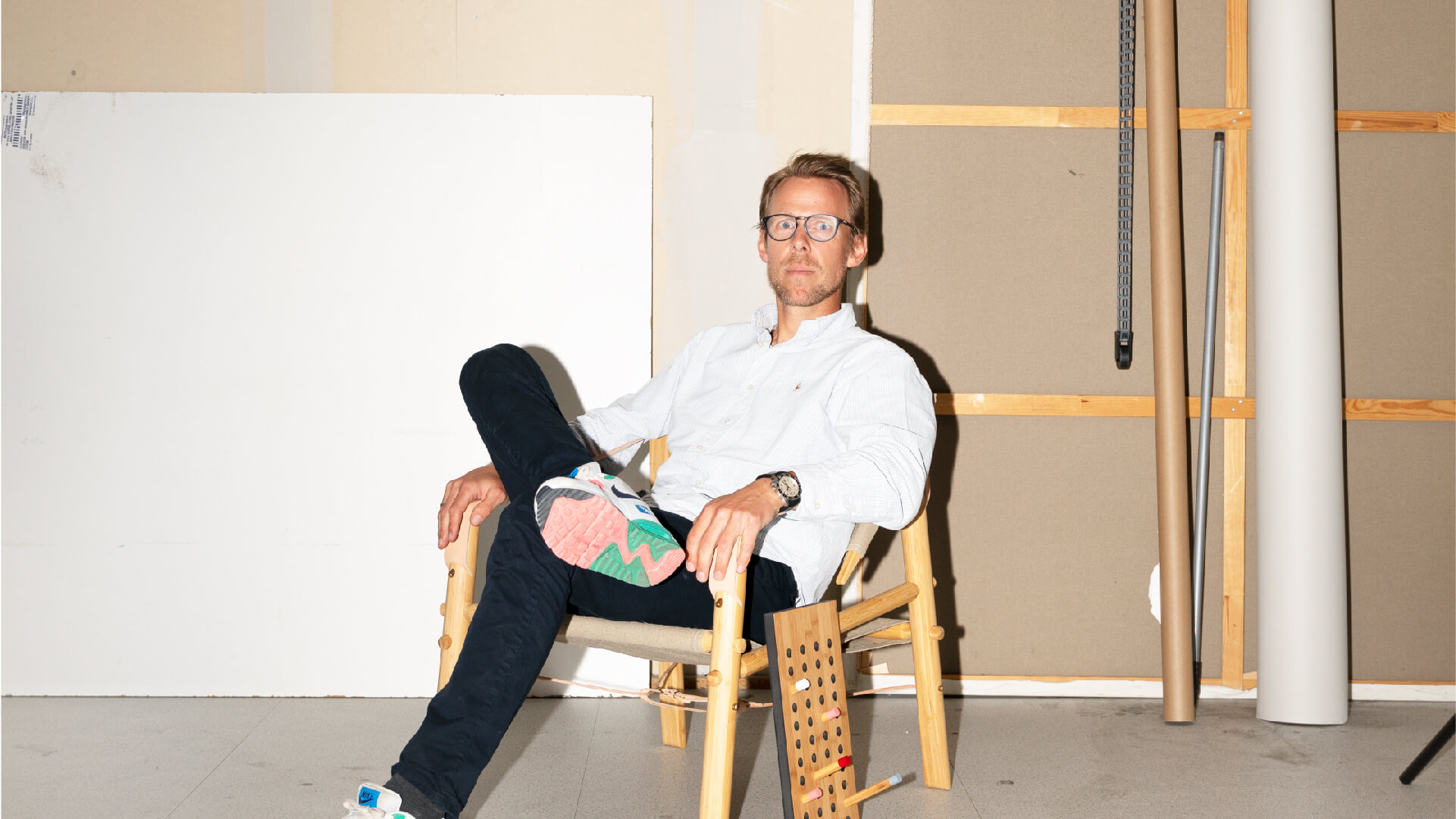 Founded in Copenhagen back in 2011, We Do Wood went forward with a sustainable approach from the beginning. Highly valuing their materials and carefully thinking about their products' lifecycle, CEO Klaus Jorlet tells us about the company's unmatched sustainable methods.
As advocates for a circular economy, We Do Wood maintains a constant plantation of trees and aims towards no-waste, upcycled materials for their designs.
Their environmental and social responsibility is admirable and is demonstrating the feasibility of developing a truly sustainable design practice.
Who is Klaus Jorlet and did the journey for We Do Wood being?
Klaus Jorlet:
"A good question! I am a person with many years of experience in the furniture world. I have a wish and passion to change the classic way of producing furniture and I want to make a statement when it comes to sustainable products.
A lot of people in the industry are just talking about sustainability but are not acting on it!  I want to make a difference for the next generation. We Do Wood was founded in Copenhagen in 2011, based on the vision that new Danish design and strict sustainability principles should go hand in hand.
We work with Danish furniture manufacturers and have a long tradition of craftsmanship and high-quality furniture. We have made it our ambition to always seek the better alternative and therefore we work on all 3 pillars (Social, Environment, Economic) when it comes to sustainability.
We have properly been 5-6 years to early on the market since the demands for sustainable products were not that high back in 2015-2017. It is just within the last 2 years we have seen in increasing demand. I took over the company this year and it is been a roller coast ride!
We started the first quarter extremely poor cause of Covid19 but even though we invested new upcycling products and certifications. Now we face a real situation where we cannot follow up with the demand. This is, of course, a pleasant situation but if we do not maintain our focus to keep pushing for being at the highest level when it comes to producing sustainable products it can easily go the other way again!"
How is your practice sustainable and aligned with the Sustainable Development Goals set by the United Nations?
Klaus Jorlet:
"We really want to align our business with the UN goals – of course, we cannot fit all goals, but we have tried to narrow down the most important for us and where we already are making a difference. All these below-mentioned statements we already fulfil.
Economic development – We always make sure that our products are made to last both in terms of materials and design – and when possible, we upcycle and recycle. 
CO2-neutral – We care deeply about our footprint. Therefore, the end-to-end supply chain, from a plantation to the final product, is C02-neutral or better.
Environmental protection – We choose sustainable materials, and when possible, we use formaldehyde-free glue, choose water-based paint or avoid paint by implementing other techniques such as carbonization and oxidation.
Social development – We only work with certified FSC-suppliers and talk openly about sustainability and what we can do for the next generation.
E0-standard – All products meet the strict European formaldehyde emission EO standard, ensuring an emission-free indoor climate. 
Certified suppliers – Suppliers and manufacturers are certified ensuring materials and final products are chemical-, pesticide-, herbicide- and fertilizer-free."
Circular economy -We advocate for circular economics or the philosophy that everything that nature creates is recycled. Durability is essential, materials can be recycled, and our products can be absorbed into nature after use without the use of chemicals, etc. In addition, we promote the sharing economy and gladly help students get durable furniture through a subscription solution or leaseback scheme.
Sustainable furniture – We work with residual materials, upcycling, no waste and environmentally friendly materials such as bamboo to create sustainable furniture. In addition, we use FSC-certified suppliers to ensure that the forest can keep up with the production and to protect both animals and plant life.
Global Goals – We strive to follow the Sustainable Development Goals which have the power to create a better world by 2030, by ending poverty, fighting inequality and addressing the urgency of climate change. Guided by the goals, we create sustainable furniture. To read more about the Global Goals press the numbers below or go to www.globalgoals.org
Social Sustainability – We have a holistic focus that balances our customers' desires and the conditions of the people who create our furniture. As an example, we create urban diversity through Green House living concepts and focus on collaborative development processes."
Could you give us some insights on your experience working with wood? How do you minimize the impact on the environment?
Klaus Jorlet:
"We use almost use 100% of the Bamboo plant furthermore when it comes to our FSC Oak production it consists mainly of veneer and the base is rest material and leftovers from ex Danish Pinetree's.
Furthermore, we plant of course due to FSC new trees, but we also work with a NOG organization in order to plant additional trees to lower our CO2!"
What is the role of retailers in supporting sustainable furniture?
Klaus Jorlet:
"I think we have to be honest that it is very subjective when you buy a piece of design furniture. If the product has a sustainable approach that is an add-on, but we do see that more and more retailers are looking for sustainable products in order for them to also get a sustainable "look".
On the B2B market, however, they are very far when it comes to implementing sustainable goals! I believe that we have been among the first movers when it comes to having your value proposition so hardly focused on sustainability.
The importance of the retailers both online and offline is more important than ever since they are our window to the world and the more they focus on sustainability, the more attention we will gain being part of the "sustainable" suppliers.
We see an increasing focus not only in Europe but also in new markets for us as the US, Japan and Korea."
How are manufacturers and consumers differently responsible when it comes to sustainable consumption?
Klaus Jorlet:
"I think we are equally responsible since if there is no demand for sustainable products manufacturers will not go so far to invest in their production facilities. It is still not a very attractive way of producing since it is very cost-intensive and you need a lot of certifications that back up your company.
The difference comes when you look at needs (Maslow): we as manufacturers mainly have to think of these as physiological needs, whereas consumers normally see them as esteem needs.
But, since the governments in many countries are trying to push the focus on sustainability and upcycling, this will of course also have an effect on the consumers in general and their way of thinking/acting sustainably."
What is next for We Do Wood? Do you have any new projects in development?
Klaus Jorlet:
"In 2021 we will focus even more on upcycling products, and we have 5-6 projects going on. Furthermore, we aim to be more local since I strongly believe that this also is an important part when it comes to sustainability: think Globally, act locally!
One of our projects is an interesting task since we were asked if we could help reduce the amount of plastic waste in the Danish Westcoast.
So, we now try to implant this waste material as a new feature on some of our products. We are very confident that we are on the right track, and we will also go for a new standard that gives not only our partners but also the consumers an insight in how we work with sustainability since we do believe it is very important to be transparent: there is too much "greenwashing" going on!
Nobody is perfect – but we strive to be among the best of the best when it comes to an honest sustainable approach."