Design
11 of the coolest camping gadgets for your next adventure
From floating tents to portable bidets, here's a list of the best camping gear for when you start preparing your next trip.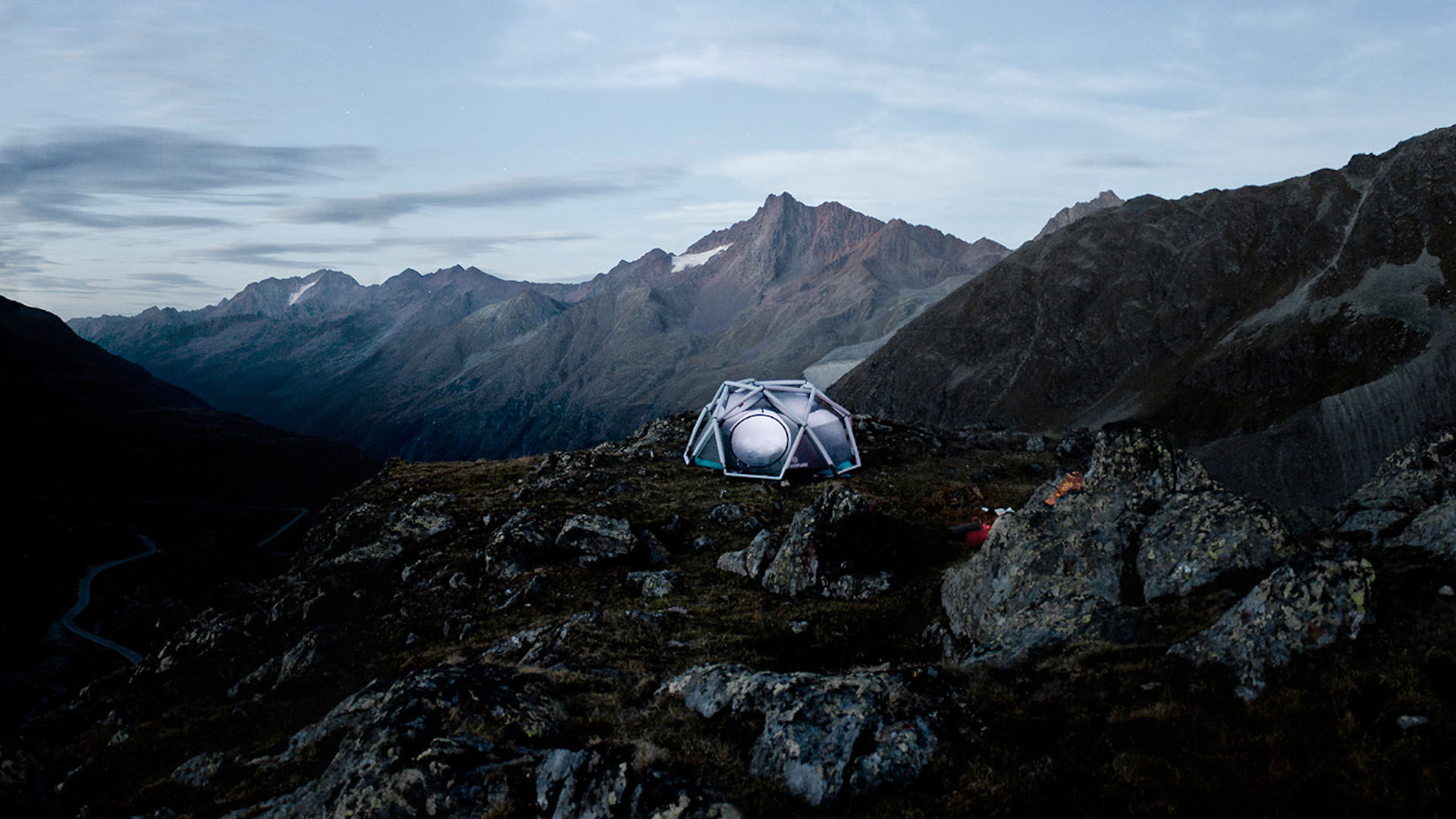 Whether you are a first-time camper or a seasoned outdoor veteran, when you're on an outdoor adventure you have to be selective of what to take with you, especially considering the camping gadgets you choose.
An experienced camper knows that planning ahead and choosing the right equipment can make the difference between a memorable or a miserable time.
Camping might be a chance to hang out in nature but some extra lights, comfortable chairs and a decent speaker never go amiss.
If you're seeking adventure but don't want to compromise on comfort and safety, the following list of essential camping gadgets is perfect for upgrading your camping setup. 
Heimplanet Cave Tent
One of the biggest bugbears when it comes to camping is putting up the tent.
Luckily, the Heimplanet Cave Inflatable Tent tackles that challenge head-on.
In less than a minute, it's possible to inflate the tent's ten-point geodesic dome, which features a diamond grid construction to ensure stability.
Meanwhile, a waterproof polyester outer surface and an inner surface made from lightweight waterproof nylon keep it weatherproof.
Beyond being incredibly simple to set up, the Heimplanet Cave Tent is packed with clever features to keep its two-person capacity comfortable during their camping trip (or 5 depending on what else has been packed along for the ride).
Gear lofts under each of the tent roofs provide hidden storage should you want to create more space.
Jerry Water Filter
If you're planning on roughing it you might not want to take too many mod-cons but there is one that might persuade you.
Dutch studio Forthemany has designed a self-cleaning water filter specially designed to fit onto jerry cans.
Aptly named Jerry, all you have to do is fill the canister with non-potable water and attach the filter to it, eliminating the need to transport any bulky equipment. 
The water filter was designed to support global access to safe drinking water and contains a self-cleaning mechanism, which automatically cleans the filters with every pump stroke and has a lifespan of over 10,000 liters.
A glass is filled with just two strokes of the pump with little effort, which makes filtering the water easy for small children and the elderly.
VSSL First Aid
The Vssl First Aid Kit isn't your typical first aid kit.
It's completely waterproof and comes in a sleek, compact and durable design.
Inside, a perfectly organized selection of 46 outdoor-specific, first-aid components is accessible including multipurpose adventure tape, antibiotic cream and an emergency whistle.
Weighing just 14 ounces, the container is made from military-grade aluminium for extreme environments so it can take a beating whilst keeping the gear inside dry and intact.
There's also a compass and a 4-mode LED ultra-bright flood light with up to 40 hours of life.
Getting ready for your summer adventure? Don't miss the 10 summer product designs to celebrate the season in style.
Ultra-portable Cliq Chair
A camping chair built for anywhere is the mantra that sums up the convenience of Cliq, an ultra-portable camping chair.
Designed in Santa Barbara, the chair is not only compact but sets up in five seconds.
Cliq is the size of a drinking bottle when packed away and when unpacked shows off its impressive construction.
Featuring aircraft grade aluminium, twice stitched ripstop ballistic nylon, double seams for durability and solid rubber feet tips, Cliq portable chairs are strong.
According to the company's extensive testing, they can support up to 300 pounds and only weigh 3.5 pounds. 
MoMA's LED Lantern Speaker
Taking up less space is convenient but taking up no space at all is even better.
The LED Lantern Speaker is both a dimmable lantern and a wireless speaker so you can pack just one instead of both.
Created by Taiwanese lighting designer Keen Hsu, it looks like a timeless hurricane lamp but delivers up to seven hours of continuous ambient light and crisp, omnidirectional sound. 
The speaker connects via Bluetooth and is small enough to stash in a bag tote and carry around.
It also features a splash-proof construction for outdoor use and a rechargeable lithium battery with four hours of charge yielding five hours of normal volume play. 
Shelf Cooking Station
After setting up camp the next thing on the list is good.
The challenge is less so finding something to eat and working out how to cook it.
Korean design studio PDF Haus has conceptualized a battery-powered camp grill with all the necessary conveniences called Shelf. 
Shelf packs a portable gas grill with folding shelves and a table in a simple box silhouette that consolidates its contents into a slim briefcase with two metal clasps that open to reveal the Shelf's grill and supplementary table space.
The designers took inspiration from the color scheme, materials and finishes often chosen by DHL for their vehicles and brand aesthetic.
The Muncher
Another all-in-one is The Muncher titanium multi-tool.
Billed as the world's most functional camping utensil, it weighs just 23 grams and contains a spork, serrated butter knife, can opener, bottle opener, peeler, fire starter, cord cutter, pry-bar, box cutter and a flathead screwdriver. It's made from aerospace-grade titanium.
TRAFT
TRAFT is a hybrid tent packraft targeted at anyone who wants to escape into nature with a packable, lightweight and resilient raft that doubles as a tent.
It's supposed to provide adventurers with a high-performance survival vehicle to access off-grid destinations. 
It's made from an ultra-durable, lightweight, abrasion-, tear- and puncture-resistant material weighs 12 pounds, and even folds down to fit in a backpack.
As well as being deployed as a tent, TRAFT can also be used as a shade shelter while lounging or paddling. 
The FOLD
Fold is a concept electric mosquito net designed by Sang Kun Park in partnership with Designer Dot.
Drawing inspiration from the traditional Korean fan called Danseon, the net has an elegant aesthetic that collapses down for easy portability.  
Its aim is to provide users with a simple and effective way to inhibit mosquitos and features LED lights to make spotting insects a little bit easier.
The FOLD's battery pack is hidden within its slim, two-part handle and is rechargeable via the USB-C port at its base.
The best camping knife is an indispensable tool for anyone spending a lot of time outdoors.
The Sniper Bladeworks 2020: Reload Collection includes five styles designed for a range of activities including a smaller 7.5" blade for smaller tasks and a series of larger knives for more intimidating jobs.
Every single one of the collection's knives is made from the highest quality performance steel, meticulously designed and manufactured by award-winning knife smith Lance Abernathy.
Sonny Portable Bidet
Camping doesn't require you to give up every single luxury.
Especially not because designers are finding clever ways to bring even the banalest everyday rituals along for the adventure.
Sonny is a portable bidet that promises to keep its users clean wherever they do their business. What's more, Sonny is a sustainable alternative to wipes and paper for battery hygiene and a greener planet. 
Sleek and intuitive, simply fill the device with water.
One full canister provides 25 seconds of high-pressure water flow or 40 seconds of standard pressure.
The water stream can be switched to three settings—precision, shower, and gentle—so you can choose whatever makes you feel clean and comfortable.
Discover more product designs for outdoor adventurers, head to The Shine portable wind turbine charges devices on the go.