Technology
Wave goodbye to pollution with these sculptural air purifiers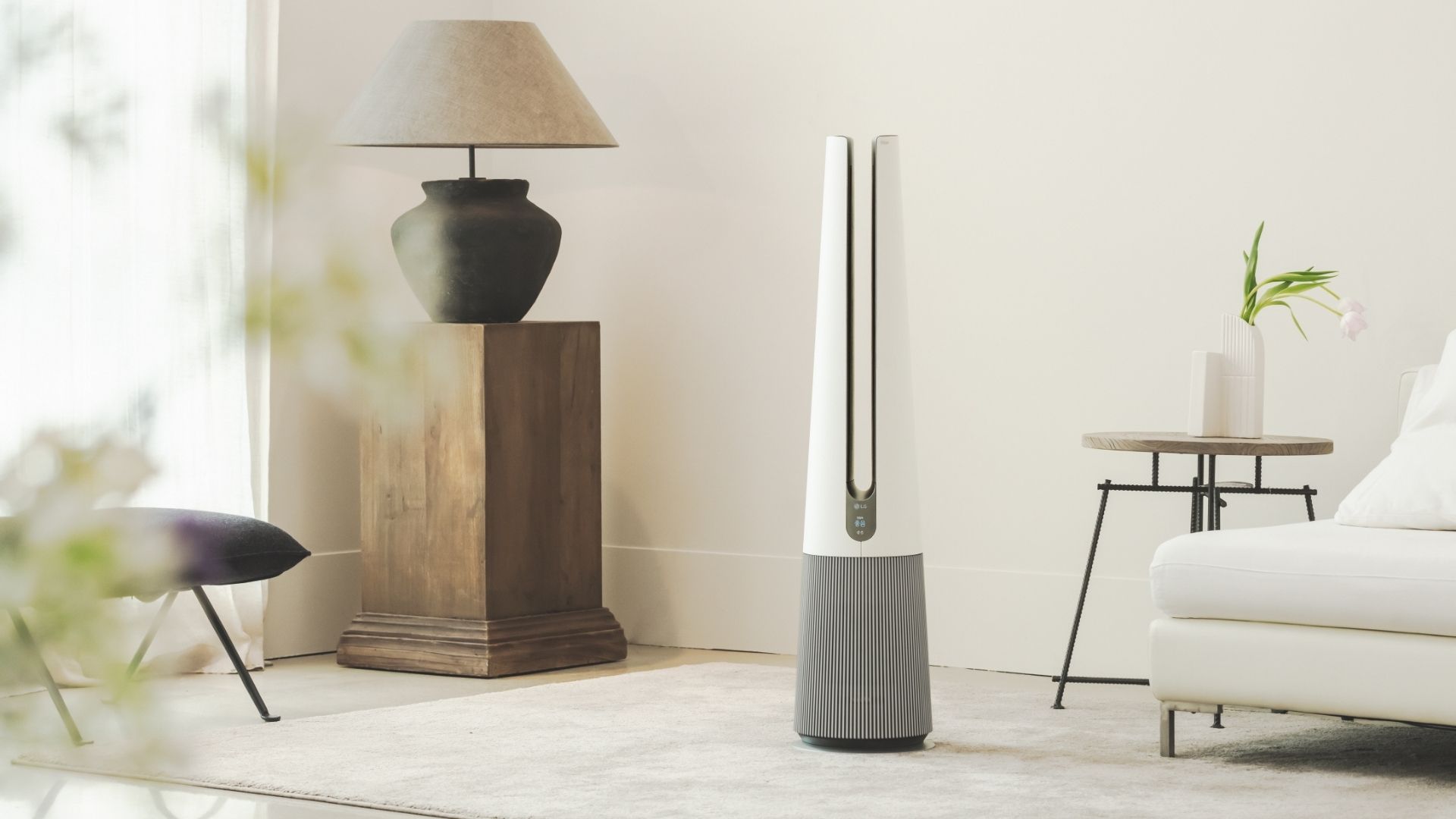 The coolest air purifiers for removing dust, pollution and allergy-causing particles from your home.
Urban air quality is at an all time low thanks to rising temperatures and heavy traffic.
Throw in seasonal allergies, dust, germs, other allergens and pet dander, and you have the perfect storm.
That's why the consumer air purifier market is on the rise — in the US it's anticipated to reach USD 4.19 billion by 2028 — driven by increasing concerns about both outdoor and indoor air pollution coupled with the health problems associated with them.
These minimise concerns by filtering the air in a space, often through several layers of filtration, and pushing out something cleaner and potentially less harmful.
This translates into anything from less dust to pet hair and smoke being eliminated from the environment. 
Consumer air purifiers have evolved over the years from looking like outdated radiators to stylish and sometimes even decorative elements in the home.
Here's our suggestion of the best available low-key, high-style air purifiers designed to enhance your personal atmosphere.
Starkvind
The IKEA Starkvind Air Purifier combines high performing air purifying solutions with contemporary design that comes in two versions, a standalone disc that looks a bit like a Bang & Olufsen speaker, or integrated into a circular side table to help remove dust particles, pollen and impurities at home.
It's equipped with a two-filter system and an optional carbon gas filter add-on, which absorbs various pollutants such as formaldehyde and other VOCs.
Used on its own, or connected to the Trådfri gateway, which is basically a home hub for IKEA's smart products, Starkvind can be controlled and scheduled via an app including its five different fan speeds and an auto-mode, which adjusts the fan speed relative to the level of PM2.51 in the air with a built-in air quality sensor.
Förnuftig
Starkvind's predecessor and IKEA's first foray into consumer air purifiers was the Förnuftig, an inexpensive machine that looks great even though it's considerably less powerful than most models.
It's thin footprint makes it perfect for placing on the floor or positioning on a table or desk—you can even hang it on the wall. Note: the Förnuftig isn't a true-HEPA purifier but is designed to capture PM2.5—that is, particles 2.5 microns in diameter and above, such as pollen and mould spores, rather than for very fine particulates like wildfire smoke.
Löv
Designed with adaptability in mind, the Löv is a portable, Scandinavian-inspired filtration device that can be attached to a wall, propped up in a corner, or tucked away wherever is convenient.
Playing to the individuality of different interiors, it sports a compact and minimal design that helps it blend easily into its surroundings. Meanwhile, a Korean-engineered triple layer of filters helps keep air clean.
It includes a prefilter that catches dust and hair, a HEPA filter for allergens and small pollutants, and a carbon filter for pollutants like toluene and formaldehyde.
Kara Pure
Kara Pure isn't first and foremost an air purifier. In fact, it's an air-to-water filtration system that just so happens to purify air at the same time.
It's thanks to a 4-level filter that cleans the air from impurities, heavy metals, particles, and extracts water from the air, after which the purified air is released back.
It uses a hygroscopic substance that works as a drying agent, to capture the moisture in the air before the liquid is sterilised and separated into its acidic and alkaline parts with a built-in ioniser and an ultraviolet light to produce a 9.2+ pH antioxidant-alkaline water for drinking.
The look is a little modern—a silver tower with a void in the centre for accessing the dispenser gives it a contemporary, architectural feel.
LG PuriCare AeroTower
LG takes on Dyson's Pure Hot + Cool with its PuriCare AeroTower, which is also a heater and a fan combined in one sleek and stylish tower.
It features a bladeless design and a deep-V shape that is integral to the way airflow is created. Whisper-quiet tapered, vertical vanes that emit only 23 dB of wind noise in what LG calls "Air Valley".
The AeroTower can turn a full 360-degrees delivering air in one of three modes: Direct, Wide, and Diffusion.
The first creates a blast of warm air up to 30º C (86º F) maximum with the power to increase room temperature by 5º C (41º F) in fewer than 10 minutes.
In Fan Mode it creates a refreshing breeze and 10 levels of airflow intensity. Finally, Diffusion Mode ensures optimal indoor air quality, delivering clean, filtered air through the Air Guard diffuser.
Dyson Pure Hot+Cool Formaldehyde HP09
Last but not least is the Dyson Pure Hot + Cool, an icon that often springs to mind when you think of consumer air purifiers.
The Dyson Purifier Hot+Cool Formaldehyde HP09 is representative of the brand's wider collection, which for the most part sport a tower-like design, with a bladeless oval-shaped fan positioned on a cylindrical base that rotates through 350 degrees to project purified warmed or cooled air around the room.
It also detects and traps dust and allergens from the air using a glass fibre HEPA filter whilst providing a detailed breakdown of the air quality and the allergens that have been caught on the unit's built-in LCD screen.
Both temperature and speed of airflow can be manually controlled using the remote, or through the Dyson Link smartphone app, while an Auto mode maintains the preferred temperature in the room, adjusting the fan speed as required.