Furniture design
The soft and sustainable curves of Ascent Series – Green Furniture Concept's seamless seating system
The Swedish brand designing furniture for airports and other indoor public spaces wins the Red Dot Award for Product Design 2021 with Ascent, a new modular seating system with sustainability at its core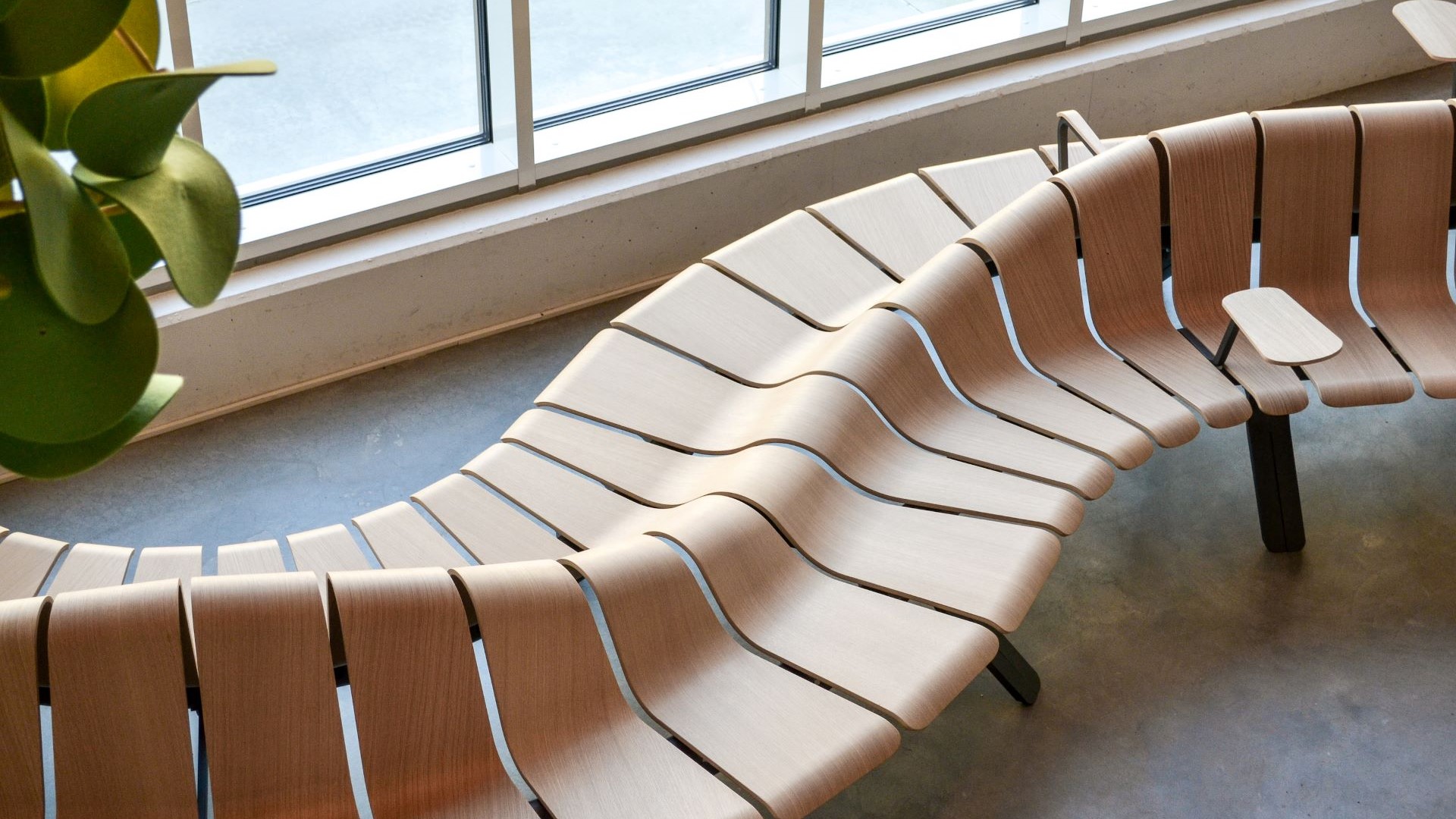 Combining low-carbon aluminum and responsibly sourced wood, the recently unveiled Ascent Series has been dubbed a "triumph in three-dimensional design", and it's already received global recognition after winning a Red Dot Award for Product Design 2021.
There are few brands with an approach to sustainability that compares with Green Furniture Concept.
Since 2007, the straight-talking Swedish brand has employed ecologically sound processes, focusing on design that uses natural and recycled materials to create modular seating for airports and other interior landscapes. 
From Scandinavia to North America, Green Furniture Concept has created pieces that define public space all over the world. Now its in-house design team has designed one of the world's most sustainable beam seating systems yet.
The future of beam seaters
With the new Ascent Series, Green Furniture Concept reinterpreted the traditional seating arrangements found in places like airports and train stations.
Working closely with architects to imagine what the future of such spaces might look like, it wanted to create something fun and interactive, transforming the straight and narrow sobriety that often characterizes the seating found in these areas.
"Public space has changed drastically in design and technology," explains Jonas Ekholst, Head of Design at Green Furniture Concept.
"Somehow the furniture still looks the same as it did in the 50s-straight rows of seating with no added value than a place to sit. We wanted to challenge that and create something playful and functional that welcomes the user to interact."
A distinctive aesthetic is defined by gentle curves that ebb and flow through the center of winding beams, transitioning smoothly between "backed" modules and bench-like seating.
Together, seamless combinations accentuate Ascent's organic design whilst enabling architects and designers to create adaptable spaces to meet ever-evolving needs.
If you want to know more about Green Furniture Concept, don't miss the Swedish brand's sustainable design for public interior landscapes.
It's the modularity and configurability that makes Ascent so perfect for airport terminals and other large-scale interiors. Striking configurations have a sculptural appearance that looks as though an artwork has been commissioned, and at the same time, their winding forms have an extremely practical function as a form of wayfinding.
It's possible to combine straight lines and curves, backs and benches, alongside armrests, tables, and charge points. Together, these elements fill the space with identity, meaning, and functionality, enabling architects and designers to create a natural flow of traffic, particularly useful considering today's unique challenges around social distancing and the flow of people as a result of COVID-19.
Which materials enable an actual circular design?
With sustainability a foremost priority, Green Furniture Concept did what it does best and dedicated time to material research during the development phase.
Collaborating with Norwegian industrial company Hydro, it introduced CIRCAL, a low-carbon aluminum that is used for beams containing at least 75% post-consumer recycled material. 
"Aluminum is a great material since it is light, yet at the same time, it is very strong. It melts at a relatively low temperature and is exceptional for extrusion of beams and profiles," explains Joakim Lundgren, Head of Sustainability at Green Furniture Concept.
Green Furniture Concept shaped CIRCAL into a stadium shape to match the organic shape of the modules and the rounded edges of the wooden slats. The rounded shape also prevents dust and grit from accumulating on the beams.
"[Aluminum] is also a material that has great recyclable functions. By using aluminum with a high percentage of recyclable content we get a smaller CO2 footprint in comparison to if we would use virgin or "new" aluminum."
Other materials used to create the Ascent series have also been chosen with sustainability in mind.
"Wood is a fantastic material, it is renewable, strong yet flexible, and has the thermal functions of being neither cold nor hot to the touch. Every part is unique and ages with dignity rather than slowly deteriorating to a scratchy surface like other materials."
Ascent combines two different wood types, covering layers of soft beech with a strong oak veneer, a combination that makes it possible to shape whilst still giving the seating a strong and resilient surface. 
"Each part is separable to be able to exchange only that part if necessary. Meanwhile, wood in combination with a hard wax oil makes it possible to maintain the products on-site instead of recoating it at a paint shop."
The Ascent series is made in three versions: Back, Bench and Rise.
Back features a backrest designed with dimensions in line with conventional standards of public seating, whilst the Bench enables an airier and more open atmosphere. Ekholst describes the Rise module as a "building block" that can be used to connect other modules with one sweeping line.
"At first, you will notice the flowing shapes and warm texture of the wood. Secondly, you will be happy to see that all the requirements are there. Easy to clean, reconfigurable, stackable, hidden electricity, tables, armrests, chargers, easy to maintain and future proof with an ever-evolving series" says Ekholst.
"We have designed a toolbox for architects and designers to play with, and we're so excited to see what they can create."
Interested in sustainable furniture? Take a look at Samy Rio's practice, combining traditional craft and today's industry within simple forms.