Furniture design
PensieriPanteschi: Elena Salmistraro pays tribute to the Mediterranean landscape
Unveiled at EDIT Napoli 2021, Elena Salmistraro's PensieriPanteschi collection for Lithea is rich in materials and inspiration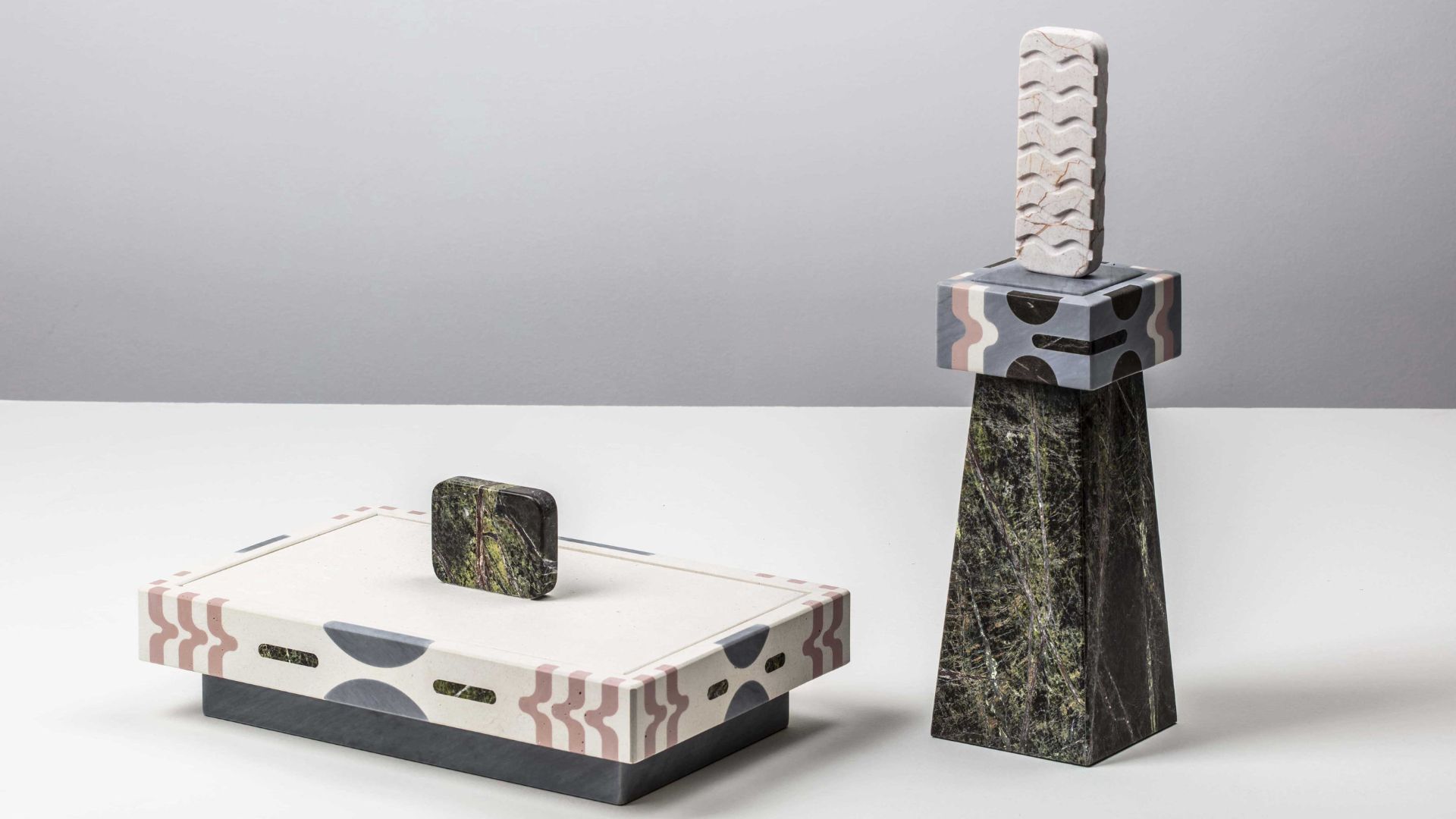 Called 'PensieriPanteschi', the new collection by Elena Salmistraro, designed for the Sicilian brand Lithea, captures iconic elements from an island's landscape including its volcanic rock, vine-covered cliffs and dry-stone walls.
It might be one of the lesser-known islands in the Mediterranean but it doesn't take away from Pantelleria's beauty. A rugged and sparsely populated volcanic outcrop, since the Byzantine empire, Pantelleria has been considered a land of fertility with tales of its mystery passed down over generations detailing rugged beauty; the undulating roods of the Dammusi architecture and the terraced slopes overlooking the never-ending sea.
"It is a succession of symbols, extrapolated from the territory and told through marble and stone in an unprecedented graphic composition," says Salmistraro.
PensieriPanteschi was unveiled during the third edition of design fair EDIT Napoli in October and pays tribute to the precious stones and marbles that Lithea has worked with for over fifty years. The collection includes a dining table with matching stools, vases, and a spectacular wall panel. 
"[They] tell us about Pantelleria and Sicily using mainly local materials, in this case the stone of Comiso and the Pietra Pece," says Salmistraro. "These materials are wisely moulded by Lithea fully enhancing the territory and giving life to a process that is distinctly local."
Salmistraro took her cues from satellite imagery of Pantelleria as well as studying location images from across the island, which she then translated into various stone surfaces. The Gladir wall panel comprises a Bianco Fenice stone base engraved with an undulated design and decorated with marble inlay details and small elements of copper. 
[ Read also Ready for EDIT Napoli? Interview with founders Domitilla Dardi & Emilia Petruccelli ]
The same aesthetic has been applied to the Specchio di Venere dining table with a top formed of several pieces of machine-cut marble. This is supported by four semi-circular stone legs featuring curved incisions and two central columns made from Pietra Pece limestone. Matching Sibà stools and vases (Spadillo, Limarsi e Tracino) are also available in a similar material palette.
"She has created items which have a highly scenographic presence," says Lithea. "They are all three-dimensional graphics made up of multiple tones and extraordinary layering of different materials thanks to the use of multicoloured, precious marble."
Standing out for her playful approach to design, Salmistraro is recognisable for her anthropomorphic figures, geometric patterns and a fondness for colour.
Her oeuvre encompasses an array of bright and beautiful ceramics, furniture and accessories having lent her unique aesthetic to several iconic Italian brands including Bosa Ceramiche, CC-Tapis and Natuzzi. Here, the work the Salmistraro has produced for Lithea is no different.
[ Read also This modular marble furniture defies all your expectations of marble ]