Home decor
3D printing ceramics: Hilda Nilsson discloses the challenges behind a "phygital" production method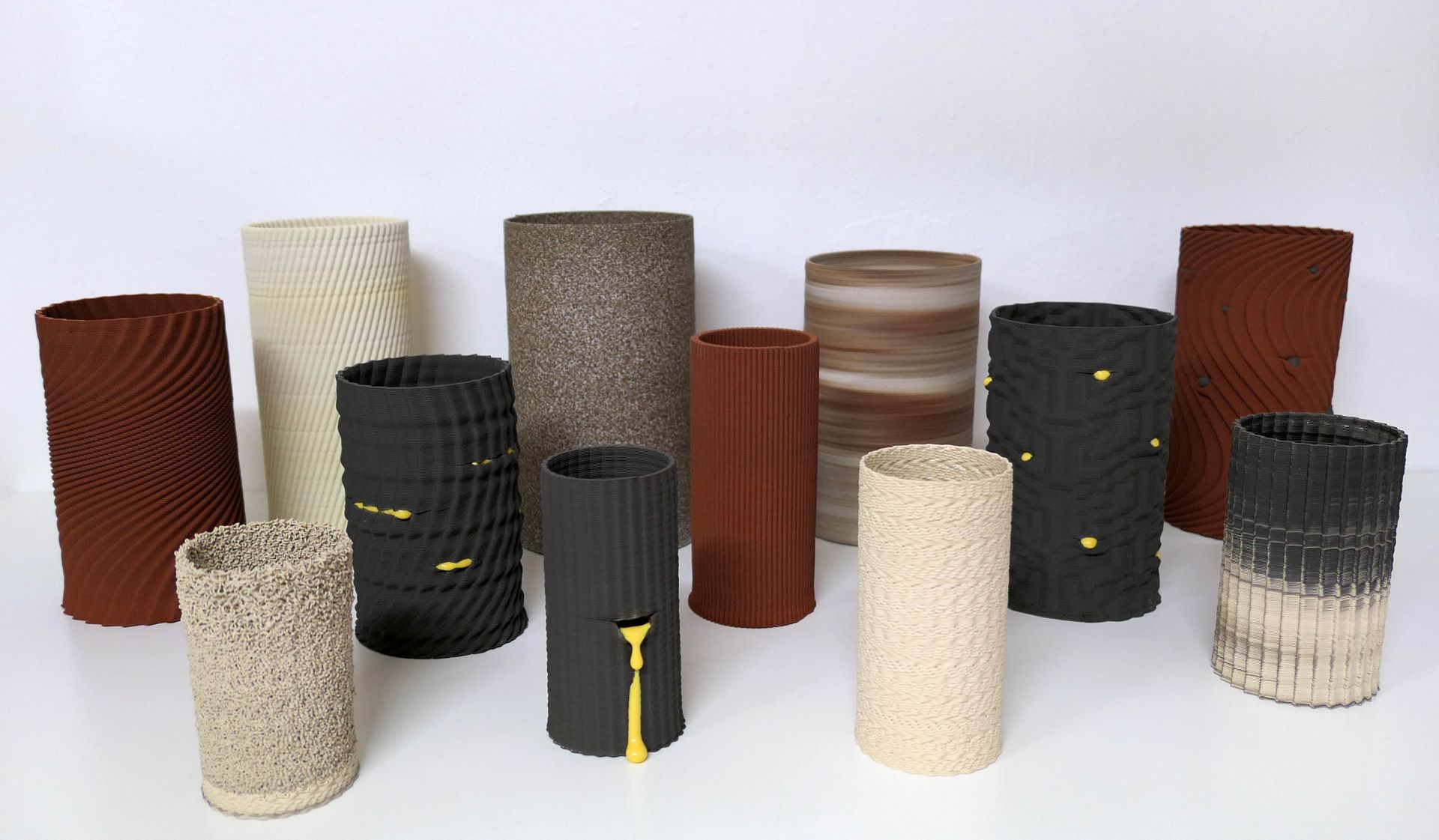 Expert in traditional ceramics crafts techniques and currently based in Copenhagen, Hilda Nilsson designs unique objects resulting from the juxtaposition of classic artisan materials and digital manufacturing. Always fascinated by the production method and the aesthetic expression that comes from the machine, she shares challenges and opportunities of 3D-printed ceramics, her main focus over the past four years.
Widely used as a prototyping tool while designing products, 3D printing has actually a much broader potential: several opportunities open up when it comes to the exploration of suitable materials. Recently, DesignWanted had the chance to interview Hilda Nilsson, who is bringing innovation in the 3D printing sector by combining classic artisan materials, such as clay, with additive manufacturing.
The result of what we could call a "phygital" production method – consisting of physical, crafts materials used to digitally create products – is surprising for both the designer and the final user. Denmark-based ceramicist Hilda Nilsson designs, indeed, unique functionality-oriented objects, the outcome of a spontaneous and experimental workflow.
Deeply involved in the production process, whether it's adding to, removing or deforming the pieces, and always experimenting with production methods and processes, Hilda told us more about her journey in design, the focus on material expressions in clay, the prototyping phase, the failures she encountered and future steps.
Who is Hilda Nilsson? How did your journey in design begin?
Hilda Nilsson: "I call myself a craftsperson/designer/artist but feel most comfortable with ceramicists. I live and work in Copenhagen, Denmark. I work primarily with 3D printing ceramics and make unique crafts objects but am also trained in the traditional crafts production methods in ceramics.
I grew up in Stockholm, Sweden. My parents worked as an illustrator and a photographer so design and arts were a part of my everyday life. I have been painting and drawing a lot since I was very young. I worked at a fabric store for years and sewing was a big part of my life. So I was all over the place and wanted to find my medium.
I went to a craft school in 2009 and that's where I fell in love with ceramics. After two years at the crafts school, I moved to Copenhagen to attend The Royal Danish Academy of Fine Arts (today Royal Danish Academy) where I finished a Masters in Ceramic Form in 2017."
Why focus on the material expressions in clay, and specifically 3D-printed ceramics?
Hilda Nilsson: "When I started my Bachelor's degree I had specifically moved to Copenhagen to attend the ceramics institute at the Royal Danish Academy because that institute had digital tools as a big part of the education. When I started working with ceramics I immediately felt like I understood the material and was fascinated by all the possibilities and expressions there were.
I just wanted to learn and try all the production methods and ways of making ceramics. I was introduced to 3D printing in 2014/2015 and have not stopped since. I was and still am so fascinated by the production method and the aesthetic expression that comes from the machine."
Find out how 3D printing makes luxury lighting affordable and sustainable with Ian Yang of Gantri.
When working on a project, out of the many ideas you generate, how do you identify a good one?
Hilda Nilsson: "I usually have to try out a few ideas, even though I think it might not turn out well. I've learned that it's unpredictable to 3D print clay and I'm surprised a lot of the time. It's hard to say how I identify a good idea. I think it's an instinctive feeling where an idea is both challenging and exciting aesthetically.
I am driven forward in my work on trying out new things so innovation is a big part of my practice. The technology is also evolving continuously so some things I can make today weren't possible when I started, so it's changing and evolving all the time."
In your practice, additive manufacturing is applied to the crafts field. How would you define the relationship between design and technology?
Hilda Nilsson: "For me, it's all intertwined. I use technology through almost the whole process from sketch to finished piece. It's quite interesting because I get a lot of new ideas from how my "manual" work translates into digital. There's a huge difference in how I draw by hand and draw on the computer and I believe my form language has evolved from that."
Given that 3D printing is widely used to prototype products, how do you go about your prototyping phase?
Hilda Nilsson: "I usually try out textures and shapes in the 3D printer as a part of my sketching process before I make new objects in full scale. It's important to see that the shape won't collapse or deform too much when working with a wet material like clay."
Many believe failure is a requisite for innovation and success, do you agree? Could you share with us some failures you went through in your career and what did you learn from them?
Hilda Nilsson: "I do agree, one hundred per cent. I've made failures with the 3D printer a part of my work. When mistakes happen, if the clay doesn't want the same thing as the printer or the printer does something it's not supposed to – exciting things can happen.
I've taken advantage of that 3D printing clay sometimes is "unreliable" and used the fact that it's not a precise technique at all times. Failures can definitely be a good thing."
What are the main trends and future directions within ceramics crafts techniques and what do you think of them?
Hilda Nilsson: "I think the "handmade" look has been a big thing in the last few years. Coiling, hand-building and pinching. It's really exciting to see that more and more people have got an interest in ceramic crafts. Whether it's someone buying a handmade cup or ceramics gaining a reputation in the art scene.
I, personally, hope that more ceramicists try digital tools in their processes. Not to replace another technique but to see what you can gain from them."
What is next for you in experimenting on production methods and processes?
Hilda Nilsson: "I'm currently doing a collaboration with Alma Bangsgaard. She's an architect and is amazing at writing scripts and code for the 3D printer.
We're making a series of vessels that we can hopefully exhibit in April this year. Me and six other ceramicists are opening a gallery here in Copenhagen dedicated to ceramics in April and we plan to exhibit the vessels there at the first opening."
Ceramics objects are included in the recently-launched, curated multi-brand marketplace MONOMIO. Discover MONOMIO's classy shapes silently thriving for an original and contemporary look!