Design
Pigmenti is Lea Ceramiche's new colorful tactile collection
Italian ceramic surfaces brand Lea Ceramiche launches Pigmenti by designer Ferruccio Laviani. "I wanted to go back to the essence of the material, to the earth", says the Milanese designer, who tells DesignWanted about the new collection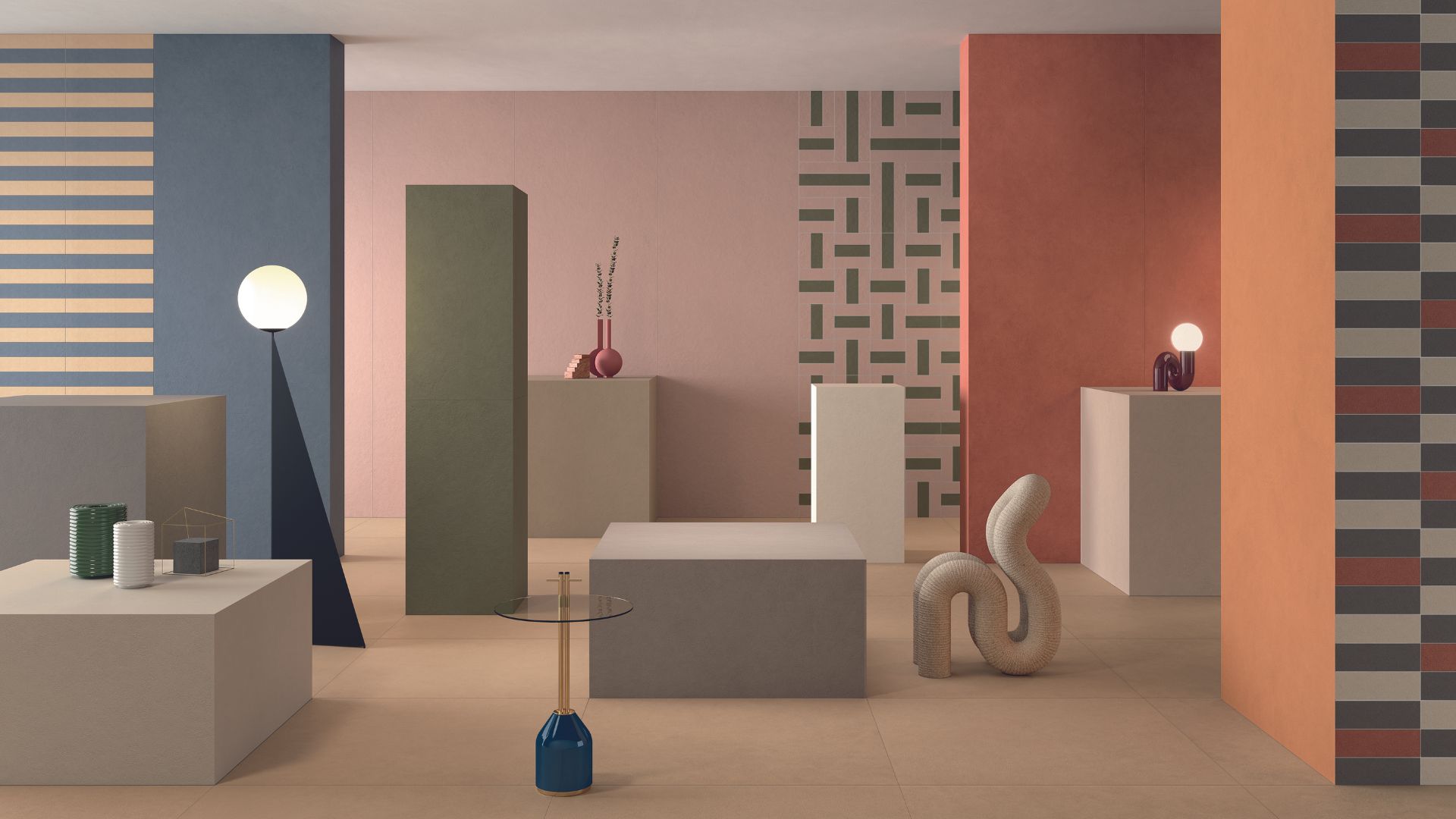 Ferruccio Laviani is a designer with quite a radical attitude, he is not afraid of daring and pushing the limits when it comes to products: the takeaway is a colourful and tactile feeling, in the case of Lea Ceramiche' new collection Pigmenti.
Along with quite an unexpected  tactile and earthly surface that represents a real typological innovation in the ceramic industry. Pigmenti is the 2022 new collection of the Italian brand and it is all about getting back to the roots of the material while using a hi-tech sustainable and performing material.
"I wanted to explore the original nature of ceramic. It is a primitive material: basically, it's clay and water. Artists and manufacturers worked a lot to transfigure it with the aim of nobilitating its simplicity. Nothing is easier as you can do whatever you want with ceramic: it is a chameleonic material.
You can transform it on a decorative basis for an ornamental pattern or you can mimic any more precious material, using enamel and digital prints: wood, marble, glass tiles, Italian cotto. The industry has done everything in the last thirty years. I felt that it was time to get back to its authentic nature: a primordial and very ancient surface" says Laviani.
What was Lea's initial brief?
Ferruccio Laviani:
"It's something that sprang out from both of us. I had just finished the work for the Masterpiece collection, a research on a contemporary translation of "seminato", a typical Italian cement surface.
It was a work about juxtaposition and the combination of patterns and solid colours. I was satisfied with it, but I didn't want to keep the investigation on mimicking and transforming. I wanted to explore ceramic in its more authentic version, along with the idea of introducing a colourful palette."
Pigmenti takes inspiration from the work of contemporary artist Sol LeWitt and photographer David Tremlett…
Ferruccio Laviani:
"I've used my cultural background as an aesthetic compass. The work of these artists on surfaces is somehow similar: they aim for a surface where the material and the colours are perfectly integrated. The handwork is the protagonist of this visual code: you can see how the surface is materially signed by hand brushing and finger manipulations. 
That was exactly the effect I've been looking for in Lea Ceramiche's new collection. A tactility that deeply enters the matter and orientates the dye, giving shades and a sort of three-dimensional effect. I brought some examples to Lea Ceramiche and I succeeded in making them fall in love with the idea."
How did that happen?
Ferruccio Laviani:
"Usually neutral palettes are the best choice for the ceramic industry because of production and decorative limits on the surfaces. The whole industrial line of a ceramic producer is a manless CNC hi-tech structure designed to deal with large quantities.
I felt responsible for asking them to work on a more audacious palette and, most of all, to make long research to optimise the mat surface. I was sure the Pigmenti was a chance to make something really different, able to fit interiors and buildings and to inspire a disruptive use on façades and audacious wall graphics.
Lea Ceramiche' management chose to work with me also because of my sensitivity for the research on colours. They already had a broad comfort zone within the existing catalogue: they wanted a new perspective on the product.
I can count on my experience to take some risks. Lea Ceramiche believed in my concept and, finally, they were far more enthusiastic and willing to dare on a twelve colours palette."
How did you choose the chromatic scale?
Ferruccio Laviani:
"We put big attention on the  work of research and experimentation, as it usually happens in most projects. Of course, there's a very clear selection of colours that respect the ordinary request of the market.
You cannot avoid the brand competences about that and anyway I love to collaborate with the product and marketing department. The sooner it is involved in the design process, the better and faster the studio is going to reach the right result for the company. 
Besides sober colours, I searched architecture literacy to pick tones and shades of historic buildings. Finally came the more trendy selection of more saturated colours. I proposed a nine shades palette. But Lea Ceramiche asked me to add more options and we agreed on 12 colors for Pigmenti, which is quite a number."
Which were the more critical parts of the project?
Ferruccio Laviani:
"The prototyping phase was quite long because I wanted to avoid any enamel glossy effect. I was looking for an opaque aspect, very similar to clay — a mat effect recalling a real brickwork wall. My idea was to infuse the matter with color: a very ambitious expectation from a technical point of view. 
Not to mention the infinite numbers of back and forth with test plates of different sizes and dimensions. Colours and shades tend to redefine themselves according to surface orientation and light. Oblique illumination may alter the overall result.
The colour perception changes a lot depending on the wideness of the slab. Finding a balance between all these variants takes time and patient work of fine-tuning. The R & D department was adamant in its work: they definitely embraced my ideas and worked to find technical solutions not to alter the ceramic performance.
Pigmenti is produced with Slimtech technology that grants 3,5 mm thick slabs in 1×3 metres format. To maintain the same resistance and the same curving grade (which is 5 metres for Slimtech 3 plus, 3.5mm thick slabs), you must find a composite clay, kaolines and pigment kiln proof formula. Once all this was set up, I was very satisfied with the result."
What will be Pigmenti's natural environment: interior design or architecture?
Ferruccio Laviani:
"I search for something that is able to creatively hover between the two while avoiding a hybrid solution and focusing on a contemporary surface able to be multifunctional and easily interpretable. Pigmenti is a very workable material; it can be cut directly during the installation to compose multidimensional graphics and micro mosaics too. 
The different colours are designed to match each other and to get mixed with other Lea Ceramiche collections to create ever-changing and appealing effects. Speaking about architectural use, I designed Pigmenti thinking about the latest colourful trends in contemporary buildings. The collection has an exceptionally uniform and even surface.
It is impossible to recreate the same smoothness with traditional plastering or an ordinary covering layer. This results in a very interesting effect that opens new possibilities if summed up with colours."