Moving from collectible to industrial design commissions
KEY TAKEAWAY:
Creating a strong design language based on solid research can lead to actual industrial design work because high end brands look for long lasting, sculptural objects. Linde Freya Tangelder explains
Linde Freya Tangelder has a vivid gaze and a pleased smile on her face. She has good reasons to be a happy designer.
Netherlands born and Belgian based, she has recently inaugurated FUNDAMENTS an exhibition by her studio DESTROYERS/BUILDERS at the Valerie Traan Gallery in Antwerp following the Rooted flows: Solid Reflections exhibit that took place in April at Carwan Gallery in Athens.
Meanwhile she is touring the European design weeks to present Soft Corners, her first serial manufactured collection developed with iconic furniture brand Cassina.
After opening her studio Destroyers/Builders in Antwerp in 2014, Linde Freya Tangelder worked on collectible pieces and developed a strong, personal language through a research-based approach.
Her work was noticed at Salon design fair, Operae Turin, Salone Satellite Milan, Interieur Kortrijk. Of course she worked with galleries, namely Carwan, Valerie Traan, Nilufar.
Her pieces sell well.
Through the collaboration with Cassina for the production pieces, Linde has been in the middle of a desirable yet complex transition from collectible design to serial production.
So what happens when a designer who has built her international standing on research faces a collaboration with a manufacturer?
Your work is based on research. Can you explain?
Linde Freya Tangelder:
"I like to understand
how the design process analyzes and transforms the perception we have of space, forms and materials.
Maybe it is for this reason that I'm fascinated by architecture: it seldom has an ornamental intention, it is more honest, simple and long lasting.
The structures of buildings lend themselves to factorization, so that I can reuse their components within objects with multiple degrees of daily utility.
It is something that is clearly detectable in my stools called Windows of Bo Bardi: they reproduce the irregular shapes of the window frames that Italo-Brazilian architect Lina Bo Bardi used in her brutalist building SESC Pompeia in São Paulo.
They are the only irregular elements in an otherwise overly rational block, to such extent that she used to call them "pre-historic holes".
With my pieces I wanted to bring their powerful message into a human dimension to give them a role in daily life. It's all about the contrast between solidity and apparent instability and between brutalism and sophistication.
My work always starts with research and experimentation: form and function come long after. It's the opposite of the industrial design approach.
So when I received an email from Cassina asking for a call so that we can discuss a possible collaboration I was happy they gave me time to think.
I needed to understand my position, to decide if the moment was right for me to start a collaboration with an established brand without feeling overwhelmed".
What do brands look for in designers working on collectibles?
Linde Freya Tangelder:
"I think that things have changed a lot for design companies. My feeling is that
high end brands seriously want to focus on longlasting, sculptural objects
it's a way to address a market that cares about quality and sustainability (which is related to durability).
They actively look for young designers doing research work and are open to their way of working.
For instance, when we met with Cassina, I didn't have to explain that I'm not interested in design as a decorative discipline, but as a matter of meaning and sense: they knew it and it suited them well".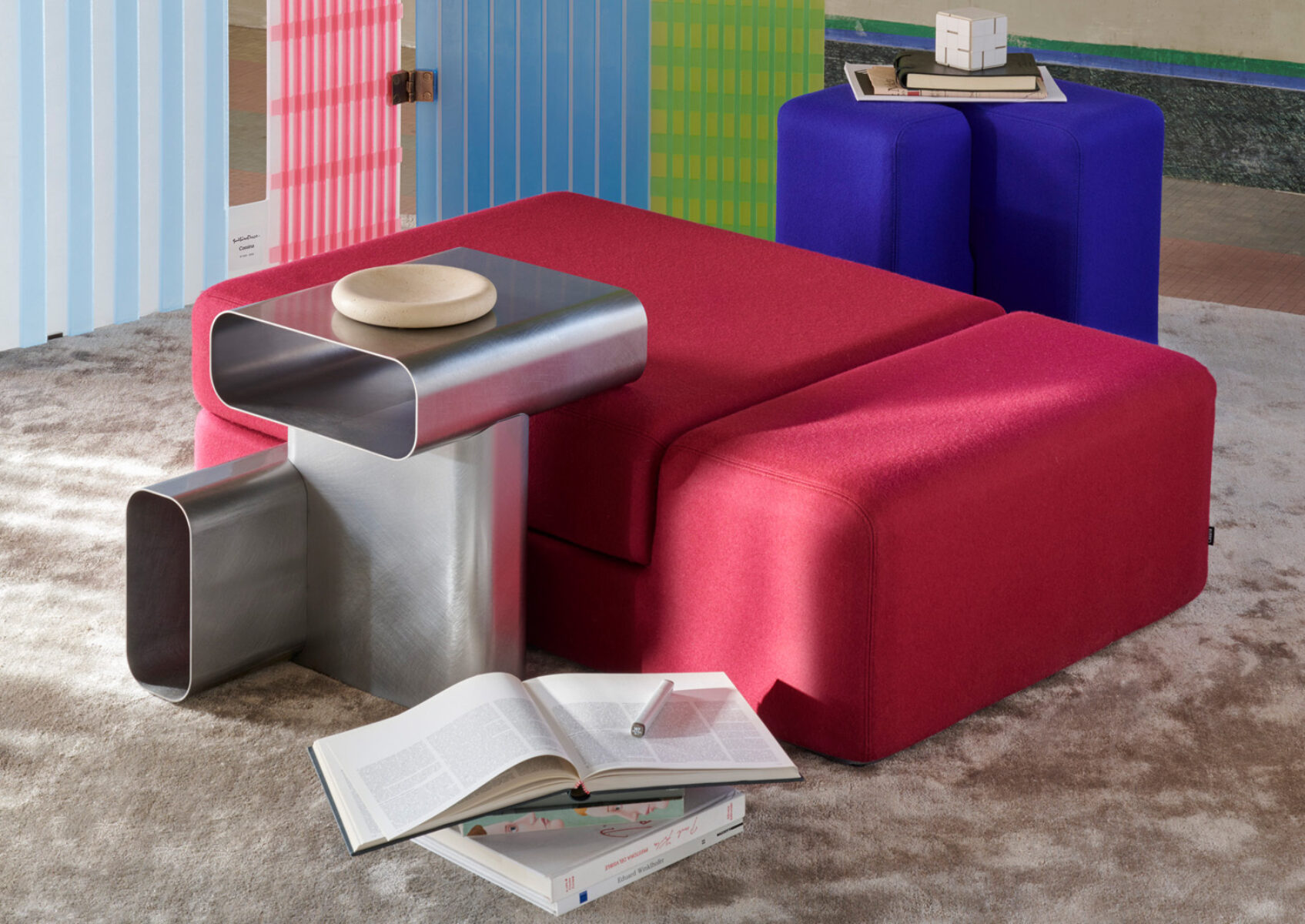 How did Cassina got to know about your work?
Linde Freya Tangelder:
"I was invited for a design residence of one year curated by the INResidence program in Turin.
The architectural context of the city gave me a lot of opportunities to work on details, on fragments, on the constructive complexities of Carlo Mollino's works as well as on the inspirations the art pieces and architecture of Museo del Castello di Rivoli gave me.
It is the context where I started to develop the collection that became the core of Rooted Flows: Solidified Reflections at the Carwan Gallery.
The whole exhibition was supported by Cassina through their Patronage project which has the objective of cultivating young international talent, supporting culture and developing creative ideas.
Meanwhile I was working on Soft Corners, the collection that I then developed for the brand".
How was the transition from the limited edition pieces to seriality?
Linde Freya Tangelder:
"It was quite smooth. We discussed in depth what I was doing, Cassina helped me figure out what had to be done to mediate between freedom and the inevitable borders that seriality demands.
For example, the side table that I designed was balancing literally between stable and unstable within worldwide guidelines for stability in furniture.
Cassina added an invisible extra weight, without changing my proportions and composition of the side table.
I just felt there was respect and understanding of my design during the prototyping process to make the works suitable for the serial production.
Knowing that a long work of research, details collecting, analysis and creativity is transfused in a daily affordable object is the most fascinating part of the process.
I wanted to understand what I can really give to the brand through my projects. And for them the challenge was to make things producible".
Did you have a brief from the company?
Linde Freya Tangelder:
"I had a brief and it suited me: they asked for a proposal on a side table. The poufs were a secondary step and sprung out of my affection for pieces that may adapt to different use and different spaces.
Finally Soft Corners is composed of three poufs of different forms and dimensions that can be arranged to build simple systems. Or to be used on their own. Together with a steel side table".
What are the pluses and minuses of moving from collectibles to industrial design?
Linde Freya Tangelder:
"The plus is the care that everyone put in any detail of the project. Each person involved really wanted to reach a top quality and I involved in every step. I worked with the craftsmen on the finishing of the steel side table, which is made to hide the junctions. And on the productive details of the poufs, which is an essential part of their sculptural mood.
Looking at the Soft Corners Collection poufs, you may not realize that every seam, every curve has been thought and rethought to respect the sculptural shape.
To reach the desired effect we seamed only the essential corners, putting a lot of attention in perfectly contouring the volume. It was done to emphasize Soft Corners bold forms without disturbing the original shape. The upholstery team has worked intensely to find solutions fitting both fabric and leather in different ways. Each curved internal or external seam needs a lot of attentive handworking.
Another plus is the power that a company has in launching and promoting a collection.
The difficult part was to deal with limits".
What would be the best piece of advice you can give to young designers to deal with design companies?
Linde Freya Tangelder:
"I may say not to rush, not to be in a hurry.
There is a right time to start to work with companies and it's different for each person. It has a lot to do with the solidity and precision of one's own design language.
I worked for my projects to be bold, personal and meaningful before expecting the attention of a design brand.
And I've never run after it: be sure that if your work is interesting and has a sense, companies will pay attention and see you. Trying the contrary makes no sense".
© Cover image – ph Valentina Sommariva