Design
Space isn't empty: it's filled by imagination. Expect the unthinkable from MB&F
It all started with the innovative idea of the movement's distinctive vertical architecture, by L'Epée designer, Nicolas Bringuet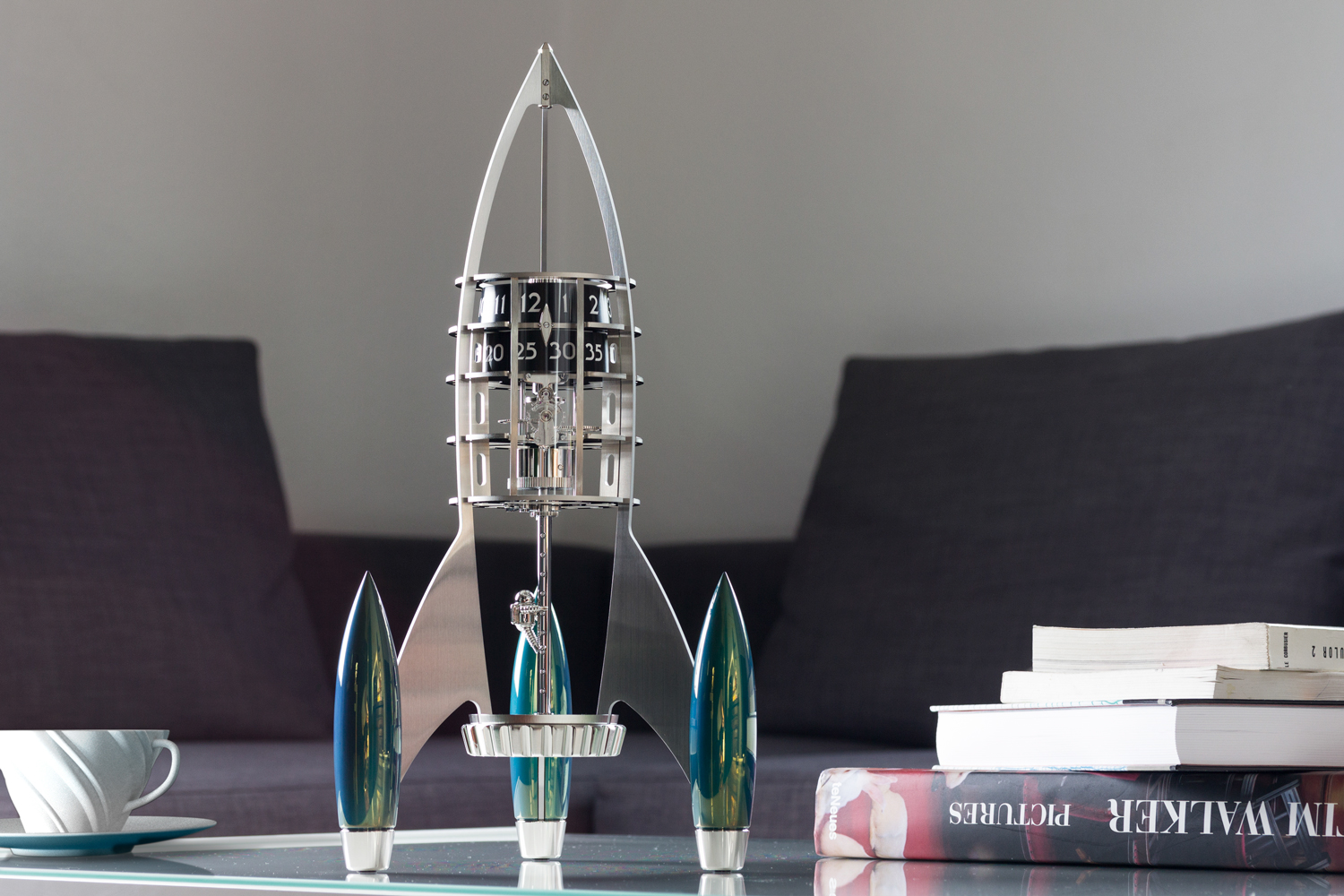 Destination Moon is the quintessential torpedo-shaped rocket of childhood dreams, envisaged by the creative minds at MB&F, and built by L'Epée 1839, Switzerland's premier clock maker; guaranteeing high quality and precision in its technology.
Destination Moon – The Rocket
It all started with the innovative idea of the movement's distinctive vertical architecture, by L'Epée designer, Nicolas Bringuet.
When L'Epée contacted MB&F, wondering if a type of space-craft might be designed around the movement, the two innovative companies immediately hit it off and the rocket-themed desktop clock was brought to life.
However, what actually supplied the magic to the extraordinary futuristic piece, was the removal of the skin from the rocket, leaving a large empty space. This space was to be filled with one's own imagination.
"Space isn't empty: it's filled by imagination"
The highlight of Destination Moon is Neil, the small figure on the ladder, at its base, which magnetically attaches anywhere along Destination Moon's boarding ladder.
It is thus left to the individual viewer's vision to decide on his position. Where would you prefer to see him? Disembarking on the moon, or taking off? The emblematic figure conveys a fun, human element, and once again leaves space for the imagination.
Three heavy, gleaming landing pods paradoxically keep the spacecraft stable on the ground and hours and minutes are clearly displayed on large diameter stainless steel discs with stamped numerals.
However, although time is at an easy sight, your focus will be inevitably drawn to the magnificent, vertically-structured, open movement, specifically developed for Destination Moon. Also worthy of note are the horizontal circular plates in the movement, perforated like Meccano elements, in memory of childhood toys and fantasies.
Destination Moon is one of the numerous horological machines created by the genius of Maximilian Büsser and his extraordinary innovative team of Friends. There have been many distinguished accolades to remind us of the revolutionary nature of MB&F´s successful journey so far. Their great adventure, nonetheless, is only just beginning.
Maximilian Büsser & Friends (MB&F)
Innovation is no easy affair. It requires determination, a large dose of imagination and an excess of courage. Maximilian Büsser has them all, as do the exceptional team of talented and highly professional minds who have followed him in this extraordinary adventure.
They all share the same passion for innovation, and a desire to overcome the limits of the imagination; and together they have transformed their creative ideas into a reality. Their strength emanates from their visionary mindset and the extraordinary synergy within their teamwork.
That is what MB&F is all about: a revolution in watch making
With great respect for tradition in striving for the highest quality, they have gone that step further and breached the boundaries of creativity, conceiving exceptional time machines with a brand-new superior design, shape and meaning.
"We are all children who survived. We had dreams. we had ideas and we haven't let them go"

– Maximilian Büsser
Ultimately, they do not create watches to simply tell the time, they create sophisticated, timeless, kinetic works-of-art, evoking UFOs, rockets, or anything related to science fiction, which just happen to also tell the time.