Home decor
Salvatori's latest collections of sculptural stone unveiled at Milan Design Week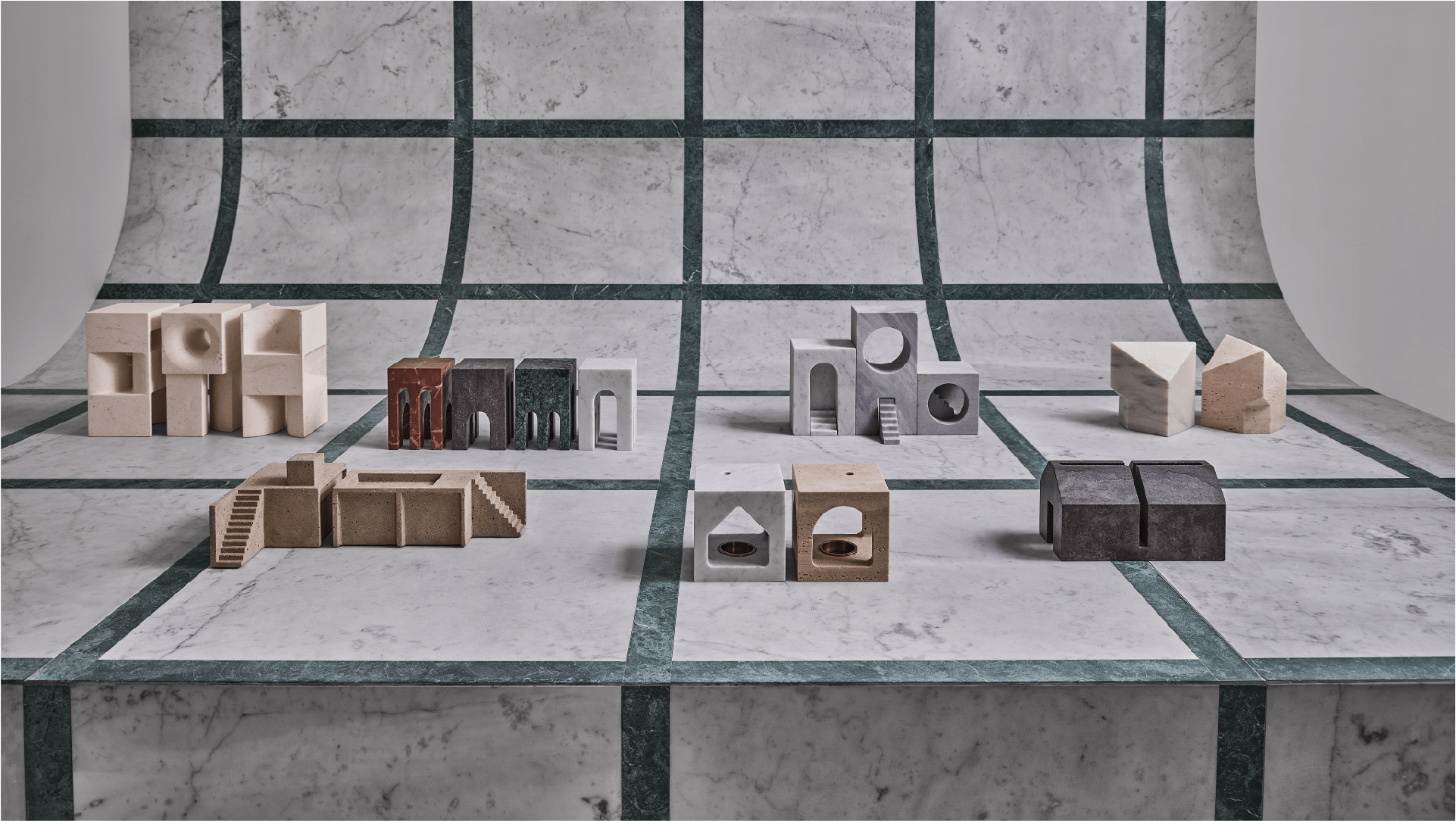 Patricia Urquiola, Yabu Pushelberg and Kengo Kuma all lend their signature styles to the Tuscany-based stone specialist.
Since 1946, Salvatori has worked with natural stone, developing new perspectives and inviting an international roster of designers to interpret this ancient material. At Milan Design Week, the Italian brand presents its latest collaborations inside its newly renovated showroom on Via Solferino, in the heart of the Brera district. 
"This year's Design Week feels like a reunion, a chance to reconnect with each other, and that alone makes it a particularly special event," says CEO Gabriele Salvatori. "It feels like a rebirth as we prepare to get together once again and share our passions."
On display are newly-formed collaborations with the likes of Patricia Urquiola and Stephen Burks, whilst other long-term partnerships, for example with Piero Lissoni, are celebrated once more.
Taula by Patricia Urquiola
Drawing inspiration from the extraordinary megalithic formations found on the island of Menorca, Spanish-born Italian designer Patricia Urquiola has created a collection of dining and coffee tables. With the collection, Urquiola plays with the materiality of natural stone, endowing it with incredible lightness and a juxtaposition of color between the stone and metallic inserts that make up the joints.
"The innovative design of the tables evokes the might and mysticism of these archaeological treasures, with the striking contrast between the solidity and sinuous curves of the legs tempered by a top that seems to float above it," explains Salvatori. "This optical illusion is created by the use of an ingenious metal support system, a testament to the meticulous research into form and perspective the company conducted."
Each design is available in three different combinations of the classic Salvatori tonal palette, including Bianco Carrara, dark Pietra d'Avola, creamy pale Crema d'Orcia and the dappled brown-grey of Gris du Marais.
Mirrors by Stephen Burks
New York designer Stephen Burks has created a series of sculptural mirrors to mark his first collaboration with Salvatori. It includes the Neighbours table variant and the Friends wall design, which are both available in round and oval shapes.
Burks combines vivid stones such as Giallo Siena, Rosso Francia and Verde Guatemala, which sit alongside more subdued classics such as Bianco Carrara, Silk Georgette and Nero Marquinia. The result is a fascinating and eclectic array of multi-coloured mirror-cum-masks.
The mirrors are a colourful artistic expression of the everyday accessory and are representative of Burks' talent for blending ancient primitive traditions with a contemporary aesthetic.
"I imagined all of the different faces from all around the world and tried to bring them together as a kind of hybrid of my imagination through the mixing of the coloured marble on the reflective surfaces," says Burks.
The Village Collection
Yabu Pushelberg, Patricia Urquiola, Rodolfo Dordoni, and Vincent Van Duysen among others have all contributed to Salvatori's Village Collection, a project inspired by Gabriele Salvatori's experience during the lockdown.
Each designer or studio was invited to design a physical manifestation of the home to represent the eclectic, multicultural world we live in. On the occasion of Milan Design Week, the entire collection is on display for the first time.
Dordoni's design titled 'Novecento' features a quartet of miniature houses inspired by rationalist and modernist Italian architecture. Meanwhile, the "Assembly" collection by Yabu Pushelberg comprises three minimalist pieces that represent the individual, the community, and their intersection.
Patricia Urquiola's contribution is titled "Kore" which refers to Greek statues to evoke ancient domestic life. It consists of two pieces crafted from different types of stone (Alma, in Rosa Portogallo marble and Petra, in Travertine). The collection also features contributions from Kengo Kuma, John Pawson and Elisa Ossino.
Want to know more about materials trends in Milan Design Week? Check out "WastEnders" presents materials made from rice, coffee and plants at Milan Design Week.
The Spaghetti Collection & The Zodiac Gravity Collection
Also on display are new additions to Salvatori's Spaghetti Collection designed by Milan-based designer Elisa Ossino. It comprises an elegant tapware series and wall detailing that pays homage to one of Italy's most ubiquitous symbols, reproducing the dimensions of the iconic pasta in an infinitesimally undulating pattern.
"Each tap consists of a small metal ring that replicates the undulation of the texture," explains Salvatori. "Inside this ring is an insert in the same stone as that used on the wall, meaning that the tap itself seems to meld into the stone, almost as though it were camouflaged."
Finally, Salvatori has exhibited a collection of paperweights inspired by the signs of the Zodiac. There are twelve pieces crafted from stone, which are the result of an in-depth study into each sign and its corresponding planet.
To accentuate the association with the planets, each sphere was designed to rotate on a bronze base in a recreation of the motion of heavenly bodies.
Stay updated about Milan Design Week 2021, follow the news & events on Milan Design Week.