Design
VOXART: meet new click-tile construction set in pixel art style
VOXART is an innovative construction set that gives you maximum creative freedom. A unique combination of Quadrolock and Surface modeling technology enable creating light yet stable shapes of interior size
VOXART is the second Kickstarter campaign by the PIXIO team. First one raised over $160 000 in 2017 and launched a successful pixel art brand that provided joy of creation to over 250 000 customers so far.
VOXART is a multi-faceted creation that offers endless possibilities as a toy, decoration, source of entertainment, or puzzle – it's up to you to decide what it becomes.
Interior-sized art, easy-click quadrolock, lightweight design, the ability to reassemble art and an app with hundreds of inspirational arts that can be replicated in real life make VOXART a one-of-a-kind tool for showing your own originality.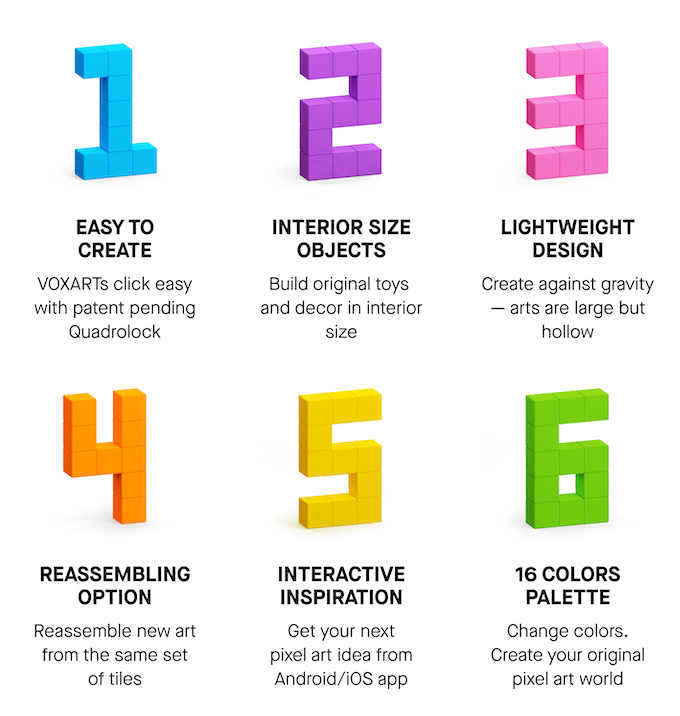 The Quadrolock system is revolutionizing the world of intuitive creation by allowing you to effortlessly click tiles together to form a surface without filling up the hollows. This innovative technology ensures that only pure pixel art is able to emerge, keeping the Quadrolock securely in place.
The world of VOXART creation has just gotten easier with the launch of a new app, brimming with thousands of premade artworks. This app brings together a thriving community of artists who are dedicated to helping you bring your visions to life. With each voxart accompanied by detailed instructions on the number and color of tiles, as well as the order of assembly, your creativity is the only limit.
PIXIO, a Ukrainian company renowned for its distinctive cultural fusion of art and commerce, continues to push the boundaries of creativity in the fields of education, entertainment, and self-expression. The harmonious collaboration between artists and business professionals at PIXIO has resulted in some remarkable innovations.
Support the project on Kickstarter!