Furniture design
Waves bench is a design for stairs furniture against dust and dirt
Despite its primary function is seating, it is intended to be used by everyone and meant to be a meeting and resting spot for all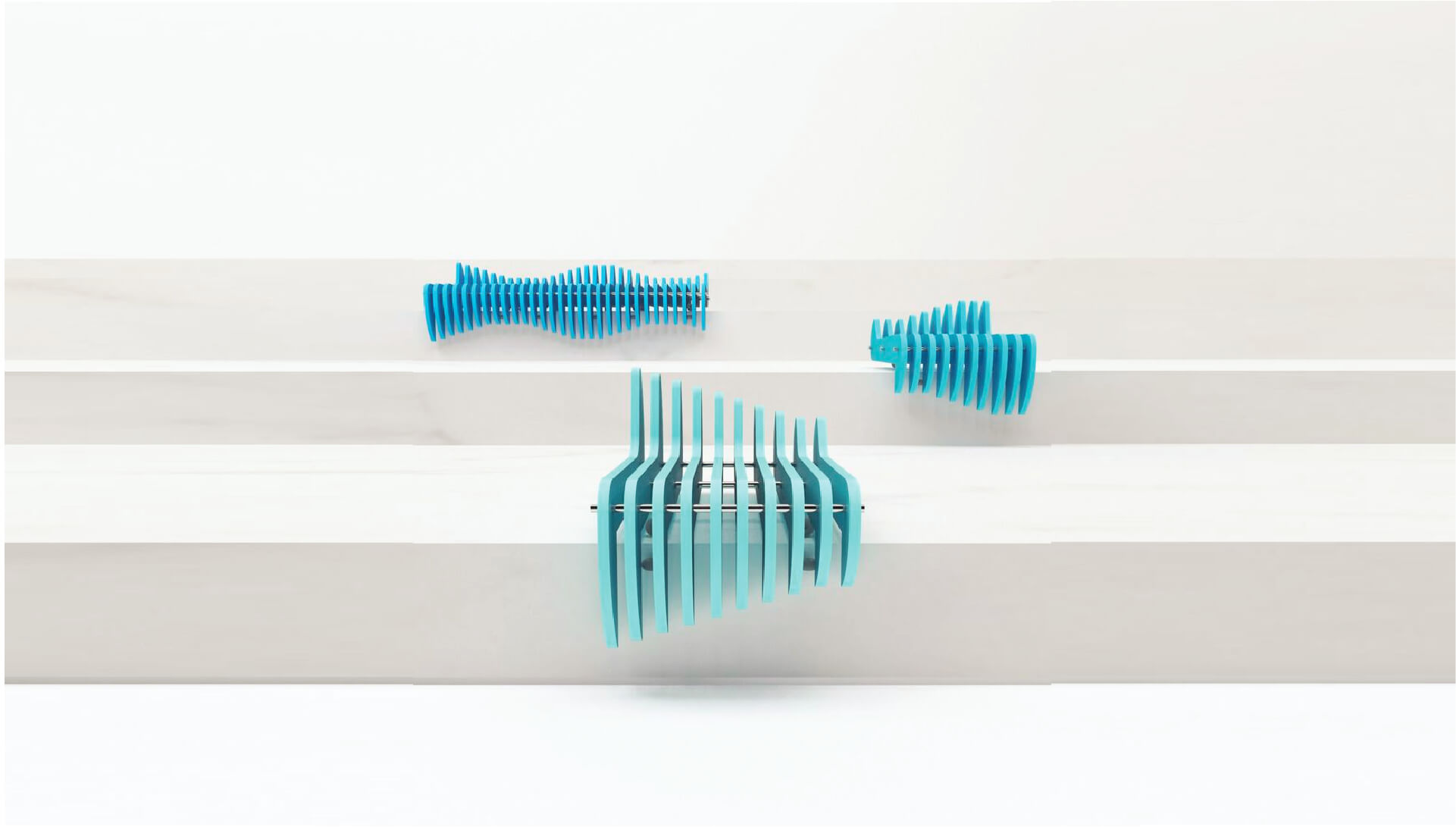 Waves bench – by Tulin + Ayse / Studio 34 – was designed for performing arts venue Zorlu Center PSM's stairs in Istanbul. Made of cross sections that are fabricated each one separate from the other. They are then assembled together for people to sit individually or collectively.
Waves bench was constructed from steel, retified wood and wheels. Coming in 11 different movable modules that are all harmonic to each other, Waves defines the space in a smooth way becoming urban furniture that people interact with.
Despite its primary function is seating, it is intended to be used by everyone and meant to be a meeting and resting spot for all.
Waves bench was invented to protect the user
Waves was created as a street furniture with the idea of user protection against seating on a cold and dirty ground. The bench is named after the geometric shape of the basic module, which is thus transformed from a visual motif into a functional form.
This design proposal for a contemporary city bench seeks to understand the concept of a stairs furniture as a holistic design problem. The wavy outline of the bench starts to interact with the outline of the stairs becoming a part of it. The relationship between the elements is strong and smooth.
The Waves bench brings the essence of nature back into a metropolitan stairs through dynamic, organic motion
It is made of many wooden parallel slats, each individually hinged. When you sit down, the slats you sit upon lower, creating a ripple in the bench headed in both directions. Each different modules are movable.
They are linked together by adjustable assembly fixings, offering a wide range of configuration options. They can be used as a single bench or a whole bench come together with different sizes.
Internal springs connecting the slats pull their neighbors down in response, creating a wave motion. This slow-motion liquid ripple reaches the end of the bench and reflects back. The qualities of retified, thermally treated wood, enable the furniture to withstand outdoor weather conditions.

Instead of offering only one single static design, each different module is movable with the help of attached wheels. This scheme suggests multiple varying solutions that meet specific dynamic criteria. Together they generate an endless family of new urban stairs bench furniture.
The project is first digitally modeled with the assistance of 3D modelling programs creating the profile curves that form the shape. Technology and creativity can lead to unordinary furniture that leaves a new impact on the stairs with a different atmosphere.
About Tulin + Ayse / Studio-34
Internationally renowned, Istanbul-based multidisciplinary design studio Studio-34 was founded in 2007 by Ayşe Teke Mingü and Tülin Atamer Karaağaç. Studio-34 works across interiors, product and experiential design, forging a reputation for thoughtfulness, experimentation and craftsmanship.
Each element is informed by a uniquely space-centric approach, blending wit with sophistication, and minimal forms with rich materials. Their work has redefined Istanbul's cityscape.
Among their awards: Golden A' Design Award; Platinum European Product Design Award – Architizer A+Award Popular Choice Winner.