Furniture design
Embodied Energy: how to design a sustainable product today
Andrea Forapani, designer and head of Lombrello® gives us his perspective on the state of the art in sustainable product design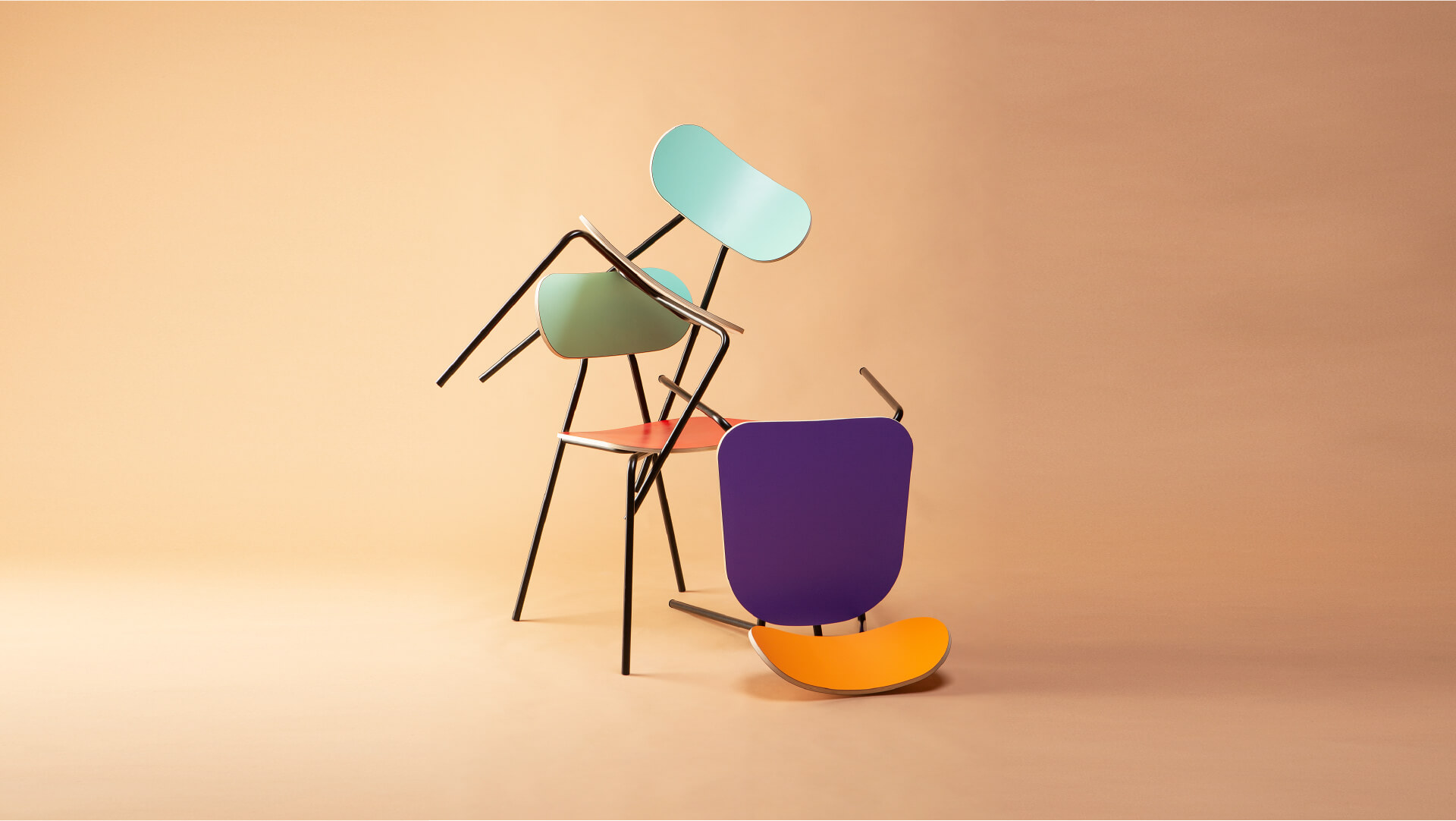 When I launched my brand of custom chairs in 2018, Lombrello, I had absolutely no sustainable product in mind. I had just turned 30, and I wanted to design «something different». At that time I felt a sense of dissatisfaction with the rhetoric about sustainability, which seemed to be for marketing purposes only; culminating in outdated beige and somewhat wrinkled old-fashioned products.
In order to tackle this, both contemporary and important issue, I must pose the simple question: how does a designer invent and design something truly sustainable?
Here is a short story of how I faced this issue: firstly, let's begin with the all-important question: how does a designer invent and subsequently design, something truly sustainable? Focusing on the design archetype (and my personal favourite): the chair.
Borrowing it from architecture, I invite you to become familiar with the concept of 'Embodied Energy'. Let's look into it. From the outset, the chair does not seem to consume energy. But what about the energy used to, firstly produce and secondly have the chair end in the buyers' home?
The sourcing of wood and metal, the processing of these materials through mechanisation, the packaging, and finally the shipment of the products are all embodied in the chair to come. What is more, all of the negative effects of producing and processing this energy will unapologetically be released into the environment.
In reality, anything that we produce creates waste, pollutes, and uses resources, many of which are non-renewable. This applies to all of the objects that we own: every man-made product carries within it 'Embodied Energy'.
When we discard those objects we are also throwing out the Energy held within them. The question we must now pose is: what can we do prior to recycling in order to prolong the energy embedded within these objects? Simply, we must learn to use fewer objects (A) and to extend as much as possible their shell life (B). Recycling is the last option we have, where we are salvaging only a small part of the object's embodied energy.
[ Curious to know more about sustainable companies? Don't miss The model for sustainable change – Model Nº ]
A) How can we use fewer objects in a consumerist world like ours? I believe that designers have to, not just design, but invent simple products that offer unexpected possibilities and combinations with elements that adapt to one another, creating variety within one item. Chameleon-like products that shift and adapt to varying aesthetics, identities. The products we consume should be global yet locally manufactured.
Only in that way – by producing less – our products will be satisfying and sustainable to a wider range of tastes. A four-legged chair must be designed with the intention of being used as a chair along with aesthetical and proportional harmony; for a private house, an office, a restaurant. Democratically and at a reasonable cost.
B) How do you extend the shelf life of an object? Every designer has to think about the life expectancy of their products, how it evolves with the users changing taste. We can imagine that Maria* wants to restyle her blue backrest and wishes to return that component for a new one, that returned backrest could fit a new person's chair.
This scenario would be possible if the backrest is made from a durable and resistant material such as laminate for example. A material that is not natural by definition but which is made with an extremely high durability to longevity ratio. There are no easy answers to this issue, which demands profound social analysis to fully understand.
As a designer, it would be foolish to leave this monumental task in the hands of producers and the marketing offices of multinationals. I would like us designers to look back and design objects in relation to the function and specificity of materials, as some of our masters did; the Castiglioni brothers, Charles and Ray Eames, Hans Wegner, Verner Panton, and all those others who shaped our profession into what it is today.
Empty words – you may say – but how do we, concretely, make a sustainable chair?
I designed it this way: In aesthetic terms, by making sure that one product could make all the people who buy it feel special, in a democratic way. Lombrello Chair is personalizable and unique, yet affordable and accessible. I believe that 'buying' is a political act, it shows us for where we stand, our identity. The chair I designed is made to last forever, to be handed down to your children whilst still having the flexibility to be adapted depending on the new owner.
In the production facility, we have been reusing moulds that were available 40 years ago. My whole design has been to organise the product in a logical and aesthetically pleasing way, combining all these elements that were already there.
We use standard insets and joints that are easy to source, we limit the unnecessary complexity and we combine them with the strongest, long-lasting, and most recyclable products that are available. Everything is produced in Italy, by medium-sized artisans from Veneto and Lombardy. All craftsmen who work on the chair are close to one another, limiting the energy used to transport the components.
We believe in 0 waste, and thus each of our customers are invited to return components of our chair (eg the backrest), to exchange it for a different one. This creates a circular economy of reused, high-quality elements that slot seamlessly into all Lombrello products.
If a restaurant wants either small adjustments to a full re-haul, we take back, exchange, or sell new elements of the chair. The older pieces are then available for purchase at reduced prices. 0 waste is a fundamental attitude and we follow that through to our package as well; the wrapping is reused tirelessly between production facilities and customers.
Ideology or marketing statement? Lombrello is a team of designers: Gianluca the woodworker, Franco the upholsterer, Paolo and Matteo the metal guys, Riccardo making wonders with brass, Vittorio with wood veneer, Laura the queen of laminates and myself, designing and providing artistic direction as well as a commercial identity to our product. We have created something we really believe in. None of us have money or embodied energy to waste.
[ Find out more about the program that is helping companies be sustainable, don't miss Creating a more sustainable furniture sector with European program FURN360 ]
My hope is that this message reaches customers and operators in the design sector, who, like many of us, face serious sustainability issues. There is no time for greenwashing! I salute you and wish you a good sustainable design!
Article by Andrea Forapani (official website)